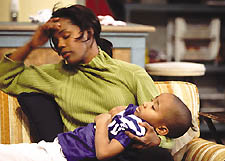 Maternal instinct: Coleman as BettyAnn
(Photo by Carol Pratt)
"You don't have a family," says the successful R&B singer Paul (Sekou Laidlow) to BettyAnn (Rosalyn Coleman), the high school sweetheart he's come home to woo after twenty years away. "You have a situation."
It's a stunning moment in Runaway Home, the new Javon Johnson play receiving a world premiere production at The Studio Theatre. As Paul sees it, any "situation" — in this case, Rosalyn's five bastard children she struggles to raise on her own in 1981 South Carolina — can be fixed with a dash of cash, of which he now has plenty.
What he proposes, and what she considers, is mind-boggling: Leave her youngest sons Tee Tee (Javier D. Brown) and Junebug (Christopher Gallant III) at home for her trucker brother Frank (Wayne W. Pretlow) to assume parenting responsibilities when he discovers them on Christmas Day. Meanwhile, her teenage daughters Angel (Edwina Findley) and Shadymae (Ashley Blaine Featherson) and 20-year-old son Steedee (Brandon J. Price) will be expected to live on their own, regardless of whether or not she's prepared them to do so.
It's not even that Paul doesn't want to care for children once he sweeps BettyAnn away from Anderson, S.C., to his glamorous life in New York City. He just wants to be sure any children in their home are children of their own, not the offspring of BettyAnn's failed relationships that have filled her dismal life in the two decades since Paul fled Anderson to pursue his dreams of fame and fortune.
Are these the kind of people you can even begin to feel sympathy for? In Johnson's increasingly skilled hands, yes. In the wake of his first major work, Hambone, staged last season at Studio, Johnson has grown beyond his self-imposed limitation of paying stylistic homage to his playwriting mentor, August Wilson, and proves to be a blossoming storyteller capable of shaping riveting characters and situations.
Under the direction of Regge Life, who also helmed Hambone, Laidlow's Paul — super-suave and oh-so-sexy — is a fascinating mix of redeemer and Tempter. You never feel for a moment that he has anything other than the best intentions for BettyAnn, or that taking her away from the small-town desperation of Anderson will do her anything but a world of good. But can he possibly think that abandonment — even with long distance financial support — wouldn't have a devastating effect on BettyAnn's family?
And what about BettyAnn? Who is this woman who would contemplate such radical, on-a-whim action to pursue her long-deferred dreams without exploring alternatives that could allow her to be reunited with Paul in some way without throwing her already-struggling family into chaos? Through Coleman's powerful performance, BettyAnn emerges as an intensely complex, flawed woman — at turns calculating, passionate, devoted, detached — anything but the kind of simple caricature that often drives public perception of poor, single mothers.
Ultimately, leaving could be the right choice for BettyAnn, and perhaps even for her family, hard as that idea may be to grasp. Is a failed parent who sticks around really better for a family than one who recognizes her or his shortcomings and moves out of the way, leaving a gap that may be filled by someone who can do a better job than they have?
It's not an easy topic to tackle, yet Johnson has done so with aplomb, creating a lively tale that draws you in quickly and holds you in rapt attention until the very last moment. Johnson's conclusion also satisfies without sealing the situation so tight that it can't be revisited — Ã  la Wilson — to examine what comes next in these characters' lives, either in the near future or further down the generational line. More importantly, you want to see them revisited — an achievement only a standout work such as Runaway Home and a promising talent such as Johnson could claim.
Through Feb. 16 in the Mead at The Studio Theatre, 14th and P Streets NW. Tickets are $25 to $44.25. Call 202-332-3300. Visit www.studiotheatre.org.