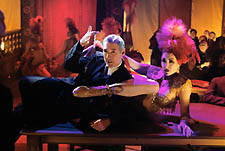 Razzle-dazzling: Gere
A musical is only as great as its songs. Which would make John Kander and Fred Ebb's Chicago one of the greatest musicals in history. There's hardly a sour-note in the string of showstoppers comprising this sly, sardonic tale of unfounded celebrity and media manipulation set in 1920's Chicago.
Originally staged for Broadway in 1975 by Bob Fosse, the musical really didn't catch on until a brilliant and streamlined Great White Way revival some twenty years later, when it nabbed six Tonys (the original production was nominated for 11 Tonys, but was shut out by A Chorus Line, which swept the '75 awards). It's since been through the national tour mill, and remains on Broadway, chugging along.
Talk of a movie has been on the lips of Hollywood for years, with everyone from Goldie Hawn to Madonna briefly associated (or at least mentioned) for the pivotal role of Roxie Hart, the kewpie-cute would-be Vaudevillette who, in a fit of rage, murders her lover and finds a new pathway to fame and fortune on Chicago's death row. The role eventually went to Renee Zellweger, a choice that raised some eyebrows. Well, put those eyebrows back down. Zellweger not not only sings her heart and soul out (she has the sweet voice of an angel), but more than capably provides the depth of emotion and gentle nuance of character required for a musical's stage to screen transference.
All the grumble-bunnies who said Chicago couldn't be brought to the screen with a bang should pretty much be silenced by now. The movie, currently in limited release, has already earned 8 Golden Globe nominations (Oscar noms are sure to follow) and in two weeks has racked up $9 million at the box (an impressive sum when you consider it's only showing at 304 theatres nationwide).
Directed by Rob Marshall, Chicago maintains the stark, stage-driven integrity of the show's musical numbers, while expanding the narrative into a grit-gloss setting, allowing the show's underlying harshness to punch through the musical's stylized veneer. Marshall dumps most of the dance from the proceedings (Fosse's version and, similarly, Ann Reinking's revival were both, appropriately, hoof heavy), and what little dance remains is unextraordinary and pedestrian, at best. No matter. This Chicago is about beltin' out the musical numbers.
And those musical numbers are treated as fanciful inner-mind re-imaginings, as escapism from the strains of reality. Most occupy Roxy's brainwaves, but a few, including John C. Reilly's emotionally bitter take "Mr. Cellophane, " are shifted to other characters for the sake of convenience. It may sound clumsy on paper. But on film it works like a dream, with the swift reality-to-fantasy transitions honed to razor-sharp perfection by editor Martin Walsh. Certain numbers, like "Funny Honey, " in which Roxie's adoration of her patsy husband Amos turns quickly (and hilariously) to bile — benefit immensely from the treatment, while others — such as the rushed and over-styled "Cell Block Tango " — fall flat with a thud.
The movie's script has been given a solid bulletproofing by Bill Condon (Gods and Monsters), but, for this critic, it all comes down to Kander and Ebb's brilliant musical numbers. Chicago is a barrage of showstoppers, performed by a cast that is, in a word, ideal. In addition to Zellweger as Roxie and Reilly as Amos, there's lavish and leggy Catherine Zeta-Jones as the vampish Velma Kelly, whose spotlight is cramped by the cagey Roxie. It's nice to see Zeta-Jones up on the screen where she belongs, and not on television hawking a mobile telephone service to a teenage boy in a bowling alley. The actress must feel somewhat liberated herself, since she so completely envelopes a role made legendary by Chita Rivera and later Bebe Neuwirth and seals it forever as her own.
Queen Latifah is a sensational Mama Morton, the busty and bluesy prison matron, while Richard Gere positively sparkles as the dapper and charming big city lawyer Billy Flynn, who's never lost a case. Gere has three big numbers, but two — "We Both Reached for the Gun " and "Razzle Dazzle " — make you want to leap from your seat and applaud without abandon. Gere, who has never impressed me as an enormously talented actor, explodes with a virtuoso performance that showcases his apparent gifts as a song and dance man. He disappears completely into the role — or the role disappears into him. Either way, Gere is Chicago's trump card, its tour de force. He's reason enough to catch what is arguably the hottest film in town.