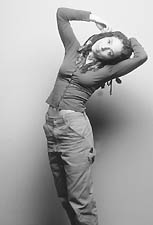 Taking Stock: Ani DiFranco
The annual Queerstock music festival is predicated on a radical idea — that the fight for liberation is useless if you never liberate yourself from the fight. In that respect, the Queerstock compilation, Queer Soup is a refreshingly giddy puree of idealist catharsis from genuinely talented artists.
Compiled by Atlanta-based singer-songwriter and Queerstock founder Doria Roberts, Queer Soup gags its inner-preacher and lets its wry sense of humor convey the message. Rather than reel from self-pity, its songs take jabs at societal norms from a platform that doesn't try to sell you Pure Pride bottled water or a PlanetOut baby tee.
Setting the bar high is Gooselove and Antara's "Change With Me, " a funky half-sung, half-spoken duet that shuffles back and forth, cutting under itself like two different currents at two different depths. Minimal, cyclical drum beats and an addictive acoustic riff keep emphasis on the freeform lyrics, and both singers play off each other's words as if they were of one mind.
Queer Soup's strongest suit is its dissimilarity to most benefit albums — cheesy dance compilations ripped from the AIDS-charity Circuit and stuffy Midwestern "fest " rock. In fact, this album is almost self-consciously backward — in a good way — with its Testosterone Kills male-fronted lesbian ballads and "anger management " poetry recited with a smile. Elaine Townsend rails about her hometown of Columbia, South Carolina, adding that it "must be comforting to have Jesus on your side, " without a hint of ironic inflection.
Queer Soup
Hurricane Doria Records
$25
Ani DiFranco and her labelmates Bitch and Animal turn in revisited material, with B&A feeling surprisingly tender (in a completely sarcastic context, of course). 2002 Capital Pride performer Catie Curtis adds her richly textured Boston folk to the acerbic disillusionment of Pansy Division's shrewd, anti-Disney observation that "we don't feel like we think we should/not like we were taught we would " on "Luv, Luv, Luv. " And for anyone not acquainted with the finer points of dyke-talk, Alix Dobkin's refresher course is a hysterical lesson in "Lesbian Code. "
It's easy to imagine that the queer movement might do well to tackle its issues like Queer Soup does: with energy, a healthy dose of skepticism, and enough of a sense of humor to keep the fight from feeling like the nine-to-five status quo that they're singing about in the first place.