Confessions of a Dangerous Mind is punctuated by visual wit and robust performances that veer toward camp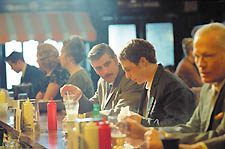 My so-called undercover life:
Clooney and Rockwell
Who knew George Clooney had it in him to make a film as sleek, stylish and sophisticated as Confessions of a Dangerous Mind? What might have been a thudding bore is instead smart and quasi-playful, with Clooney and pals offering an oasis of creative energy to January's movie desert wasteland. The category-defying Confessions straddles the line of drama and comedy with seeming effortlessness, punctuated by visual wit and robust performances that veer toward classic camp.
The movie is based on the "unofficial autobiography " of Chuck Barris, a minor irritant from the '60s and '70s who created of The Dating Game, The Newlywed Game and The Gong Show, for which he also served as host. Barris' claim is that while he was producing these shows and being lambasted by the press for causing "the decline of modern civilization, " he was simultaneously working for the CIA as a hired killer, the ultimate undercover patriot.
It's a ludicrous conceit, one that smacks of a failed man's way of trying to regain a limelight that burnt out decades ago. Still, as whoppers go, it's big and juicy.
The movie, which includes documentary-style talking heads from folks such as Dick Clark, Gene Gene the Dancing Machine (of The Gong Show), and Jim Lange (host of The Dating Game), helps bolster the "truth. " "He would disappear for a week or two at a time, " remarks the still-congenial Lange. Former Gong Show regular Jaye P. Morgan is more mysterious: "I know things about Chuck that I can't tell you, that you don't want to know. "
Clooney and sreenwriter Charlie Kaufman (Adaptation) take their subject matter's material at face value — they have no choice, the movie wouldn't work otherwise. So Barris' story is presented as The Gospel Truth, and the only cynicism on hand is that which the audience brings into the theatre. Confessions of a Dangerous Mind isn't out to make Chuck Barris believers out of us. It's out to entertain — and entertain it does. And you never once consider giving it the gong.
The narrative is presented in more or less linear fashion, though it does utilize a 1981 Barris, steeped in paranoia and holed-up, naked and unkempt, in a hotel, as a touchstone from which the story can leap back into the past and, later, plunge into Barris' future.
The younger Barris is presented as a classic nerd whose neglect by the opposite sex during his teenage years fed an obsessive drive for sexual gratification. His biggest hits — The Dating Game and The Newlywed Game — were both relationship-based, fed by his own frustrations and sexual obsessions. Barris' Gong Show was a precursor to today's American Idol, as people who crave a moment of fame were willing to undergo extraordinary humiliation at the gong-mallet-wielding hands of the likes of such has-beens as Jamie Farr and Artie Shaw and never-beens as Morgan.
We are led to believe that during this time, Barris was a CIA operative, reporting to a dark and dusky agent who looks as though he stepped straight out of a '40s noir flick. Barris becomes entrenched in this underworld of international intrigue, helping do his part to crush Communism and "allow Democracy to get its rightful foothold around the globe. " He also becomes a pawn in the search for a murderous mole within the agency, a story tactic more befitting an episode of Alias. The identity of the mole, incidentally is the stuff of truly awful pulp fiction, and the revelation helps to underscore the faux quality of Barris' so-called undercover life.
The movie is visually stunning — Clooney turns up the juice, breaking free of more traditional confines, and triumphing with a blazing show of style over substance. It's true independent filmmaking — Hollywood-style.
Confessions of a Dangerous Mind
Starring
Sam Rockwell,
George Clooney,
Drew Barrymore,
and Julia Roberts
Directed by George Clooney
Rated R
113 Minutes
Confessions of a Dangerous Mind should go a long way to making Sam Rockwell a leading man. As Barris, Rockwell is riveting, going far beyond imitation and into the sincerest form of flattery. He actually makes the creepy, wormy little guy sympathetic, and that's no small feat. The actor fully embodies Barris — at least the Barris we were familiar with on The Gong Show, his trademark hand-clap, his forward-cocked hat covering his barely-open eyes — with alarming accuracy.
The illusion created by Rockwell is so powerful that even turns by Clooney and Julia Roberts (as Barris' CIA contacts) don't divert our attention away from him. Drew Barrymore, as Barris' longtime (and oft-neglected) girlfriend, has a few stunning moments, but mostly she's relegated to the sidelines.
Clooney draws on a few of his Ocean's Eleven co-stars to provide the movie's richest gag, and offers memorable cameo spots to Rutger Hauer, as an intense and weary-eyed West Berlin assassin, and the lesser-known Robert John Burke as a CIA instructor who seems to have stepped off the pages of Cracked magazine.
When all is said and done, Confessions of a Dangerous Mind won't make you feel any differently about Chuck Barris — that is, if you ever had any feelings about him in the first place. But it will keep you engaged for a few hours, marveling at Clooney's limber direction and at Rockwell's magnificent star turn.