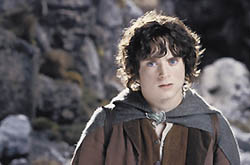 Hobbit hunt: Wood
Kneel, George Lucas, to the shrine of Peter Jackson. Ye have met your match.
With The Lord of the Rings: The Two Towers, Jackson proves himself to be more than a New Zealand flash in the pan, more than a director of ultra-gory cult films. He has transcended all that. He is now, officially, a purveyor of epics — and adventure epics at that. Dare we compare him to the incomparable David Lean? Dare, we do.
Based on the J.R.R. Tolkien trilogy, The Two Towers picks up pretty much where last year's Fellowship of the Ringleft off. There is no preface, no cluster of text scrolling off into infinity to explain the last movie's actions. It's a daring — perhaps slightly arrogant — conceit on Jackson's part, but it pays off. We are plopped into a scenario which doesn't let up for three hours.
Overall, The Two Towers occupies that special place in the order of trilogies: It doesn't require the niceties of introductions and set ups, and nor does it need to conclude in a nice, tidy bundle. It's a bridge between Fellowship and the third film in the series, The Return of the King, due out next Christmas. But Jackson is shrewd enough of a filmmaker to provide a gripping climax to his film, as well as a wind-down to return us from a journey to Middle Earth back to our Earth-bound theatre seats. Still, the movie's final, chilling moment has its eye set squarely on the third film. You almost wish it were Christmas 2003 already.
Jackson weaves through three distinct narrative paths. There is, of course, the integral tale of the Hobbit Frodo (Elijah Wood), who's been given the inevitable task of destroying The Ring of Power, an evil, corrupting piece of non-designer jewelry forged from the fires of Mount Doom. The ring is a constant spiritual drain on poor Frodo, who, luckily has his best friend — fellow Hobbit Sam (Sean Astin) — along as protector and moral compass.
Joining Sam and Frodo is Gollum, a humanoid creature with grey, translucent flesh stretched taut over his bony body. Gollum was previously corrupted by the ring and the little scampering critter "wants his precious back. " And he'll do just about anything to get it.
A combination of digital animation and the physical movements of Andy Serkis (who also provides the vocal work), Gollum is a miracle of modern-day filmmaking. The character is more than a special effect — it is the film's emotional core: Gollums inner-struggle with his desire for the ring and his desire to do right by the Hobbits is profoundly moving. This may be the first CGI performance worthy of an Oscar nomination.
Hobbits Merry (Dominic Monaghan) and Pippin (Billy Boyd) spend much of their time trying to convince a giant talking tree named Treebeard to join the fight against Sauron and his dark minions. Treebeard is the least convincing creation in Towers. With its flapping lower lip, it looks remarkably like the angry apple trees Dorothy and her friends encountered en route to Oz.
The remaining members of the Fellowship — Aragorn (Viggo Mortensen), dwarf Gimli (John Rhys-Davies, who brings the gift of comedy to the otherwise sober proceedings), and elf Legolas (Orlando Bloom) join forces with King Theoden of Rohan to defend his kingdom against a swarming horde — and I do mean a horde — of bloodthirsty orcs. The climactic battle at Helm's Deep is without parallel. It's the most astonishing cinema battle sequence of its kind to date. Period.
It's no easy task to navigate three different paths of action, but Jackson makes it seem like a Sunday drive. His pacing is the epitome of perfection, his sense of storytelling, unmatched. Towers is darker than Fellowship, and far more violent (though it's not especially gory). The movie carries a greater sense of urgency — there is much at stake here, and the characters all seem to sense it.
Many of you have probably already experienced the joys of The Two Towers. So I appeal to those who refuse to see the film on grounds that they don't care for "sword and sorcery " epics. The Two Towers is no mere movie. And The Lord of the Rings is no mere trilogy. In Jackson's hands, it's revealing itself to be among the greatest achievements in the short, one-hundred-year history of cinema.