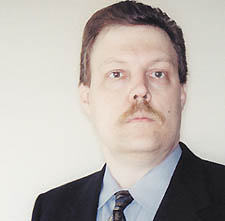 GLAA's Rick Rosendall
(Photo by Michael Wichita)
Are you now, or have you ever been, a homosexual?
Or do you prefer the more modern appellation, gay?
Most likely, the latter. While gays and lesbians have adopted and discarded many names over the years — "uranian " becomes a historical footnote, while "queer " undergoes a progressive retrofitting — most homosexuals have come to agree that one of the last things they want to be called is "homosexual. "
So when Rick Rosendall of the Gay and Lesbian Activists Alliance (GLAA) submitted a letter to the Washington Times criticizing another writer's linking of male homosexuality to pedophilia, he definitely meant to use the word "gay. "
"I simply treat 'gay' as a synonym for homosexual, " Rosendall says. "[H]omosexual just sounds clinical, and the more common usage for a long time has been 'gay.' "
But when his letter appeared in the January 8 Times, "gay " had been changed to "homosexual. " When he protested that the change fundamentally altered his meaning, letters editor Matthew Rarey responded in e-mail, "Per The Times' policy against Orwellian abuse of the English language, the euphemism 'gay' is not used to describe the homosexual lifestyle. "
Rosendall, who says that as recently at 2001 a letter of his ran in the Times without the word "gay " being changed, doesn't understand why the Times would want to make such a change in a letter.
"It makes the Times look petty and silly and desperate, " he says. "They should be confident enough that they don't have to twist my words, since they have all the space they want. "
Rarey maintains that the change was simply part of the newspaper's editorial policy.
"Because the Washington Times uses only sturdy English, " Rarey says via e-mail, "this paper avoids using what Mencken described as 'greasy, meaningless words.' Thus, the word gay — which, according to the OED, has meant mirthful since Middle English — is not used as a euphemistic synonym for homosexuals or homosexuality, except in quote marks. "
It is the policy of the Washington Times to use the term "homosexual " in news stories except for when "gay " is part of a direct quote, according to managing editor Francis Coombs of the paper's news division.
Coombs says that while he can't comment on the contents of the editorial and commentary pages, the style guide in the news division is based on the idea of "preservation of the language " from faddish changes that come and go, and not because of any bias against gays and lesbians.
"If people think bias is [the reason], I can't help that, " Coombs says. "We've certainly had gay and lesbian staffers here. [Bias is] not where we're coming from. "
Editorial page editor Tony Blankley declined to comment.
Even with the presence of gay and lesbian reporters, as well as friendly editors over the years, Cathy Renna of the Gay and Lesbian Alliance Against Defamation (GLAAD) says that the Times remains "a newspaper with a long, long history of not just unfair coverage, but defamatory editorial policy on gays and lesbians. "
The Times commentary pages have provided a regular and welcoming home for such famously anti-gay columnists as Pat Buchanan, Cal Thomas and Maggie Gallagher. But it also runs pieces by gay writer Andrew Sullivan, whose defense of gay men from blanket charges of pedophilia from the anti-gay right was the original impetus of the current round of letters.
"They run excepts from my blog each week, " says Sullivan. "I've not yet seen any changes of that sort. "
Sullivan says he uses both "homosexual " and "gay " interchangeably, depending on the context and readability, but doesn't understand the reluctance to use "gay. "
"I think objecting to the term 'gay' is bizarre, " he says. "It's not a fad. It's been around for years and years. The key is linguistic honesty and simplicity. "
Most large papers have changed their style guides to allow the use of "gay " in place or along with "homosexual. " The Associated Press Stylebook accepts the use of "gay " as a "popular synonym for both male and female homosexuals. " The Washington Post further delineates the usage in its style guide, encouraging the use of "gay " in many situations.
"Gay is generally preferred to homosexual, " says the Post guide. "Homosexual should be reserved for a clinical or biological context. Be wary of using homosexual as a noun. In certain contexts, it can be seen as a slur. "
Using the appropriate terms for any minority can be complicated for journalists and writers working in unfamiliar territory. And change comes slowly in the newspaper business — it's only been about ten years since the New York Times began using "gay " for "homosexual. "
Gay as we know it has long since overwhelmed the original sense of the word — witness towns which have gone to great lengths to rid themselves of "Gay Street. " And although most media outlets have adopted the word along with the everyday speakers of the language, the occasional newspaper carrying the torch for changed lexicon may seem an annoying anomaly that should be changed. Perhaps it's best to leave some areas as they are, if nothing else as a historical curiosity to remind everyone how much things have changed in the course of a movement.
"You choose your battles, " says Renna. "But the sad reality is that the Washington Times is a newspaper that's not going to change any time soon. "