"Make no mistake: This is a big deal, a good thing," Bill Clinton said last week, praising the new $15 billion international AIDS initiative President George W. Bush introduced during his State of the Union address.
Clinton made his supportive comments Feb. 10 at the opening of the 10th Conference on Retroviruses and Opportunistic Infections in Boston. The 5-day conference is the world's premier research meeting on HIV/AIDS, drawing a capacity crowd of 3,900 to hear the latest in AIDS research, treatment and prevention.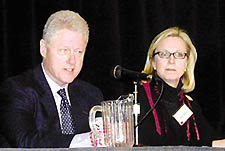 Clinton & Thurman
The former president defended the Bush administration's decision not to assist every nation in southern Africa. With people fleeing Zimbabwe because of political instability, he said, "I can understand why they [the administration] might not want to put money into it."
While some have criticized Bush for not dedicating more money to the Global Fund for HIV/AIDS, Tuberculosis and Malaria, Clinton told reporters at a news conference prior to his address that he was not prepared to join in that criticism.
"I have no problem with the Bush administration funding NGOs [non-government organizations]," he said. "It's important not to rush to judgment" about faith-based organizations providing health care in developing countries. He noted that Catholic and evangelical Christian groups provide a significant portion of health care in some nations of southern Africa.
"In the beginning, I thought that what was needed was more money, it was as simple as that," Clinton told reporters. But when seeing that responses to the epidemic often varied between countries that had the same per capita income, Clinton said he realized the importance of leadership and "the country's ability to organize systematic responses. "
Clinton cited Uganda, which has been able to significantly reduce new HIV infections, and the Bahamas, where price negotiations reduced the cost of one year of HIV drug therapy from $3,600 to $500, allowing programs to offer therapy to seven times more people.
Clinton also acknowledged his own failure in not pushing for federal funding of syringe exchange programs while President.
"I was wrong on that," he said.
Clinton feared that the decline in AIDS deaths in the US, from 45,000 in 1993 to about 16,000 today, has led young people "to not think about it much any moreÂ…Now everybody thinks that the problem is overseas." That has contributed to "the rates going up again" in certain groups in America.
Can a Second Virus Slow HIV?
Hepatitis, herpes, PCP — the list of viral co-infections that compromise the health of HIV-positive persons appears endless. But, counterintuitive as it may seem, co-infection with another virus could be very beneficial, potentially slowing the progression of HIV disease. That possibility was the subject of several papers presented at the conference.
The oddity is GB Virus type C (GBV-C). Identified in 1995, GBV-C can be transmitted through blood products and sex, and is a close genetic relative to hepatitis C. However, on its own, it appears to be benign, with no symptoms for those infected.
But for those infected with both HIV and GBV-C, the co-infection seems to actually slow the progression of HIV infection.
"In the beginning, I thought that what was needed was more money, it was as simple as that. " — Former President Bill Clinton
Jack Stapleton, M.D., a researcher at the University of Iowa and a coauthor of two papers on GBV-C, said the virus "is a very common human infection" that "makes the cell produce more of the cytokines RANTES, MIP-1a, and MIP-1b." These cytokines down-regulate cell surface expression of CCR5, one of the primary co-receptors that HIV uses to enter T-cells, where HIV then replicates itself. If the co-receptor is not expressed on the cell surface, HIV has nothing to attach to and enter the cell.
This effect of GBV-C is intriguing. People who inherit what is known as a delta-32 mutation, a genetic variation in which the CCR5 receptor is not produced, are virtually impervious to HIV infection.
Carolyn Williams, Ph.D., an epidemiologist at the National Institutes of Health, studied data from the MACS Cohort (Multicenter AIDS Cohort Study) to see what she could learn about co-infection with GBV-C. The blood samples and medical histories of that group of gay men have been studied for two decades and have yielded some of the important discoveries about HIV.
Williams looked at blood samples taken when the men entered the study and five to six years later. At the first visit, 39% showed direct evidence of GBV-C in their blood. An additional 46% no longer carried the virus but did show antibodies to it, indicating that they had cleared the infection.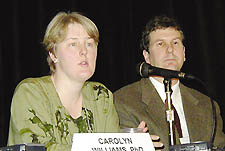 Stapleton
She then looked at their medical records an average of 11 years after they became infected with HIV. She found that "75% of the men who were consistently positive" for GBV-C were still alive, but only 39% of men who never saw the co-infection were still alive. Worse yet were the 12 people who had been infected with GBV-C but had cleared the virus: only 16% of them were still alive.
"Persistently carrying this virus gives a substantial benefit to the men who carry it," Williams concluded. "It's like giving somebody another 300 T-cells."
However, Williams is wary of conducting a trial that would actively infect a person with GBV-C to control HIV. While a persistent infection may be beneficial, "if they clear it, they're in trouble." Stapleton has fewer reservations, saying he could envision carrying out such a trial in advanced patients who have few other options. Better understanding the mechanisms of GBV-C infection may lead to development of small molecule therapies based on those mechanisms.
Williams said that treatment of hepatitis C may result in the clearance of GBV-C. If the beneficial aspects of GBV-C's inhibition of HIV infection are confirmed, that would pose additional dilemmas of whether or not to treat HCV in those individuals who are co-infected with all three viruses.
Both researchers said it would be important to look at HIV long-term non-progressors and slow-progressors to evaluate the presence and impact of GBV-C on their disease, in much the same way that researchers examine the presence of the CCR5 delta-32 mutation to see the effect.
Promising New Treatments
"It's an exciting and important year for therapy," said John Mellors, M.D., of the University of Pittsburgh. "The pipeline of new antiretrovirals is fuller than it has been for a long time. "
Mellors, a researcher and conference organizer, said "it seems that for the first time we are beginning to keep up with the virus in terms of its ability to develop resistance."
One of the promising new drugs is TMC114, a protease inhibitor first identified by the company Tibotec. It has shown excellent activity in the lab against many of the major protease inhibitor-resistant strains of HIV.
Kiekawus Arasteh, M.D., a researcher in Berlin, said the drug was administered with a low dose of ritonavir, as are many other protease inhibitors, to help maintain higher concentrations in the blood. It replaced the failing protease inhibitor in the combination therapy. The phase II trial of 50 patients was only 14 days long and was designed to help determine the best dose for larger trials.
Taking a very different approach is TNX-355, a monoclonal antibody that can be broadly classified as an entry inhibitor. The first treatment in the entry inhibitor class of drugs is T-20, which is likely to be approved by the FDA in the next few months.
There are at least three points during the process of HIV entry into cells where drugs seem to be able to disrupt and block HIV from entering cells to infect them. TNX-355 targets the CD4 receptor that HIV first latches on to during the entry process, preventing HIV from taking further steps in the process of entering the cell.
Daniel Kuritzkes, M.D., a researcher at Brigham and Women's Hospital in Boston, presented data on the first time the drug was put into humans.
A single administration of the higher doses of TNX-355 coated the CD4 receptors for 15-27 days. "The nadir of the viral load was closely related to the duration of the coating," Kuritzkes said, which means that injections of the monoclonal antibody may have to be given only once every two to three weeks.
Another likely advantage is that it offers an entirely new strategy for controlling HIV. It is likely that the virus will have to evolve different mutation patterns from those to existing drugs in order to develop resistance to the monoclonal antibody.
One potential stumbling block was seen in macaque monkeys given multiple doses of the monoclonal — they developed antibodies to it that blocked activity of the drug. But chimpanzees did not develop such antibodies. Kuritzkes hopes that humans will react similarly to their closer genetic relation, the chimpanzees. Results from the single-dose trial in humans are encouraging. Nonetheless, the issue is one that will be closely monitored as the drug moves into larger trials.