The Life of David Gale never achieves the great revelatory gasp it hopes to attain — more like an asthmatic wheeze.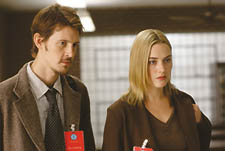 Unraveling the mystery:
Gabriel Mann and Winslet
With The Life of David Gale, director Alan Parker takes up the capital punishment gauntlet and, working from a sanctimonious screenplay by Charles Randolph, attempts to wedge a murder mystery into one of the hottest topics of our day. The results are at best mixed, the final product desperately flawed. And yet, because Parker has such innate skill as a filmmaker, the movie, for a while, actually seems better than it really is.
Kevin Spacey, who with each passing role is showing a talent for portraying somnambulism, is David Gale, a brilliant philosophy professor at a Texas university and one of the nation's leading death penalty abolitionists. Gale's life spins out of control after a bitter student accuses him of rape, and then drops the charges. But the damage is done: he loses his university post; his wife leaves him, taking their young son in tow; and the anti-capital punishment activist organization he helped found — Death Watch — will have nothing to do with him. Gale turns to scotch for comfort; and yet, he remains remarkably placid.
It makes little sense, therefore, that he ends up on death row for the rape and murder (by suffocation) of his Death Watch colleague Constance (Laura Linney). Four days before his execution, he grants a series of interviews to News Magazine reporter Bitsey Bloom (Kate Winslet). "You're being framed, " she gasps. "Oh, it's more than that, " he says. Boy, is it ever! Bitsey eventually solves the mystery, aided by from a graphic video of the murder supplied by an unknown source.
The Life of David Gale never achieves the great revelatory gasp it hopes to attain — it's more like an asthmatic wheeze. When the final truth is revealed, you realize that the movie has been nothing more than a two-hour set-up, with the death penalty issue little more than a dramatic façade. Nothing of value is explored by Parker. The Life of David Gale is as placid and unengaging as its hero, containing no characters of any depth or worth. There are moments in which Parker goes off his rocker entirely — such as with profoundly irritating camera-spinning transitions that seem better suited to a Mel Brooks parody.
The Life of David Gale
Starring
Kevin Spacey, Kate Winslet, and Laura Linney
Directed by Alan Parker
Rated R
125 Minutes

Spacey is the perfect choice to play Gale — since he's the kind of actor we've learned not to quite trust. Still, the role's puffy blandness overtakes the actor. Winslet is more of an idea — all bug-eyed, overwrought franticness — than a persona. Linney gives the movie's most impassioned performance, but more often than not, she's acting up a storm opposite Spacey's erased chalkboard.
We keep waiting for the film to take off, for it to achieve a greater purpose — much like the David Gale's life achieves via the movie's narrative — but it stays grounded. I suppose I could compare The Life of David Gale to Made-for-TV movie, but that would be an insult to all the currently fine TV dramas that do more to develop their characters and situations in an hour than this film manages in just over two.