Photo Illustration: Michael Wichita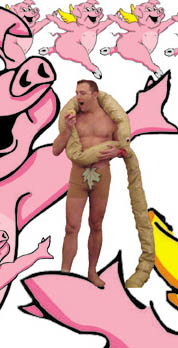 Russ Capps
In rural Missouri, gay high schooler Howard Crabtree wants nothing more than to get together a group of friends and put on an elaborate musical in the family barn. But his pesky guidance counselor keeps reminding him that he should get his head out of the clouds and focus on getting a "real" job instead of dreaming of a life on the stage — something he'll only manage to pull off, she warns, "When pigs fly!"
Judy Garland and Mickey Rooney themselves couldn't have asked for a better set-up.
But this isn't vintage Hollywood musical fantasy we're talking about. This is the hit Off-Broadway revue When Pigs Fly, which opened in 1996 and found a devoted following from fans who adore its unabashed gay sensibility and hilarious antics as Howard's show — complete with outrageous costumes and numbers such as "Bigger Is Better" and "Light in the Loafers" — comes together.
When Pigs Fly makes its D.C. area premiere this weekend in a production by the Gay Men's Chorus of Washington, D.C.
A five-person cast has been expanded with the addition of five dancers for big production numbers, explains director Jarrin Davis, who's been working on When Pigs Fly for the past two months with performers and designers drawn from the volunteer chorus. And even though the show may pale in scale next to the full-chorus production of The Wizard of Oz he staged last season, Davis found there was even less room to camp things up.
"When Pigs Fly is so over-the-top to begin with," he says, "it's absolutely hysterical. You laugh all the time."
When Pigs Fly opens with an 8 p.m. performance on Saturday, February 22, at the Rosslyn Spectrum, 1611 North Kent Street in Arlington. Additional performances at 3 p.m. on Sunday, February 23, 8 p.m. on Friday, February 28, and 8 p.m. on Saturday, March 1. Tickets are $20. Call 202-432-SEAT. Visit www.gmcw.org.