Greek Wedding is so predictable, it's comfort cinema, while K-19 operates without a plot
Every attempt I made to see Daredevil last week was thwarted. First a nasty flu knocked me out on the night of the press screening, then came the weekend's inclement weather, a blizzard that, as you know, brought area life to an utter and absolute standstill. Truth is, ever the eternal optimist, I actually made an online purchase of tickets for a Sunday, 12:30 a.m. showing of Daredevil at the AMC Mazza Gallerie and trudged up there (it took an hour, what with the subway delays), only to find the mall locked, the theatre within unreachable.
K-19: The Widowmaker
Paramount Home Video
$29.99
Shivering outside one of the shackled entrances stood one of the theatre's projectionists. I explained my plight.
"I'd show the film to you, man, if we could get in. "
We couldn't. So he didn't. And I left.
The journey home took another hour.
And I am hoping for a refund from the theatre. Let's see how long that takes.
(I was flabbergasted, by the way, to see that Daredevil managed to rack up over $43 million at the box office, even on a foul-weather weekend. Of course, we on the East Coast tend to forget about the rest of the country out there.)
With no movie under my belt, and column space to fill, I wondered what the heck to write about. It's a little too early to do my annual Oscar column, though I will say for the record that, while I liked Chicago, I'm not pulling for it to win, and I think it's a sham that Peter Jackson did not get nominated for directing Lord of the Rings: The Two Towers. Damn you, Rob Marshall, damn you!
So I've decided to turn the column over to films I recently watched on DVD in the snug, warm confines of my home (the roof of which, incidentally, has sprung a leak, thanks to the snow). For one reason or another, I missed both of these films while they were in theatres. And honestly, I'm glad of that happy accident.
K-19: The Widowmaker is a Russian submarine thriller based on true, near-disastrous events that occurred in the early '60s. Starring Harrison Ford as the boat's captain and Liam Neeson as the boat's former-and-now-displaced captain, the movie is a long, bloated ride in which nothing happens. Well, not much of interest to your average moviegoer, anyway. True, the nuclear sub is rushed into the waters for a test mission, the intention being to strike fear into the heart Kennedy Administration. But K-19 isn't quite seaworthy — there's a lot of blather about politics and Moscow's short-shrift tactics to save money here and there.
Naturally, Ford pushes the boat to the extreme.
Of course, a nuclear reactor springs a leak.
And then it's radiation for everyone on board.
First of all, this is not a pleasant film to watch while under the threat of a possible radiological terrorist attack.
And second of all, this is not a pleasant film to watch at any time.
Ford, in his traditional clench-jawed manner, and speaking in a half-cocked Russian accent, tries to maintain order, and do his duty to the Motherland, even at the expense of his crew. But there are mutinous elements aboard ready to relieve him of his duty. Relieve him. Please, please, please.
Neeson, meanwhile, speaking in no discernable Russian accent whatsoever but more of a soft Irish brogue, is the wildcard. Will he take command back and save the surviving from imminent radiation poisoning? Or will he follow Ford's lead and obey his commands with his butt turned skyward?
K-19: The Widowmaker features some dynamic visuals — as well it should, since it's directed by Kathryn Bigelow, whose best film remains her first film, the vampire thriller, Near Dark — but its narrative is so leaden, the movie sinks to the bottom of the sea and stays there.
---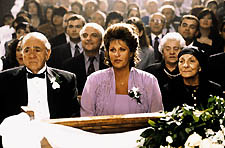 Veteran's day:
Constantine and Kazan
I would never begrudge the success of My Big Fat Greek Wedding, but after seeing it, I'm a little amazed that this slight — and I mean slight — yet somewhat affable comedy won the hearts of moviegoers everywhere. What is the matter with you people? Look, it's occasionally funny, but never uproarious, and the story is so cut-and-paste, it might as well be a Big Fat Greek Barbie Paper-Cut Out Wedding book.
And yetÂ… and yetÂ… there is a core sweetness to this story of "ugly duckling " Toula Portokalos (Nia Vardalos, also the film's screenwriter), who evolves, quite suddenly, into a swan after the man of her dreams, Ian Miller (John Corbett) takes notice of her. As a love story, it's moderately convincing, but the movie's societal aspects — Toula's father, a die-hard Greek nationalist, is vocally dismayed over his daughter marrying outside her nationality — has a resonance that rings home with every Greek/Jewish/Catholic/Am I Missing Anybody? family even in today's melting-pot world.
My Big Fat Greek Wedding
HBO Home Video
$27.95
What makes My Big Fat Greek Wedding appealing are the supporting performances — particularly the depictions of Toula's colossal Greek family. Michael Constantine is an unbridled joy as Toula's Greek-centric, guilt-inducing patriarch who believes that Windex is a cure-all for anything from acne to muscle aches, and who claims he can extract the Greek root from any word, no matter how far-flung (particularly priceless is his analysis of "Kimono").
Lainie Kazan lends a stoic richness as Toula's mother, but it's Andrea Martin who steals the show as Toula's overbearing Aunt Voula. When Toula explains to Voula that her Ian doesn't eat mean, Voula stares for a moment in disbelief. "That's okay, " she says, "I'll make lamb! "
My Big Fat Greek Wedding is, essentially, comfort cinema. Despite its sitcom-like approach to life, it manages to blankets us with feelings of warmth and a zest for life. It's a movie about never losing hope, as well as never losing touch with one's cultural heritage. And if that's the kind of thing you like in a film, then you'll want to rush and own this movie. The rest of you might consider passing on this overly-sugary serving of baklavah.