A tedious, unimaginative thriller, The Recruit is about as tricky a trained seal on its deathbed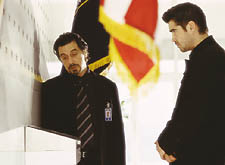 Ham I Am: Pacino with Farrell.
Is anyone else as sick and tired of Al Pacino as I am? Just how many times do we have to sit through one of his over-the-top tirades, which generally strike like a perfectly guided missile at the climax of his films?
It all started in 1979 with And Justice for AllÂ… ("I'm out of order — you're ALL out of order ") but a friend pegs the origins of the Pacino Rant-n-Rave to 1976's Dog Day Afternoon ("Attica! "). In any event, sometimes it works, as in The Devil's Advocate, and sometimes it doesn't, as in the case of The Recruit, an incohesive, incoherent, borderline intolerable piece of mediocrity. The Recruit exists to give Al his big moment. And Pacino, not to be denied, turns up the ham-factor. Honey, Virginia, proscuitto, take your pick — they're all in there.
Pacino plays CIA recruiter and instructor Walter Burke — "a scary judge of talent, " he professes to himself repeatedly — and at the film's onset, he sets his "scary " sights on the talented James Clayton (played by the talent-free Colin Farrell), an MIT whiz-kid tapped by Burke to join the CIA.
For a lure, Burke uses James' obsession with his father, who died in a mysterious plane crash in 1990. Was Daddy a James Bond? Or was he just a Shell oilman who got on the wrong plane at the wrong time? James needs to know and takes Burke's bait, in the process getting hooked into an overly complicated scheme that, when you think about it after the movie ends, makes no sense at all, and just gives you a headache.
"You have just stepped through the looking glass, " Burke tells his new hand-picked inductees. "What you see, what you hear — nothing is what it seems. "
That may be true for them. For us, everything is so predictable you might feel as though you've been overcome by ESP.
The Recruit
Starring
Al Pacino,
Colin Farrell,
Bridget Moynahan
and Gabriel Macht
Directed by
Roger Donaldson
Rated PG-13
105 Minutes
Clayton's experiences at the CIA training facility known as The Farm are the movie's only interesting moments. And if a plot involving Clayton and his cohorts Zack (Gabriel Macht) and Layla (Bridget Moynahan) were able to have been cobbled out of the sequences at The Farm, The Recruit might have risen like well-yeasted dough. But director Roger Donaldson (No Way Out) and his writers advance the story out into the real world, where the allegiance of certain agents are brought into question.
It all boils down to this: "No one can be trusted " and "nothing is what it seems. " And, oh, yeah, Burke is a "scary judge of talent. "
It's like a broken record, this screenplay.
Needlessly complicated and cluttered, The Recruit depends on an erosion of trust between all parties. "Don't you appreciate the complexity of all this? " Burke barks at one point. Gee, no.
The Recruit is not the movie that will anoint Mr. Farrell — a Joel Schumacher find, say no more — a leading man. With his sorrowful eyebrows, blazing coal-black eyes, diminutive stature and baby face (with a perpetual five o' clock shadow), Farrell is a physical study in contrasts. But despite his ability to convincingly pound on a wall and shout his lungs out, Farrell has, up to this point, displayed no aptitude for creating a character that we care about. As an actor, he is one rung above Vin Diesel. Maybe things will change with is role of the villain Bullseye in Daredevil, but I wouldn't count on it.
Director Donaldson understands that misdirection is needed in the case of Farrell — and so he gets the young man out of his clothes whenever possible. There are too many scenes where Farrell's shirt seductively hangs open or is completely cast aside, revealing a smooth, well-crafted, if somewhat scrawny, chest. Farrell's chest doesn't save the movie — after all, nipples don't deliver dialogue — but at least it gives you something to watch for a few minutes between comas.
Pacino, meanwhile, is simply tiresome. Give it a rest, Al. Do something new. The ranting, the raving, it's all a bit much. Time to give one of our better actors something he can do while not walking in his sleep. Then again, maybe he likes it this way. It requires no effort.