Round House can't quite get a grip on problematic Pavilion, while Irish "dramedy" falls flat at Kennedy Center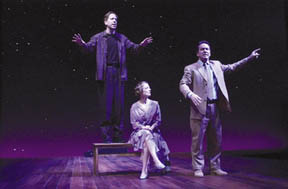 Present tense: Lodge, Beard and Shields.
(Photo by Stan Barouh)
It's been twenty years since Kari (Jane Beard) and Peter (Aaron Shields) — voted the Cutest Senior Couple of Pine City High School's Class of '82 — have spoken to or laid eyes on each other. Why the rift? Peter did Something Really Bad, and Kari was left in their Minnesota hometown to fend for herself while he went off to see the world, a.k.a. Minneapolis-St. Paul.
Now he's back in Pine City on the occasion of their twentieth high school reunion, determined to make things right so both he and Kari can move beyond emotional impasses that have left them unable to grasp true happiness.
That's the premise of Craig Wright's Pultizer Prize-nominated The Pavilion, now playing at Bethesda's Round House Theatre. What's really up Wright's sleeve, though, is the contemplation of big philosophical questions about time and destiny, and he throws in some pretty big theatrical convention-breakers to get his points across.
The Pavilion
Directed by Jerry Whiddon
Round House Theatre
Through 3/2
240.644.1100
Wright clearly has a gift for lyrical language at times — just listen to the Narrator (Marty Lodge), styled very much in the Our Town Stage Manager mold, as he opens the play waxing poetic on the nature of the universe and the cosmic forces at work in our lives. But the play is slow to build up steam as the Narrator segues into setting the scene for the reunion, held at The Pavilion, Pine City's decrepit lakeside dance hall that will soon be demolished to make way for a corporate entertainment amphitheater.
Lodge must also portray, through changes in voice and carriage only, all the people with whom Kari and Peter cross paths at the reunion — nearly twenty in all. It leaves the first act heavy on comedy as Wright, Lodge and director Jerry Whiddon poke fun at various high school archetypes and riff on those wacky Minnesotan mannerisms that everyone just adores.
At the same time, Beard plays Kari, a bank clerk faced with a loveless marriage to an oafish golf pro, as a petulant, borderline-crass and not-very-likeable person. Wright doesn't explain her anger until the last moment in the first act before pulling the plug on any momentum he's managed to build.
When the second act begins, Kari's demeanor has shifted abruptly in that she's now willing to talk civilly to Peter, whom she avoided throughout act one. Like Beard, Shields doesn't get the most sympathetic or fleshed-out character to work with, and he's also not very romantic or likeable to boot. Why does Peter go the trouble of calling Kari's husband ahead of time to ask permission to talk to her at the reunion (which the husband doesn't attend, conveniently enough) but think it's a better idea to talk to Kari, unprepared, for the first time in two decades at The Pavilion? Or why did Kari stay in Pine City, with little obligation, it seems, to face scorn after her high school trauma instead of starting fresh elsewhere?
Of course, they're the hitches that Wright needs to build up to a climactic, fourth-wall-shattering philosophical free-for-all that reveals nothing too surprising or refreshingly insightful: you can't live in the past, you have to forgive and move on, the passion of youth is unmatchable, etc. Unless much of that is news to you, The Pavilion can be passed by.
---
Stones in His Pockets
Directed by Hugh Borthwick
Eisenhower Theater
Through 3/2
202.467.4600
The dark comedy Stones in His Pockets by Marie Jones, in a touring production starring Bronson Pinchot and Tim Ruddy, is mildly amusingly for a while. But it ultimately wears out its welcome as it unfurls into an overlong treatise on the Hollywood-driven Americanization of Irish culture that clashes with the overly cutesy tone of having two actors play a whole slew of characters in a tiny Irish village where a big budget film is being shot. Greater Tuna served with Lucky Charms? No thanks.