A romantic musical finds new life at Signature, while Arena Stage gives Thornton Wilder a posthumous premiere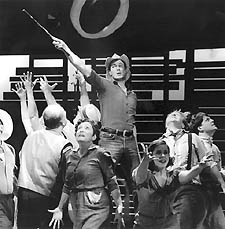 Weatherman: Bogart with ensemble
(Photo by Carol Pratt )
When composer Harvey Schmidt and lyricist Tom Jones made their Broadway debut in 1963 with 110 in the Shade — based on the late N. Richard Nash's 1954 play The Rainmaker — they had already done their best work with The Fantasticks, which opened off-Broadway in 1960 and enjoyed a record-setting 42-year run. Their 1966 Broadway hit I Do! I Do! is also superior to 110 in the Shade. That doesn't mean, however, that Shade isn't worth revisiting, especially when it's in the hands of Signature Theatre and director Eric Schaeffer.
In his tradition of tinkering with problematic musicals, Schaeffer scaled the originally large-cast Shade down to a thirteen-member ensemble, turned its score over to Broadway veteran Jonathan Tunick for re-orchestration, and even brought in Schmidt and Jones themselves to expand the score with the addition of a new song as well as one that had been cut during Shade's pre-Broadway tryout.
The result is a musical closer to the intimate, inviting tone of The Fantasticks and I Do! I Do! in that it doesn't rely on lots of actors or complex visual elements. (Eric Grim's bare, wood-plank set is a stroke of minimalist genius.) Tunick's orchestral work — however lively and polished — can be overbearing at times. He'd have done better to recognize that the musicality of a Schmidt and Jones score shines brightest in a simpler setting — something closer to the dual pianos that lend such charm to their better-known works.
Regardless of where you fall on certain interpretive choices, this Shade is thoroughly enjoyable. You get the best number in the score, "Another Hot Day," right off the bat, and it's delivered with mesmerizing intensity by James Moye as File, the Andy Griffith-esque sheriff of a drought-stricken town in the Great Depression-era Midwest where the love life of Lizzie Curry (Jacquelyn Piro) is as barren as the parched farmland.
110 in the Shade
Directed by Eric Schaeffer
Signature Theatre
Through 3/9
703.218.6500
Lizzie's father H.C. (Harry Winter) and brothers Noah (Thomas Adrian Simpson) and Jimmy (Stephen Gregory Smith) want to see Lizzie and File get hitched, but Lizzie is considered "plain" and File is distracted by the pain of being abandoned by his wife for another man. In swoops Bill Starbuck (Matt Bogart), a fugitive con-artist who sets about convincing the town that he can bring rain and convincing Lizzie that she's a beautiful young woman who deserves romance and adventure.
This is fine musical theatre fodder, and even if Schmidt and Jones's songs mostly fall short of the timeless appeal they achieved in other works, they still work perfectly well to amplify the emotions and conflicts that drive Shade forward. (For maximum enjoyment, switch your moral outrage lever to "off" position — there's an earnest sexism that pervades Shade, despite its revisions, without so much as a hint of irony.)
Piro possesses a phenomenal vocal instrument, and she keeps Lizzie consistently fascinating and heart-tugging. Bogart brings a smoldering sex appeal and great sensuous voice to Starbuck, and he's matched in sexiness by Moye. By the time Lizzie finds herself in a position to choose between the two men, it's clear she's going to land quite a hunk either way.
Shade will probably never be frequently produced, and perhaps short of a bigger-budget Broadway revival, it's certainly unlikely to find itself cast in as favorable a light as Signature has achieved. Musical theatre fans should definitely make an effort, then, to seek Shade while they can.
Theophilus North
Directed by Mark Cuddy
Arena Stage Through 3/2
202.488.3300
First-time playwright Matthew Burnett received rarely-granted permission from the estate of the great American writer Thornton Wilder to adapt a Wilder novel — Theophilus North in this case — for the stage. Arena Stage and Rochester's Geva Theatre Center are shouldering the premiere production responsibilities together, and they've certainly made some impeccable design achievements — a gorgeous wood-paneled set and lovely period costumes to evoke the 1920s in well-heeled Newport, R.I. — to enhance Burnett's script.
It needs the help, as Burnett compresses the adventures of Theophilus North (Matthew Floyd Miller), a 30-year-old aspiring writer who ends up in Newport for a summer, into four episodes that illustrate his insights into human nature  without a great deal of dramatic momentum. Miller puts a nicely whimsical spin on North's demeanor, and the climactic moment of North's self-revelation packs a decent dramatic punch. It's too bad Burnett didn't find a way to structure earlier scenes with the same kind of impact and a less predictable, formulaic structure.