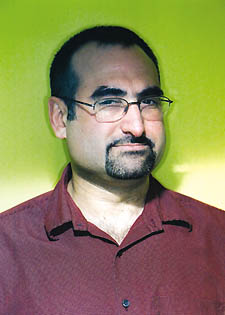 Louis Harris
(Photo by Michael Wichita)
"It's like a 17th Street Tales of the City," says Lambda Rising manager Jane Troxell when customers ask about the hot-selling 32 Variations on a Theme by Basil II in the Key of Washington DC, a new novel by local author Louis Harris.
Although Troxell is a personal fan of the first-time novelist's work, which puts a humorous spin on the lives and loves of a group of gay friends, she rarely has to offer more of an endorsement. "Everyone wants to read about their hometown," she says.
Harris, a 42-year-old Michigan native who's lived in Washington since 1984, based 32 Variations on a particularly evocative period: the federal government shutdown at the end of 1995, followed at the start of 1996 with a crippling blizzard — events that, compounded with city services already in shambles under the Marion Barry regime, left Washingtonians in an extended, uncertainty-filled limbo.
"It mirrored dysfunction I saw in the gay community," Harris says, which inspired him to approach the novel in the musical style of theme and variation. "There's a certain level of balance to the events, and deliberate cadences — all based on the nuances you'd hear in a Brahms piece or something like that."
Harris, also a musician, originally tackled the theme and variation style while composing at the piano, but turned to writing a novel after his daily diary entries during the government shutdown period revealed an abundance of colorful source material. Landmarks such as the late Pop Stop Café — re-christened the Hop Scotch for the book — are easily recognizable, although Harris promises there are no thinly-veiled vendettas in the form of his characters.
"I'll save that," he jokes, "for the next novel."