Theater Alliance serves up meaty drama on H Street, while GMCW hams it up across the river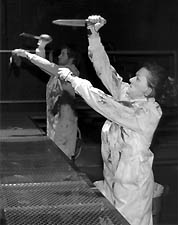 Showing guts:
Dunn and Mendenhall
(Photo by Bruce Robey)
If you've been putting off a trip into Northeast to check out the new H Street Playhouse, the time for dawdling has come to an end. Not only is the 1928 building a downright nifty space — past incarnations include auto showroom and movie house — but the resident Theater Alliance production of Slaughter City is a marvel of audacious theatricality that you shouldn't miss if you appreciate intense, thought-provoking, passionate drama.
Kentucky poet-playwright Naomi Wallace (One Flea Spare) grounds the play in the reality of the 1992 strike against Fischer Packing Company in Louisville, ignited by the on-the-job death of a slaughterhouse employee that called attention to staggeringly unsafe and inhumane working conditions. Wallace's interviews with striking workers inform many of Slaughter City's characterizations, although the playwright transcends simple documentary by incorporating bold mystical elements to create a feverish fantasia on suffering, sexuality, gender, race, class and cruelty.
SlaughterCity
H Street Playhouse
Through 3/16
800.494.TIXS
That's some tall order, but it hasn't intimidated director Jeremy Skidmore, who skillfully oversees an impressive convergence of stagecraft and performance. Against the striking simplicity of Tony Cisek's industrial steel set — as much trap and cage for the human workers and it is for the animals they so routinely brutalize — the stories of four central figures emerge.
Brendan (James O. Dunn), Maggot (Jennifer Mendenhall) and Roach (Thembi Duncan) are longtime slaughterhouse drones reluctant to accept a non-union newcomer, Cod (Aubrey Deeker), into the fold. Yet it's Cod who has the strongest activist streak among them, and he steadfastly plants seeds of revolt. He also brings a potent sexual appeal that draws Maggot to him, while Brendan, a white college dropout, relentless pursues Roach, a black woman at least a decade his senior.
These are exceptionally challenging characters to get a grasp on, yet Dunn, Mendenhall, Duncan and Deeker have each mastered their roles with indelible, mesmerizing performances that embrace and sustain Wallace's often-cryptic narrative approach, a strange but intoxicating combination of urgency and languidness that truly takes you up to the last minute before it explodes in a hard-hitting climax you won't soon forget.
---
The Gay Men's Chorus of Washington production of the 1996 Off-Broadway revue When Pigs Fly opened last weekend to an enthusiastic response from a sold-out house, who were clearly appreciative of the significant effort funneled by the volunteer-driven GMCW into the costume- and comedy-intensive undertaking.
Brandon Dubroc is an exceptional delight as Howard Crabtree, who we meet at the start of the show as a theatre bug-bitten gay high schooler who can't stand the thought of anything other than a life on the stage. Still, his guidance counselor Miss Roundhole (producer Steven Haber, in a cameo appearance) continuously urges him to take up one of the career paths indicated on his vocational assessment: chicken farmer, plumber, watch repair or garden supply sales.
When Pigs Fly
Rosslyn Spectrum
2/28 at 8 p.m.
3/1 at 8 p.m.
202.432.SEAT
Fast forward a couple of decades, and Howard's still pursuing his dream, although now he's enlisted a group of his like-minded friends to stage elaborate musical numbers. The premise of When Pigs Fly dictates that Howard spend much of the time working "behind the scenes," which is a shame, since Dubroc is blessed with a golden voice, playful sex appeal and great comedic timing — combined to sheer bliss in the production's best number, the gay marriage-themed "Hawaiian Wedding Song."
Lyricist Mark Waldrop, paired with composer Dick Gallagher, has a gift for witty wordplay, although it's disconcerting to find a considerable amount of material devoted to no-longer-hot topics — House Speaker Newt Gingrich, Senators Helms and Thurmond, Rush Limbaugh, anti-gay legislation in Colorado, even gay marriage in Hawaii — that don't have quite the zing you yearn for, even considering When Pigs Fly as a period piece.
Among the featured performers, Stuart Goldstone is a strong vocalist and comedian who does an especially wicked take on Bette Davis (complete with a Joan Crawford doll in tow) in "Baby Jane." Carl Baldwin tends to overplay, although he still adds nice running sight gags as the performer who gets stuck with humiliating costumes, only to have his numbers aborted by technical glitches before he can even get started. Russ Capps is pretty to look at, but doesn't have a great voice or acting skill to punch up his numbers, especially the painful "Sam and Me," which tries to paint a rosy picture of a suburban couple's closeted life in the '60s, complete with butch "husband" and femme "wife" assignments. The hard-working Joel Furtick spends much of the evening wrangling various complicated drag get-ups, but his efforts pay off when he appears as a grown-up, glamorous Little Orphan Annie — part Shelly Winters, part Carol Channing — singing an amalgam of every perky "Tomorrow"-like anthem in the Broadway canon.
A chorus of dancer-singers, added by director Jarrin Davis for this production, includes Alvin Jay Figer, Jim Gruschus, Ricky Jacobs, Ed Oseroff and Todd Paul. Hampered, though, with mediocre choreography by Rick Southerland, and not a whole lot of skill in evidence, the dancing boys are a superfluous element who do more to clutter the small stage than enhance the proceedings.