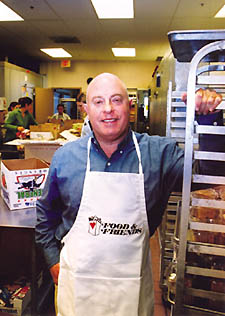 Shniderman
"This has been the winter from hell," says Food & Friends executive director Craig M. Shniderman, bemoaning the relative onslaught of snow that, in recent weeks, has turned his organization's already-daunting task — the daily delivery of meals to clients with HIV/AIDS and other life-challenging illnesses — into a seemingly insurmountable obstacle.
But Food & Friends has never been the kind of organization to shy away from a challenge.
In its fifteen-year history, the agency has only missed one day — back during the blizzard of '96 — of scheduled meal deliveries. And in the midst of an even bleaker economic winter, Food & Friends has just managed to complete a $7 million capital campaign that will allow it to build new headquarters in Northeast Washington. By the fall of 2004, if all goes according to plan, Food & Friends will close the doors at its leased Southeast facility — maxed out at around a million meals prepared annually for 1,100 clients — and re-open in a brand new building where its capacity will immediately double to more than two million meals per year.
While Dining Out for Life has always played a critical role in supporting Food & Friends' bold agenda, the 2003 event on Thursday, March 13, has an even bigger part to play this time around.
"Last year's AIDS Ride was a terrible problem for us," Shniderman explains. "We went from a $1.7 million net in 2001 to about $250,000 in 2002. That money isn't just used in the calendar year that the ride occurs, but in the twelve months thereafter. The income we would normally have available for the first six months of this year is substantially less because of the last AIDS Ride outcome. This Dining Out for Life money is, therefore, all the more important."
Food & Friends' fundraising goal for Dining Out for Life 2003 has been increased to $185,000, and the number of participating restaurants has grown to the highest number yet — over 120, plus 60 Domino's Pizza outlets (find the complete list at www.foodandfriends.org).
However, the benefit of Dining Out for Life will go well beyond the amount raised on March 13. "It's a high-visibility event," Shniderman says, "which has a residual value to the agency throughout the year. It's a good way to make the community aware of the services we provide."
In addition to the percentages of food sales donated by participating restaurants, Food & Friends places staff and volunteer "ambassadors" at every site to keep tables stocked with contribution envelopes for diners who wish to make additional donations to the agency, and answer any questions from the public about the organization's work.
"When the history of the AIDS epidemic is written, one of the things that will be said is that first, the gay and lesbian community saved itself, and then it saved everybody else. " — Craig M. Shniderman
"I can't even tell you how many people over the years have called for service as result of learning about Food & Friends at a restaurant during Dining Out for Life," says Shniderman.
As the agency continues to rebound from last year's AIDS Ride revenue crisis, future Dining Out for Life events will be looked to for increased fundraising output. "There's a lot of room for growth," Shniderman says, "both in terms of restaurants participation, corporate sponsorship and awareness among the dining public about the event. We do not view this as being anywhere near its peak."
Food & Friends also plans to focus on expanding the fundraising impact of its popular annual Chef's Best event, and to devote careful attention to the care and feeding of Tour de Friends, the new bicycling event it has launched to replace the controversial Pallotta TeamWorks-produced AIDS Rides of the past.
The ever-evolving face of the HIV/AIDS-impacted population, combined with Food & Friends' decision three years ago to expand its mission to include persons struggling with cancer and other life-challenging illnesses, has resulted in an agency that reaches far beyond the traditional lines of the gay community in which it is rooted. Yet Shniderman has yet to see a reluctance from the gay community to stand behind Food & Friends in the same way it always has, and he has a deep sense of admiration for lessons learned from the gay community over the years.
"I'm a straight guy from Montgomery County," Shniderman says. "I'm married to a woman, I have four kids, and working in the gay community has been the best part of my professional life. The gay community has a compassion, energy and sense of humor that you wouldn't expect to find, and you wouldn't find, anywhere else in this [metropolitan] community.
"When the history of the AIDS epidemic is written, one of the things that will be said is that first, the gay and lesbian community saved itself, and then it saved everybody else. Probably more than half the people we take care of now with AIDS are not gay and lesbian, but there's no stinting on the part of the gay and lesbian community to help these people. And then the gay and lesbian community, it will be said, having saved itself, and then the straight community living with AIDS, went on to save people — gay and straight — living with breast cancer, lung cancer, and colon cancer. That will be a great legacy of generosity and selflessness.
"My children, whether they're gay or straight, will be people who, as adults, have a greater sense of compassion because of [their exposure to] Food & Friends. This is a great gift to the whole community from the gay community."