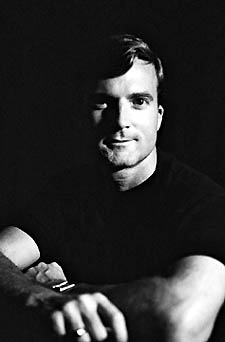 Braswell
"What show is that from?"
By 1995, Mark Walter Braswell had heard the question so frequently when he'd sit down at the piano to play and sing — to which he'd respond, "I'm making it up as I go along!" — that he knew it was time to devote some serious attention to songwriting.
"For the longest time," Braswell says, "I thought you had to get some kind of graduate degree in music in order to be able to write songs." The gay 44-year-old Washington lawyer has been playing piano since the age of six, and he found himself drawn early on to standards — especially "poignant ballads" — by such songwriting icons as George and Ira Gershwin and Cole Porter.
But once he set his mind to songwriting eight years ago, the songs came in spades, filling original musicals and cabarets — even weddings and commitment ceremonies — and generating buzz on Braswell among theatre artists and audiences in Washington and New York.
Now Braswell has taken his songwriting artistry to a new level with the release of the CD Before Tomorrow, a collection of audience favorites and new material — 21 tracks in all — that features Braswell's music and lyrics interpreted by both established and emerging singers from the Washington and New York arts scenes, including Sean MacLaughlin, Mary Jayne Raleigh, Sherri Edelen, Keith Jameson and Tracey Moore, as well as pianists Howard Breitbart and Ron Chiles.
"I have no problem letting others shine through my songs," says Braswell, who accompanies only two album tracks. "There are so many talented people I've been lucky to come across who like my music, and I love their work. It's a terrific opportunity to hear others sing and play my music who are far more talented in those areas than myself."
Braswell hopes Before Tomorrow will spark interest in his musicals and revues among a wider audience, and support new studio recording ventures with songs he wants to create in other genres, such as lounge and soft jazz. And though he remains humble about performing, that doesn't mean he doesn't have big dreams for the songs he writes.
"Barbra Streisand is going to record one of my songs," he says dryly, pausing for perfect musical comedy effect before adding, "She just doesn't know it yet."
Before Tomorrow is available at Melody Records, 1623 Connecticut Avenue NW, and online at www.truenote.com.