Chef John Wabeck's inspired creations make Firefly less a place to be seen than to enjoy a good meal with friends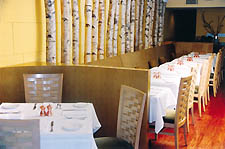 Woodsy appeal: Firefly.
(Photo by Michael Wichita )
An enormous floor-to-ceiling tree hung with candle-lit lanterns sits smack in the middle of Dupont Circle's hottest restaurant. Opened last fall within Hotel Madera, Firefly beckons diners to its charming and attractive space with a menu of contemporary American cuisine and imaginative design. While not operated by its boutique hotel host, the two seem in perfect harmony as if destined to be together.
Designed by the San Francisco-based Puccini Group, Firefly's décor is at once whimsical and mellow. Sunny yellow walls, white birch tree trunks, and rustic stone walls combine organically to create a naturally peaceful setting and convey a warm and neighborly feel. The theme is furthered through the use of mahogany and a backlit amber glass bar. A small, comfortable lounge area will have you wishing your table were not yet quite ready.
Reservations are essential, particularly on weekends, when this small popular bistro is generally fully booked. Despite its trendy status, there's nothing pretentious about Firefly; it's less a place to be seen than to enjoy a good meal with friends. The staff is friendly, even a little laid back, and the food is straightforward and unfussy. Chef John Wabeck, who earlier crafted menus for both Topaz Bar and Bar Rouge, is turning out some of the most remarkable, moderately priced cuisine in Washington.
Mussels steamed in Dominion Lager and served with french fries are a wonderful way to dive into this place. Available as either a starter or small meal ("bowl"), these mollusks are fresh and delicious in their brew-spiked juices. The accomplished frites, crispy exteriors flecked with fresh basil and near-creamy interiors, arrive in paper cones standing in iron holders. There are enough to share if you can bear to part with them.
Watercress and seared rare tuna combine to make a stunning appetizer accented with grilled eggplant and black olives. The thought of ordering another and canceling the main course actually crossed my mind, although in hindsight I would have missed another equally inspired creation.
A soup of celery root with apple-radish slaw and thyme is silky and muted. The slaw garnish gives a crisp textural contrast to the creamy bisque. Crisp oysters and parsley with chipolte tartar sauce are fresh and tender, although their fried coating does carry along a fair amount of oil. The hot and smoky zest of the chipolte pepper adds a fiery zing to these gems.
On a recent evening, cumin crusted mahi mahi was as fresh and moist a fish as I've ever eaten. An ancient spice that dates to the time of the Old Testament, cumin is actually the ground seed of a plant in the parsley family. Given its intense, aromatic flavor, cumin can be overpowering and its use here came just short of overwhelming this fine, delicate fish. A pairing with quinoa [pronounced KEEN-wah] made for an interesting combination of textures and flavors.
Firefly
1310 New Hampshire Ave. NW
202-861-1310
Sun-Th: 5:30pm-10:30pm
Fri-Sat 5:30pm-11:00pm
Lunch, daily: 11:30am-2:30pm Reservations Recommended
Dinner
Appetizers: $6-$9
Entrées: $12-$23
Desserts: $6.50-$8
While fairly new to the U.S., quinoa was a favorite of the ancient Incas and remains a common grain in South America today. These small ivory-colored kernels have a delicate flavor and are showing up where you might formerly have seen heavier starches such as couscous or rice. Used with the mahi mahi, it was just the right touch.
You say you're tired of chicken? Give the roasted Amish chicken here a try — it's as flavorful and juicy as it gets. When you add mashed red potatoes blended with goat cheese and an accompaniment of steamed spinach, this entrée is anything but tired, and the perfect comfort food for a late winter's feast. A grilled pork chop of mammoth proportions is tender, succulent, and interestingly coupled with cabbage cooked with onions and horseradish.
Service at dinner can be a mixed experience. While always attentive, I find conversation can sometimes be a casualty of the enthusiastic service. One evening our main courses arrived while we were still on our starters and, hovering over us with occupied hands, our server implored us with panicked eyes to pick up our plates and exchange them for the next course. On another occasion, service was flawless.
Lunch at Firefly is less crowded and just as culinarily rewarding. Angel hair pasta with wild mushrooms adorned with parmesan cream sauce is delicate in texture and loaded with flavor. A grilled salmon BLT sandwich is a bit to oily but nicely accompanied by a mixture of grains, including barley and quinoa.
Desserts get equal attention here with Pastry chef Alicia Iracks proving her accomplishments in their own right. Brandy poached pear with warm cranberry compote and orange crème anglaise is a showstopper. Molasses spice cake, baked in an individually sized tall pan, although a bit dry, is fragrant, spongy and nicely accented with mascarpone cream, caramelized honey-pumpkin sauce and a scattering of walnut praline. Pumpkin crème burlée, topped with toasted pumpkinseeds, is simply remarkable. An al a Carte brunch menu is offered on both Saturday and Sunday.
Like the fireflies of your youth, you'll find your bill captured in a pint jar, complete with nail holes in the lid. You'll chuckle the first time and forgive the cuteness on subsequent visits because you'll still be savoring the joys of a fine dining experience that hasn't triggered deficit spending.