In a triumphant return, Katsuya Fukushima brings his own flair to Café Atlantico's Nuevo Latino cuisine.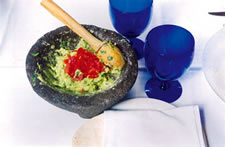 Prepared tableside:
Atlantico's guacamole
Photo by Michael Wichita
As you approach the unassuming brick building on Eighth Street, the first thing that grabs your attention is a canopy of iron-wrought waves undulating above the entrance. Inside, exposed brick walls soar above you, and hard wood floors meld with frenetic black and white marble in the entry way. Simple wooden tables with cobalt blue candles are paired with booth seats wrapped in serrapa colors, bringing out the various pieces of art on the walls around you. In one corner stands an oak bar, where bartenders busy themselves pulverizing limes to extract fresh juice for pisco sours, caipirinhas, and mojitos. But the main character is the winding staircase twisting and turning up three levels like a giant anaconda. If possible, try to get a table on the third floor, where any seat positions you above the kitchen on the landing below and you can watch the line chefs hustle.
When, back in September 2002, longtime chef Christy Velie left Café Atlantico, many wondered who would replace her. It seemed the number of capable chefs who could take the helm was small. Jose Ramon Andres, the chef under whom Velie previously served as sous chef at Atlantico, was unavailable, occupied with opening Zaytinya, a new Middle Eastern style mezze restaurant.
Shortly after Velie's departure, the restaurant announced that her former co-chef, Katsuya Fukushima, would return after a two year absence, with Andres overseeing as culinary director. It's only when you glance over the menu that you feel the subtle differences Fukushima's arrival has produced — not only has he revived signature dishes gone missing from Atlantico during Velie's tenure, but he's brought his own flair to the restaurant's Nuevo Latino cuisine.
Begin your meal with guacamole, here prepared tableside. Before your eyes, avocados are sliced with wooden spoons and expertly blended with scallions, chilis, tomatoes and lemon juice in a large, dark grey mortar. Served with fresh warmed tortillas, this is an extraordinary avocado mash — both silken and chunky, with an unmatched, vibrant freshness.
As seafood appetizers go, there are several notable selections. An order of pan-seared scallops with coconut rice, ginger, crispy rice and the luscious black ink of squid is a must. The moist scallops are gently seared and plated over the coconut rice, with the squid ink drizzles creating a dramatic visual of black on white. Tuna and coconut ceviche with sliced avocado is similarly excellent, the ceviche possessing a pleasant lemon afterspike that doesn't overpower the gracefully thin-sliced tuna.
CAFÉ ATLANTICO
405 8th St. NW
202-393-0812
Mon-Thur
5-10pm
Fri-Sat
5-11pm
Lunch
Mon-Fri
11:30am-2:30pm
Latino Dim Sum
Sat-Sun
11:30am-2:30pm
Reservations Recommended
Dinner
Appetizers: $6-$13
Entrees: $18-$24
Desserts: $5-$7
Soups range from the traditional to the innovative. Sweet potato soup with goat cheese fondant and cinnamon oil is out of this world. The fondants melt smoothly as they swirl into the sweet potato puree, creating a nice combination of root vegetable and fresh cheese. Diced sweet potato cubes make a wonderful addition. And while I was initially weary of the cinnamon oil distorting the other ingredients, it actually managed to provide a subtle warmth on a particularly nasty winter evening. A savory soup of foie gras with a floating island of corn and chanterelles is lacking a sweet grace note to balance the soup's heavy richness.
Entrees also present an interesting spin on classic Latin American dishes and seafood. Traditional Brazilian feijao stew with chicken breast, pork bean mash, farofa (toasted meal made from manioc roots), small orange slices and sautéed collard greens (surprisingly crisp not soggy) with garlic is a delight. A hot mango salsa served with the dish is deceptive: the more you eat of the initially sweet mash, the more the heat accumulates. You'll quickly be flagging down your waiter to refill your water.
Portabello mushrooms with huitlacoche — a corn fungus — is unique. Served with Latin cheese and roasted beets and beet oil, this odd pairing of ingredients works surprisingly well. Sprouts sprinkled over the top add a crisp, verdant touch.
Salmon served on a bed of cauliflower and quinoa "cous-cous, " buttery papaya, avocado mash and vanilla-papaya oil is superb, the fish poached to flaky, firm perfection. Braised lamb shank in Argentinean Malbec with mushrooms, pumpkin, tomato and lime has great potential. The shank is moist and tender, served in its own juices with a basting of lime and red wine. The problem here is the pumpkin — there's far too much of it. Not only is the lamb served with a sweet pumpkin puree, but it's also layered with thin strips of cooked pumpkin across the top, clashing with the meat.
Desserts, prepared in-house by pastry chef Steve Klc, are hit and miss. While certainly innovative, moving away from traditional flan, dulce de leche, and pasteles, many are not memorable or distinctive. The only thing living up to expectation is goat cheese cake served with candied orange peel and roasted figs — smooth, rich and complex. Rich butter cookies filled with manjar blanco (a white caramel) and dusted with powdered sugar could be a great way to end a big meal, but the cookies are cumbersome and dense, with the consistency of short cake combined with a thick caramel center. And a warm chocolate cake with Venezuelan chocolate flan, banana foam and fresh banana-lime salad is arranged on a plate in a way that fails to combine the thick chocolate cake with the fresh fruit. The ingredients are eclectic with nothing to unite them.
The servers at Café Atlantico are accessible and knowledgeable about how the items on the menu are prepared and about what wine selections would best complement the meals (the restaurant has an enormous selection of South American wines). Also, Latin American cocktails are a great way to kill some time if you're waiting for a friend: whether you order a pisco sour, mojito, or caipirinha, you won't be disappointed.
Does Fukushima's menu meet expectations? By all means. And for those seeking a weekend treat, try the Latino dim sum served on Saturdays and Sundays. It provides a sampler of what you can expect at dinnertime at Café Atlantico.