Evolve will remind fans who want Ani never to change that they're thrilled with the results when she does.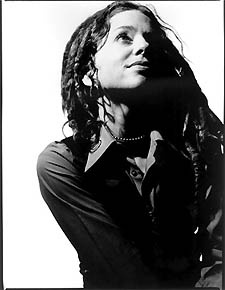 Highly evolved: DiFranco
(Photo by TK)
"I've been told that I'm getting more and more tortured in my old age, " said Ani DiFranco. "WellÂ…I try. "
She hasn't had to try very hard. Since making that statement in 1997 on Living in Clip, her two favorite muses — love and politics — have provided more than enough material for an album doubled-over in pain. Evolve, her twelfth studio release, is a heartbroken lefty white girl's blues. Smoky, brooding and highly introspective, it delves deeper into DiFranco's churning mind than we've ever been before.
In that regard, it's probably her most compelling album to date, but it's not her most fun or accessible. Evolve was created in the midst of her separation from husband Andrew Gilchrist, and during a shift in America's political climate. But as always, DiFranco's knack for lamenting breakups and Republicans without getting whiny or morose makes Evolve a bittersweet work of staggering perception and sincerity.
But it's also more cryptic than usual. Some of the songs hint at a general theme — anger turned to indifference in "Shrug, " alienation in "Here For Now " — but they feel more like abstract ideas than references to specific experiences. Past songs, like "Little Plastic Castle " and "Gravel, " wrapped their meanings in stories, something this album largely shies away from, leaving you thirsty for more context. This is Evolve's most tenuous attribute.
Balancing out the somewhat vague lyrics, however, is DiFranco's unmatched flair for vocal experimentation. If delivery is everything, Evolve is DiFranco's zenith. "O My My " is the most unchained, uninhibited free-flow of verbal liberties she's ever given us on a studio album, and an acute reflection of the time that she's spent in New Orleans over the past couple of years. The outro recalls images of a brass band funeral march down Bourbon Street, and black women in Sunday dresses fanning themselves on creole porches.
Ani DiFranco
Evolve
Righteous Babe Records
$16.98
In stores 3/11
I think this is what DiFranco meant when she named this album, and what she spelled out on its title track with the (perhaps superfluous) assertion, "I've got more and more to do/I've got less and less to prove. " Evolve was recorded in DiFranco's house in Buffalo, New York with barely any overdubs; the lack of professional studio recording quality is apparent. And that's the point. With each passing album, DiFranco is less and less guarded. Seven years ago, on Dilate, she "care[d] less and less what people think. " Today, she goes one step further, intentionally prodding reluctant fans into territory that they never knew that they wanted to be in. What fan of Out of Range would have thought they'd be coaxed into the soulful, funk-rhythm of "In the Way " or the artsy ramble of "Serpentine, " which, DiFranco joked at a show at the 9:30 Club last April, may as well be the Dead Sea Scrolls set to song.
Long-time devotees will find themselves partly wistful for the younger, flightier, "not pretty " girl, and partly agape to hear the brilliance, daring and depth that only experience can bring. Evolve is yet another example of DiFranco reminding her fans that just because they think they want her never to change, they're consistently thrilled with the result when she does.