Two gay independent darlings turn in projects that make the movies safe again for naptime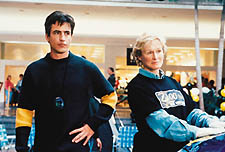 Playing for sleeps:
Mulroney and Close
(Photo by IFC Films)
Rose Troche has made exactly three films — one great, one good, one a snoozer. The great one, her 1994 black and white debut Go Fish was a vibrant, poetic look inside the revolving-door romantic life of a group of lesbians. Bedrooms and Hallways, a graceful, romantic comedy in which a gay man in therapy grows attracted to a member of his group, was enjoyable (the film closed the 1999 Reel Affirmations Film Festival). Troche's third theatrical release — The Safety of Objects — is certainly her most ambitious undertaking to date. But it's the snoozer of the bunch — the least engaging, the least spirited, the least worthy of an audience's time. Unless that audience is intent on being bored to death.
Based on the stories of A.M. Homes and adapted for the screen by the director, The Safety of Objects, which opens tomorrow, is meant to leave us marveling at the resilience of human beings hurled into the aftermath of a grave, personal tragedy. It's also meant to be a celebration of neighbors — how our suburban existence, and our interaction with those cup-of-sugar-borrowing strangers in our midst, can act as a salve against isolation. But what it means to be and what it delivers are two different things entirely.
The film follows four families through a period of several days. All have been impacted in some way by a car accident that a year earlier put Paul Gold (Joshua Jackson), son of Ester and Paul (Glenn Close and Robert Klein), into a coma. As Paul lies unresponsive in his bedroom, the neighborhood undergoes a catharsis of sorts, sparked by the breakdown of lawyer Jim Train (Dermot Mulroney), the sudden sexual awakening of housewife Helen Christianson (Mary Kay Place), and the abduction of tomboyish Sam Jennings (Panic Room's Kristen Stewart) by local lawn and garden hunk Randy (Timothy Olyphant), a friend of Paul's who survived the accident physically unscathed but mentally scarred.
The Safety of Objects
Starring Glenn Close
Directed by Rose Troche
Rated R
121 Minutes
Throughout the film, Troche flashes back to the fateful night — showing us, in bits and pieces, how the relationships play out, and how certain events and decisions led to the eventual accident. The collective guilt hangs like a John Carpenter-induced fog over the neighborhood.
Though its stories interconnect (Jim Train, for instance, quits his job and becomes a coach for Ester, an entrant in one of those promotions where you stand for hours touching a car in order to win it), the film has a disconnected quality. And there are instances that are so patently absurd, they take us out of the movie altogether — notably any sequence involving Train's 12-year-old son, Jake, who has romantic, fantasy conversations with his sister's Barbie doll, and undergoes his own homosexual awakening after he inadvertently caresses the "six-pack " stomach of a G.I. Joe doll. It may have worked as a short story, but on film the conceit is so clunky and stiff that it comes off as embarrassing.
The Safety of Objects is a slow-going two hours — it makes a tortoise seem like Speedy Gonzales — harboring none of the freshness that marked Troche's earlier works. It's further marred by blandly delivered, voice-over inner-monologues of characters ("I will not regret the things I do, " thinks Helen as she practices her daily routine of Tai Chi).
Troche's influences appear to be the misanthropic Neil LaBute (Your Friends and Neighbors) and the nihilistic Todd Solondz (Happiness), both of whom have dealt with similar material in more alarming and unnerving ways. The Safety of Objects longs to be abrasive, corrosive, challenging, shocking. Alas, it's not. Any acid is neutralized by corn as well as Troche's inability to handle the enormity of the material in any way other than superficially.
Close, Clarkson and, especially, the creepy Olyphant give stunning performances that burst through the narrative muck, but the rest of the cast spins its wheels joylessly, with Jackson getting the rawest deal of all: through much of Safety, he lies motionless, an inert presence in an ultimately inert movie.
Gus Van Sant has made over twice as many movies as Troche, and yet his batting average is far worse. He emerged with an indie blaze — the dazzling Drugstore Cowboy and the popular yet flawed My Own Private Idaho — and quickly sold out to Hollywood (Good Will Hunting, and the lesser and virtually identical Finding Forrester). He then incurred the wrath of serious moviegoers with his shot-by-shot color remake of Psycho, a exercise in cinematic masturbatory indulgence.
---
Gerry

Starring
Matt Damon
and Casey Affleck

Directed by Gus Van Sant
Rated R
103 Minutes

Van Sant's newest film, Gerry, now at Visions Cinema, is an existential nightmare — not just for its characters, two men named Gerry (Matt Damon and Casey Affleck) who take a casual hike into the desert (sans water and food) and become hopelessly lost, but for the audience as well.
And yet there is an occasional mesmerizing, hypnotic quality to Gerry, mostly due to the truly spectacular desert vistas brilliantly shot by Harris Savides (all it needs is a narrator to qualify it as a National Geographic special). If Van Sant's meaning is to depict the power of nature's enormous and compelling hold over man, then he's made his point by the close of the first half hour. But with forty-five minutes of nothing to go, the point becomes painfully redundant.
With its barely intelligible, largely improvised dialogue between the two characters, and long, long, long, long, long, long, looooong uninterrupted shots in which the young men trudge slowly across the foreboding arid terrain, their boots crunching the gravel in on-again, off-again rhythm, Gerry comes off as a low-budget gimmick. (It is, in fact, a tribute to the austere films of Hungarian filmmaker Bela Tarr.)
And the ending — oh, the ending. Infused with a forced irony, it completely undermines the movie's minimalist trappings. There's an odd yet effective moment of homoeroticism that, if Van Sant had had to guts to carry it through, might have given Gerry a much-needed kick. What he serves up, however, is so contrite and lame that you kind of want to kick yourself for getting suckered in.
Is the movie redemption for Van Sant's foray into commercialism? Is it a continuation of his anything-but-original experimentation with the cinematic art form? Who knows? A Sunday afternoon audience at Visions, where the movie is playing in limited run, seemed stymied by the film. Rarely are movies met with such silence — or communal snoring.
There is one inspired moment involving a giant rock and a truly impressive long jump by Affleck. Otherwise, Gerry is a long, arid journey from day to night to day to night and sometimes from day to day (this is faux avant-garde cinema, after all — time has no meaning), a journey through the wasteland that is Gus Van Sant's self-indulgent mind.