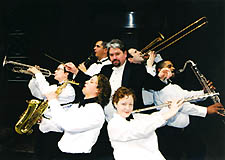 Bandmates: Clockwise from top:
Conductor Scott Barker,
Matt Swearman,
Eddie Banks, Anja Maguire,
Jodi Hains, Kim Webb,
and Marc Martin-ez.
(Photo by Michael Wichita )
The colorful sight of a marching band parading down the street during Capital Pride might be the first image that comes to mind when you think of the gay and lesbian musical organization D.C.'s Different Drummers. But the 23-year-old DCDD also includes a swing band, pep band and symphonic band, with the latter showing remarkable growth — doubling in size from thirty members to its present roster of sixty — over the last five years since Scott Barker became DCDD's artistic director.
Barker leads the DCDD Symphonic Band this weekend in its spring concert Let's Face the Music and Dance, the first of three major programs in 2003 that reflect the band's impressive evolution. Audience expansion has led DCDD to schedule two performances of both the spring and fall concerts. The band will also share the stage with the Lesbian and Gay Chorus of Washington on World AIDS Day, December 1, for the premiere of a DCDD and LGCW co-commissioned work by noted composer Robert Maggio that pays tribute to the legacy of the AIDS Memorial Quilt.
Two "sneak preview" movements from the Maggio piece will be featured in Let's Face the Music and Dance, along with "Mars" from Holst's The Planets, two movements from Howard Hanson's "Romantic Symphony," and selections from the ABBA musical Mamma Mia!
"There will be something that everybody can relate to," says Barker, who's also included a parody of classical selections to ensure that serious moments are balanced with "lighthearted fun and camp." In that vein, Barker also notes that audiences can expect a surprise appearance by a "special guest diva."
"There's a real journey we're going to take our audience through musically," Barker says of his thematic approach to the concert. "Our community has faced tremendous challenges, and our response in many cases has been to make music, to love, to dance, and to celebrate who we are. That's what we hope to represent, [along with] the fact that we've faced many demons head-on and have come through in the end."
DCDD Symphonic Band performs Let's Face the Music and Dance at 8 p.m. on Friday, April 4, and Saturday, April 5, at St. Margaret's Episcopal Church, 1830 Connecticut Avenue NW. Tickets are $15. Call 202-269-4868. Visit www.dcdd.org.