The trees around the tidal basin hit their peak a few weeks ago, but there's one final cherry left to bloom this weekend — Cherry 8, Washington's own annual circuit stop. While many have grown used to the annual appearance of the giant dance party, this year's event promises a more gargantuan experience with the Cherry Main Event being held at the brand-spanking-new Convention Center.
Although Cherry is known as one of an international series of high-profile dance and party events, organizers point to the community groups that benefit from the proceeds are the main reason behind the party.
"I hope that the community will come out and support us, have a good time, and know that their money is going to a worthy cause," says Martin Yeung, Cherry Fund chairman.
This year's beneficiaries are the Metro D.C. Center for GLBT People; the Victory Foundation; the Sexual Minority Youth Assistance League (SMYAL); and the Mautner Project for Lesbians with Cancer.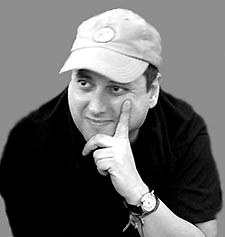 Billy Carroll
Of course, while fundraising may be the goal, the lure of packed dance floors and pulsing music are what draw crowds of revelers year after year. That's why, even though he missed the actual blossoming trees, DJ Billy Carroll's visit this weekend won't be a total bust. "My cherry's going to be popped," he jokes about his upcoming first time at Cherry.
Nine DJs will spin at the six official Cherry 8 events, at least two performance acts aim to captivate the crowd, and the requisite lighting engineers and other technicians will make it all come off without a hitch — well, no hitches you'd notice. Cherry planners also promise some surprise performers.
"A lot of DJs are afraid to play vocals once they've achieved some sort of success, as they don't consider that creative. Not me. I'll gladly play a screaming disco number if it works."
— Tom Stephan, a.k.a. Superchumbo
This year's crop features scheduled entertainers who are trendsetters in the field of dance music and who got their start or honed their craft at lofty institutions, from Studio 54 to Cirque Du Soleil, or by producing for or partnering with leading divas and dance artists such as the Pet Shop Boys (DJ Tom Stephan even dated Neil Tenant years ago).
Brett Henrichsen had none of those connections, and his path to becoming a Cherry 8 Main Event DJ comes with a whiff of fairy tale. As a business executive, Henrichsen took his regular gay boy fascination with dance music and a mid-90s disgust with the lack of dance music available to the consumer and created his own label for producing mix compilations, MASTERbeat. The Los Angeles-based Henrichsen only became a DJ in the past few years because of that entrepreneurship.
"I learned my taste in music was leaning towards a more vocal, happy and high energy style, and that was starting to die out at many of the events," Henrichsen says. "I started practicing and learning to DJ just for fun so that I could play the style of music I would like to hear if were at an event, and the calls for bookings started coming in."
Unlike most of the Cherry 8 entertainers, Henrichsen has been to Cherry before, but not to "work" it. The Los Angeles native came with friends to one of Cherry's earliest parties, back when the event had a different spring moniker and drew hyperventilated criticism from conservatives in Congress.
"Cherry was actually one of the first circuit parties I ever attended," he says. "I was simply amazed at the production values of what was at that time a little local event. I never dreamed I would be spinning the main event someday."
His cohort at the Cherry 8 main event, and the headliner, Tom Stephan (better known as Superchumbo), is a DJ and a producer of house dance music that centers on a drum-heavy, percussive sound, equally influenced by U.S. dance styles as by those in the U.K., where he's lived for the past decade. As he describes it, his sound focuses less on melody and more on rhythm and bass. He's quick to add, though, that he's not exclusively hooked on beats.
"I'm quite happy to play vocals," says Stephan. "I think a lot of DJs are afraid to play vocals once they've achieved some sort of success, as they don't consider that creative. Not me. I'll gladly play a screaming disco number if it works.
"Circuit parties are a lot of fun," he continues, "but they're usually in bigger spaces than regular club events, so it's sometimes hard to get feedback from the audience." Playing the main event at the new Convention Center will prove to be quite a challenge for him and Henrichsen. They're going where no DJ has gone before.

Eye of Newt Circus
It's not all about DJs, of course, and the lighting and sound technicians, as well as venue managers, are as essential to making the event a success. It can all turn into a circus — literally. The Eye of Newt Circus — a troupe of clowns, acrobats, actors and singers led by Eric Newton and his trapeze partner Sagiv Ben Binyamin — will perform at Sunday's Closing Night party at Nation. Newton last year toured the country with Cirque Du Soleil, "a career-long dream," while Ben Binyamin continues to play and perform stunts as Spiderman at Universal Hollywood's "Spiderman Rocks." The whole Circus is currently working grueling 12-hour days on an animated feature film, The Polar Express, directed by Robert Zemeckis and starring Tom Hanks. But they especially like working at gay events.
"There is something homoerotic about any two-man physical performance and its great to share this with our community," says Newton. "Performing at three a.m., up to thirty feet off the ground, above throngs of hot sweaty, often ecstatic men, to a deafening beat takes a lot of focus, but it's a total joy."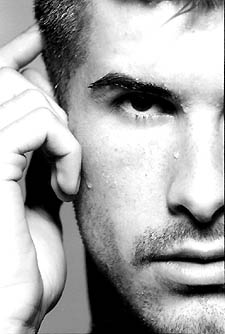 Killian
At the Saturday Main Event at the Convention Center, Cherry will bring back Adam Killian and his performance troupe to electrify the crowd as they did at least year's Cherry Closing Party. Killian, who along with Eye of Newt just performed at the White Party Palm Springs, combines his acting and dance training into a gay-affirming, sexy spectacle that he describes as a "playful and slightly naughty journey."
It's easy to spot those kids who dream of becoming a pop singer, or a dancer, or a rock musician, or a circus performer — they gravitate toward anything that thrusts them to center stage. But how do you spot a DJ-in-the-rough? Are there early-warning signs that you're destined to be an out-of-sight, but not out-of-mind, spinner?
For Tom Stephan, it may have been his dad's gift of a toy drum set when he was a pre-teen, which he pounded incessantly until it was of no use. For Blaine Soileau, it was having his parents buy him 45-rpm records, and then getting his teacher to play them in class. For Billy Carroll, it was using his 45s not as records but as percussion, throwing them, in time — and as coins in a jukebox — into a cake pan on the kitchen floor. For Don Bishop, it was afternoons spent playing vinyl records and cassettes at the same time, essentially "crashing" the sounds together.
This year's slate of DJs is a refreshingly humble lot. Don Bishop, who will work Nation's Blue Room at the Sunday Closing Party, came of age in New York during the disco era, when DJs went virtually unnoticed and almost always unannounced. "It's the music and the spinning a great set that should count first," he says. "Not making a name for yourself."
"I still have yet to figure out if it's a noble occupation — wanting to share music with others — or a disease — needing to turn people on to new music," says Richie Rich La Due, slated to spin the Friday Night After Hours event at Cobalt, where he's a resident DJ. Bostonian La Due finds it difficult — and ultimately unimportant — to worry about distinguishing one DJ from another, or his sound for, say, Soileau's.
"I try to work very hard and very fast, playing everything and the kitchen sink," says La Due. "I don't want to mix so smoothly that it sounds pre-recorded, nor do I want to be so sloppy that it sounds like crap."
Billy Carroll got his start as a guest DJ at Studio 54, and the "anything goes" philosophy to playing music at the post-disco, early-house club Paradise Garage, where he also guest DJ'ed, continues to color his style today.
"There is something homoerotic about any two-man physical performance. Performing at three a.m., up to thirty feet off the ground, above throngs of hot sweaty, often ecstatic men, to a deafening beat takes a lot of focus, but it's a total joy."
— Eric Newton, Eye of Newt Circus
"I think nothing today of pulling out an ABC record or a Missy Elliott track — and I don't mean a dance remix," he says. "And I never know what I'll play in advance."
Carroll is one of two Cherry 8 DJs to be a Billboard reporter — he and Lydia Prim help shape the magazine's closely watched weekly club play dance music chart. He's a resident at New York's SBNY, Miami's Crobar and our own Velvet, and a regular circuit party DJ.
"I love the energy of circuit parties, where we're celebrating our brotherhood, freedom, where we've come from over the last twenty years," he says. "The new generation of DJs is just really incredible, especially in your own area where there's a lot of emerging talent."
Soileau — one of those up and comers — agrees.
"There's so much talent in this city," says Soileau. "Right now it's the same DJs scheduled over and over and over again. The rest of us are just waiting for our turn."
Soileau will spin Friday night in Apex's back video bar, which will be cleared of the usual tables and chairs and turned into a dance floor. He will also spin after the Saturday Main Event at his own regular non-Cherry gig, Sunday Mass DC at the nightclub Five, where this week he'll spin on the rooftop. Soileau said that he goes "for the whole ethics thing about DJing. I'm in it for the love of music. I don't do it because of my ego, and that's the way it should be."
To purchase tickets to this year's Cherry 8 events, please stop by Universal Gear at 1601 17th Street NW, or visit the Welcome Center at the host hotel, The Washington Terrace, 1515 Rhode Island Avenue NW. For more information, visit www.cherryfund.org.
A Cherry 8 Sampler
Ten Cherry-Picked Hits From Cherry 8 DJs
1. Emotional Rollercoaster – Vivian Green
RICHIE RICH LA DUE says: "This song has been out for months but it still sounds fresh to me. I'd put this on my Top Ten ten times."
2. Serious – Vernessa Mitchell
3. American Life – Madonna
EYE OF NEWT CIRCUS says: "We performed for the Supreme Diva [Madonna] herself recently. She sat in the front row in a nurse from a porno outfit and cheered us wildly. Honest! We have pix to prove it."
4. Ain't Nobody – Mat's Tribal EP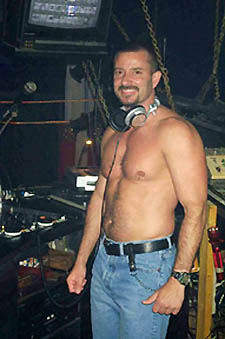 Blaine Soileau
BLAINE SOILEAU says: "Mat's taken the chorus from 'Ain't No Mountain High Enough' to create his own production. It's exactly what I'd like to do with my old records, to take elements from them and produce something new."
5. I'm So Gone – Monica & Missy Elliott
6. Walking on Thin Ice – [Yoko] Ono
7. Muzikizum – Xpress 2
8. If You Love Me – Becky Baeling
BRETT HENRICHSEN: I just had the opportunity of getting her to play at White Party Palm Springs. What an incredible and talented artist!"
9. Bottles & Cans – Angie Stone
10. Dark Beat – Oscar G & Ralph Falcon