Photos by Michael Wichita
NOW MUSEUM, NOW YOU DON'T! 8BR/7BA mansion is home to more historical artifacts than P St. Beach at 2am. Four flrs, roof deck, high ceilings, fireplaces, hidden CAC. A renovator's dream! Occupants are GM couple of 13 yrs w/ preservation fixation.
Doug Johnson, a chief information officer, and Brett Copeland, an architect, live in what could easily pass for an annex of the Smithsonian Institution. Their century-old home contains, among other things, a silver vault, original toilets and bathtubs, and a gallery's worth of original classical paintings.
BRETT [In master bedroom]: There are nine fireplaces, eight bedrooms and seven bathrooms. We haven't used all of the bedrooms yet. In fact, there are two rooms of the house that I had never even been in until about three weeks ago. We can have the top floor to ourselves and just use the second floor for guests. We get lots of guests.
DOUG: At one point about fifteen years ago it was going to be turned into a bed and breakfast, but that failed.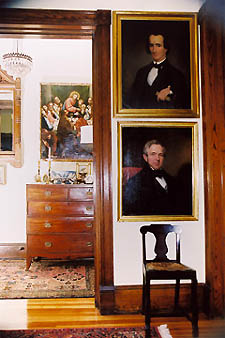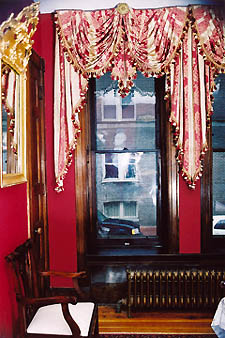 Windows to the past and present: Paintings hang from walls
throughout the mansion (left), while elaborte window treatments
frame the neighborhood view (right).
BRETT: So we'll make the top floor into sort of a master suite, make one of these bedrooms a master bathroom and turn the smaller bedroom into a walk-in closet.
DOUG: A dressing room, almost. There are sixty windows total.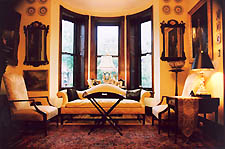 A house preserved: Johnson and Copeland wanted — and found — a house untouched by renovations and modernizations.
BRETT: And most are southern exposure. The other unusual thing about the house is that every floor has ten-foot ceilings. Usually, the ground floor is ten feet and the others are nine.
DOUG: Schneider designed it. Not the Schneider who designed the Cairo. His cousin or his brother. There was a whole family of Schneiders in Washington.
BRETT [In kitchen]: Previous owners since then have maintained the house very well. They didn't do anything we'd want to undo.
DOUG: And that's what we wanted. We didn't want anything where someone else had already renovated everything. It's still got all of the original speaking tubes that were used by the servants. You'd just holler through them. All the bathrooms still have their call buttons. And all the floors have laundry chutes, which I love.
BRETT [In hallway]: And all of the doors still have their transoms, and for the most part they all work. They provided ventilation to the rooms so you could have your door closed and still get air. Everything works because nothing's been changed.
DOUG [On roof]: Though we're thinking of putting balconies with a staircase off the back of the house. We don't want to have to cut through this roof for roof access. You can see our turret up here. Turrets were a way of making your house look taller. That was the only reason for having them. It was a prestige thing. But we're not high enough to see the monument. It's blocked by the Wardman next door.
BRETT: Our house in Virginia was on two acres and it was kind of a ranch style, so we've gone from horizontal to vertical. My legs were so tired the first few months we were here from climbing the stairs.
DOUG [In living room]: Brett and I collect paintings. He likes landscapes and I like portraits and religious scenes.
BRETT: These are portraits of the parents of Mrs. Willard, the wife of the Willard who bought the land where the Willard Hotel is and who started it.
DOUG: He was fifty and she was nineteen when they married.
BRETT: Apparently, their daughter was a spy for the Confederacy. Willard was in the Union and imprisoned her until the war was over, and then married her. It's kind of funny, because we live on the corner of Willard Street.
To have your own personal dwelling considered for an Environs profile, please send an email to home@metroweekly.com. For past Environs, please visit www.metroweekly.com.