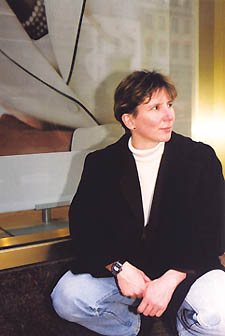 Photo by Michael Wichita
Ex-lovers — they can be a plague on your romantic life, or be your best friends. But whether you cross to the other side of the street when you see them coming or catch dinner and a movie with them every week, exes are an inevitable part of dating and relationships.
"It's such an emotional subject and there's not a lot out there about it, " says Laurel Faust, 41, whose new novel Jackie's Exes centers around a group of women who bond over their shared experience dating — and losing — the eponymous Jackie, a beautiful, confident, D.C. journalist.
Faust's protagonist, photographer Beth Marks, gets her life lessons from her relationships with the group of exes. She even falls for vixen-ish Ana Kovaks, who cheated with Jackie while Beth was still with the lesbian Lothario.
Like her characters, Faust also found she had a lot to learn when she began creating Jackie's Exes. "I went through a great personal growth through even conceiving this book, " Faust says. "Jackie is who I might have become if I hadn't self examined and redirected on a new life course. "
Lesbian and gay fiction is often accused of targeting its appeal to a narrow audience. Faust sees that as a narrow viewpoint in itself. "I wrote it lesbian because I'm lesbian. It's lesbian niche, but it's an issue that's applicable to everyone. We all have basic self-esteem issues. We all have exes. "
Rockville resident Faust also wanted to highlight her hometown: Jackie's Exes is set in and around some highly recognizable Washington landmarks, beginning with Lammas bookstore that once graced 17th Street. "It feels like home, " she says.
Faust is currently working on the sequel to Jackie's Exes, where the local flavor will take on a summer twist as she follows her group of intermingling exes through their summer at Rehoboth Beach. Sounds like things could get hot.