A Mighty Wind is a glorious symphony of satire, hitting one perfect note after another.
Info Box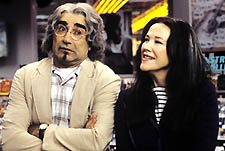 Kissing to be clever:
Levy and O'Hara
A Mighty Wind is not Christopher Guest's funniest film, but it's his best. It's a rare thing, an emotionally resonant parody, but Guest and his skilled stable of improvisational maestros have pulled it off.
Utilizing the same mockumentary style he employed in the Waiting for Guffman and Best in Show, Guest, working once again with writing partner Eugene Levy, orchestrates a pitch-perfect parody of the folk generation — gently and graciously lampooning everything from songs to personality types.
The movie opens with the announcement of the death of Irving Steinbloom, a legendary folk impresario responsible for the careers of The Folksmen, The Main Street Singers, and Mitch & Mickey. Steinbloom's son, Jonathan decides to pay tribute to his father by producing a concert at New York's Town Hall, reuniting these three acts for a night of hand-clapping and, as it turns out, barnyard-inspired sing-a-longs.
The Folksmen are portrayed as a trio of middle-aged has beens by Guest, Michael McKean and Harry Shearer (all three actors, you'll recall, comprised the band Spinal Tap). The New Main Street Singers, meanwhile, percolate a nauseating perkiness that is looked down upon by the snooty Folksmen, who liken the Main Streeter style to one better suited for toothpaste commercials. The biggest joke here is that some of The Main Street wholesome-appearing singers are anything but.
That's just the icing. The cake of this film is the bittersweet tale of Mitch and Mickey, a beloved romantic duo who used to end their signature song with an kiss. After their breakup, Mitch suffered a complete breakdown, one from which he never quite recovered. The two haven't seen each other in twenty years and the resulting reunion is as deeply poignant as it is awkward.
This is a testament to Levy, who plays Mitch with halting, tentative fluster, and the extraordinary Catherine O'Hara, whose Mickey straddles a fine line between great dramatic acting and comic character development. These two SCTV alums play off each other with a comfort level that is beyond astonishing.
A Mighty Wind
Directed by Christopher Guest
Starring Christopher Guest, Eugene Levy, Catherine O'Hara, Bob Balaban, and Michael McKean
87 Minutes
Rated PG-13

Area Showtimes
A Mighty Wind is filled out with so many small, meaningful details that the movie can't help but feel like the real thing. Still, it never loses sight of its purpose to entertain — many of the jokes brilliantly absurd throwaways. Everyone gets a moment in the shtick spotlight. Ed Begley, Jr., gets a particularly juicy bit as a Public Broadcasting Network producer whose roots are Swedish but whose passion is Yiddish slang. John Michael Higgins and Jane Lynch as Terry and Laurie Bohner, the current leaders of The New Main Street Singers, are priceless, especially when explaining their special mystical connection to the dimension of color.
Christopher Guest steps aside as a performer and lets others take the limelight. Bob Balaban is a joy as the neurotic, safety conscious Jonathan Steinbloom. Fred Willard, the king of modern comedy, serves up one of his best creations as Mike LaFontaine, the obnoxious manager of The New Main Street Singers. A few familiar faces — Parker Posey, Larry Miller — are underutilized, but others, such as Jennifer Coolidge, as a daffy P.R. executive and Michael Hitchcock as the easily irritated house manager of Town Hall, make the most of their brief moments. Coolidge has the movie's funniest and best punchline, one involving the invention of the train.
What makes A Mighty Wind blow with real gusto, however, are its extraordinary collection of "folk " songs, most written by Guest and Shearer. They're brilliantly realized musical creations — and they sound almost authentic and time-worn, as if they'd been in the lexicon of music for decades.
A faux folk masterpiece, A Mighty Wind hits one perfect note after another. It's a stunner, inspired and glorious, and is without question the best movie yet to be released in 2003.