There's much to admire and very little to find fault with at Chef Tom Powers's wondrous restaurant
A dear friend holds the view that food is love. And if this be true, I now love rather than fear going to the corner of 12th and K Street, where years ago my car was totaled after being rammed into a light pole by another car.
If so many friends hadn't told me how wonderful their dining experience had been at Corduroy, housed within the Sheraton Four Points Hotel at this very intersection, I might never have ventured back to a location that produces, for me, unpleasant memories.
So it's clear that great food has the capacity to help overcome deeply rooted fears.
And it's all because of Corduroy.
Working from a fairly short menu of fine American cuisine with an emphasis on fresh ingredients, chef-owner Tom Power has been turning out notable creations here since the restaurant opened in July 2000. He's built a large loyal following during a climate of deep economic downturn that has much of the industry in a slump.
First courses are every bit as accomplished as the mains. Confit of free-range chicken is nearly a meal unto itself. While not prepared in the traditional style of a duck or goose confit, this one is juicy and bursting with flavor. Sautéed savoy cabbage is nicely paired with it, providing a colorful and tasty partner.
Lobster salad soars in its simplicity. Tender, fresh morsels of lobster and tomato are loosely bound together with the slightest touch of chervil mayonnaise and accented with crunchy pea greens. Another success is warm goat cheese couched beneath crispy potato strands (think of angel hair) deep-fried to a golden brown. This light cloud of crunch is a perfect textural contrast to the creamy, tart cheese.
A luncheon starter of Filipino-style spring rolls come filled with juicy pork in wrappers that are light and crispy. A fairly sweet dipping sauce has just enough red-pepper pizzazz to fire up your taste buds for more to come.
Main courses are championed by several well-executed fish choices. Peppered rare tuna, perched atop a pedestal of sushi rice and skillfully accented with sesame vinaigrette is remarkable for its freshness and simplicity. Crispy whole sea bass gently bathed in wild black trumpet mushroom broth is a compelling reason to return to Corduroy soon, before even the possibility that it may be rotated off Power's next menu.
Atlantic salmon arrives beautifully grilled, its moist brilliantly colored flesh tender and flavorful. The accompanying garlic creamed spinach is a bit heavy on the garlic for my tastes, but otherwise a delight.
Corduroy
1201 K Street NW
202-589-0699


Lunch Daily: 12-2:30pm
(Bar menu only on Sat & Sun)
Dinner: Mon-Fri & Sun, 5:30-10:30, Saturday, 5-11pm
Reservations Recommended

Dinner
Appetizers: $6-12
Entrees: $18-26
Desserts: $6
Lest you think it's all seafood at Corduroy, sink your teeth into — with practically no effort at all — this chef's Osso Buco-style veal cheeks. However off-putting it may initially sound, a bit of daring rewards you with some of the most incredibly tender and flavorful veal you'll ever devour. Deftly sauced with a veal reduction studded with carrots, celery and onions and a splash of white wine, it's a truly memorable dish.
The issue of eating yet more baby animal flesh aside, roasted top sirloin of lamb here is as good as I've had anywhere. At first skeptical of its menu pairing with mini goat cheese ravioli, any doubt was soon swept away by this inspired, albeit sinfully rich, combination.
The two best dessert offerings at Corduroy are comprised of chocolate. A warm chocolate tart has a thin crust and velvety rich filling and comes with slices of caramelized banana and a plump scoop of chocolate ice cream. On the food-is-love meter, this is a proposal of marriage. Only slightly less intoxicating are chocolate hazelnut bars of dense, creamy chocolate, finely ground hazelnuts and a layer of crisp pastry. The dish is a little on the dry side, but that would be easily remedied with a little puddle of raspberry coulis on the plate, for instance.
The service at Corduroy is highly professional and makes one wish wait staff elsewhere were as knowledgeable and helpful. Impressive too is the pacing of courses, timed to provide a relaxed experience without one wondering what has happened to the next course. Overall, there is much to admire and very little to find fault with in regard to both the food and service, which explains the advisability of a reservation. Marvelous things often require a bit of planning.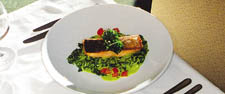 David Garver can be reached at dgarver@metroweekly.com.