Don't let skewed world diplomacy interfere with one of the most European experiences Washington has to offer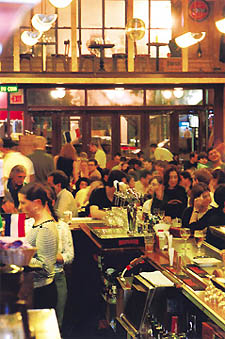 The gang's all here:
Bistrot comes alive at night.
(Photo by Michael Wichita)
There are few places in Washington that evoke the feeling of being in Paris, so Francophiles and French expats here generally may be found in numbers at them, even if the mood and the food isn't totally authentic. Arguably, no place comes closer than Bistrot du Coin (literally "bistrot of the corner," although this one is only near) with its lively chatter, brusque service, and faux-Parisian d écor.
One immediately senses that this place doesn't take itself too seriously, and that is to be admired. A mirrored disco ball revolves conspicuously from the middle of the ceiling, a touch that usually elicits broad smiles when it's first noticed. Not knowing when to stop though, owner Michel Verdon has installed multiple sets of rotating colored disco lights that annoy far more than they amuse, especially if you're dining on the mezzanine.
Although official Washington is miffed at the French, there is no animus here among the Dupont Circle diners, where deep-fried strips of potatoes are still pommes frites and where la guerre is still hell. Most nights its shoulder to shoulder at the genuine zinc bar and the tightly spaced trestle tables. As a long-time Washingtonian, it's hard to believe this same space was for decades the home of that '60s flower child, Food for Thought.
There's no shortage of ways to begin your feast. Soups, salads, tartines, pat és, foie gras, confit and mussels all await you. Onion soup, with its thick layer of cheese and rich onion-studded broth, is always a reliable choice here. Much less impressive is the hearty vegetable soup that is a bit light on flavor.
Warm leek salad with smoked duck hits all the right notes. The thinly sliced, smoky duck breast is nicely paired with tender young leeks and a side mixture of rice and finely diced carrots and roasted duck. A basket of crispy sliced baguette enhances the experience.
Foie gras, saut éed with braised apple and calvados, is praiseworthy, its mild flavor and silken texture superb.
Duck confit is as good as I've had in Washington. The preserved meat is moist and oozes flavor. A small salad of fris ée (a member of the chicory family) along with saut éed potatoes with onion and bacon nicely complete the plate.
Five distinct preparations of mussels will tempt the mollusk lovers among you. My favorite is Mouclade des Charentes, steamed in a light cream sauce with a whisper of curry. The curry lends a sweetness to the sauce complementing the naturally sweet flavor of the mussels. A more traditional version with garlic butter is also well-executed.
Bistrot du Coin
1738 Conn. Ave. NW
202-234-6969
Reservations Accepted
Main Courses: $12.50-$26.50
French cuisine rarely shies away from using rich creamy sauces and one is put to excellent use in a casserole de lapin. Tender stewed rabbit with carrots, onions, mushrooms and spaetzle (a touch of Alsace), all in a sinful cream-based sauce, is as rich a meal as you'll find here or perhaps anywhere. It's only a little ironic that rabbit, a high protein, low fat meat, finds its way into a cream sauce. Oh, how I love French cuisine.
People say that the cassoulet here is quite authentic, but having had the real thing in France, I found the version served here disappointing. This classic stew from the Languedoc region of France can take days to prepare, its white beans, sausages, pork, and duck confit covered and cooked very slowly to harmonize the various flavors. At Bistrot du Coin, the ingredients are all present, of course, but one senses they haven't been in one another's company nearly long enough.
No bistrot can be judged authentic without passing one crucial test — steak and pommes frites. And Bistrot du Coin does very well in this category. The hanger steak, tender and beautifully perfumed with fresh rosemary, holds its own. A tenderloin "pave," thick and juicy, is a standout. Only the ribeye from Argentina was disappointingly gristly and fatty. While the frites are very good, they don't rise to the level of those at Brasserie Les Halles, although none do.
Pan seared filet of monkfish is moist, tender and flavorful. Rounded out with haricots vert and rice with an almost risotto-type preparation, this dish is the most surprising discovery on the menu of chef Yannis Felix.
Desserts are an uneven proposition. Crème brul ée is flawless, with a divinely creamy texture and thin brittle coating. Also impressive is cherry custard, generously loaded with big juicy black cherries and beautifully oven browned. Tropezienne, a brioche pastry filled with custard, is the most stale thing I've ever been served anywhere and must have been sitting around for days.
Lunch at Bistrot du Coin is more relaxed and quiet than dinner, with the peak time about 1:30 p.m. And it needn't be mealtime to enjoy this place since it doubles very well as a neighborhood bar.
Don't let skewed world diplomacy interfere with one of the most European experiences Washington has to offer. Any place that offers sauce b éarnaise as a side item is magnifique, even if you do have to contend with a bit of cigarette and cigar smoke on the main floor.
David Garver can be reached at dgarver@metroweekly.com.