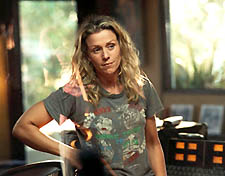 I kissed a girl: McDormand
In film after film, Frances McDormand proves herself to be one of our most infinitely enjoyable actors. From her compelling debut in 1984's Blood Simple to her deftly comic, Oscar-winning work in Fargo to her over-the-top juicy stint as a fretful, straight-laced  mom in Almost Famous, she creates luster out of everyday life. And Laurel Canyon provides McDormand another chance to show off her considerable versatility.
Unfortunately, Lisa Cholodenko's film is a sluggish, meandering, virtually pointless swan dive into a cement pond of faltering relationships. In other words, it's a bust.
McDormand stars as Jane, a dope smoking, sexually free-wheeling, accomplished record producer. Her conservative, uptight son, Sam (Christian Bale) has come to her Laurel Canyon home for a temporary stay as he begins his residency as a doctor of psychiatry. Arriving with his naïve, sheltered fiancé Alex (Kate Beckinsale) and expecting peace and quiet, he instead finds the house a bustle of hard-rock activity — midnight parties, bong-a-thons, and pounding music from the nearby recording chateau. It appears that Jane's latest recording project has gone into overtime and a rather virulent record executive is clamoring for a hit from the band Jane's working with. Further complicating matters: Jane is having a fling with the band's sexed-up lead singer, Ian (Alessandro Nivola), a man sixteen years her junior.
Laurel Canyon
Starring Frances McDormand, Christian Bale and Kate Beckinsale
Directed by Lisa Cholodenko
Rated R
103 minutes
Area Showtimes

Sam has issues with his mother and her lifestyle — he physically clenches up whenever she's near. Alex, on the other hand, is drawn to Jane and, even moreso, the sensually-beckoning Ian. "It's okay to leave the ivory tower and live a little, " he says. As Alex drifts toward a tryst with Ian and Jane (yes, there is a girl on girl kiss, and it's a little quease-inducing as you realize that Alex is frenching her future mother-in-law), Sam grapples with his own temptation island — Sara (Natascha McElhone), a gorgeous Israeli doctor with designs of her own. It all comes to a brisk, accusatory head at the famed Chateau Marmont.
Opening up one's mind to new possibilities while dealing with the remorse and stagnancy that accompanies grown-up choices is not a fresh topic by any means and writer-director Cholodenko isn't a strong enough talent to breathe new life into it. The movie is stale from the start.
McDormand is funny when she needs to be, poignant when it matters most. Bale plays the flustered son and guilty would-be lover to perfection. Beckinsale makes Alex's willing evolution one of Laurel Canyon's more enjoyable aspects, but it's hard to believe that this Harvard-bred babe would so enthusiastically involve herself sexually with Jane. And Nivola, a sexy, playful hunger burning in his eyes, is a rush of libido. Nivola is in possession of a fine, burnished alt-rocker voice that brings a sense of realism to the movie's recording sessions.
Less alluring than Cholodenko's previous film, High Art, which starred Ally Sheedy as a heroin-addicted lesbian, Laurel Canyon is far too mushy and forgiving of its subjects. Cholodenko seems uninterested with even the smallest of narrative gestures, let alone something grand or powerful. If it weren't for the grace notes provided by the quartet of McDormand, Bale, Beckinsale and Nivola, Laurel Canyon might just qualify as cinematic landfill.