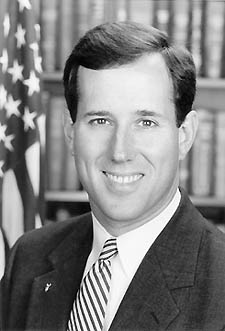 Santorum
Republican Trent Lott, a Mississippi Senator, lauded outgoing Senator Strom Thurmond last year saying the country would have been better off if it had elected Thurmond president in 1948. The South Carolina Republican had run on a segregationist ticket.
While Lott's remarks did not draw an immediate condemnation from conservatives or the mainstream press, his praise eventually cost him his position as the Senate's Republican leader.
When Republican Rick Santorum, a Pennsylvania Senator, made equally offensive comments about homosexuals in an April 21 interview with the Associated Press, the press was quicker to seize on the story, but will those remarks cost Santorum his position as chairman of the Republican conference?
"No," said David M. Smith, spokesperson for the Human Rights Campaign (HRC). "The country, public opinion, as well as the body politic does not consider what he said an egregious enough offense to cost him his job."
Not that HRC agrees with the body politic. The gay lobbying group has said that Santorum should either quit as conference chair or his fellow Republicans should remove him.
What is different this time is that Santorum is not getting the kid gloves treatment given to Lott in 1998 when he likened homosexuality to alcoholism and kleptomania, or the free ride given to Congressman Dick Armey, a Texas Republican, after he referred to Democrat Barney Frank, a Massachusetts representative, as "Barney fag" in a 1995 interview.
"I don't think they are giving him a break," said Michael Young, spokesperson for the Gay and Lesbian Alliance Against Defamation. "The media is definitely being critical."
In the AP story, Santorum, a conservative Roman Catholic, said that homosexual acts were a threat to the American family and that Lawrence v. Texas, the challenge to the Texas sodomy statute currently before the U.S. Supreme Court, could be particularly harmful.
"If the Supreme Court says that you have the right to consensual [gay] sex within your home, then you have the right to bigamy, you have the right to polygamy, you have the right to incest, you have the right to adultery. You have the right to anything," he said.
HRC pulled together a number of Pennsylvania gay groups, including the local chapter of the Log Cabin Republicans, to issue a statement denouncing Santorum's comments.
That was followed by a flood of condemnations by gay groups including LLEGÓ, a national Latino organization; the National Stonewall Democrats, a gay political group; the National Gay and Lesbian Task Force; and the national office of the Log Cabin Republicans (LCR), which denounced Santorum's comments in an April 21 statement. LCR compared Santorum to Jesse Helms, the former Senator from North Carolina who was known for his anti-gay views.
In an April 22 statement, Santorum called the AP story "misleading" and said that his comments referred only to the Supreme Court case.
"My discussion with the Associated Press was about the Supreme Court privacy case, the constitutional right to privacy in general, and in context of the impact on the family," the statement read. "I am a firm believer that all are equal under the Constitution. My comments should not be misconstrued in any way as a statement on individual lifestyles."
LCR rejected the statement as "woefully inadequate" and the group issued an April 22 statement that demanded an apology. When it was not forthcoming, they said that Santorum should step down as chair of the Republican conference or be removed.
"His statements aren't enough," said Mark Mead, LCR's director of public affairs, in an interview. "As chairman of the conference, one of his jobs is to build coalitions and you don't build coalitions with divisive, hate-filled statements that are out of the mainstream."
The group met with Santorum during a conference at the White House last year and they have worked with him on legislation.
"We talked about HIV and AIDS," Mead said. "He was welcoming and nice… I knew he was a conservative Catholic. We all knew, but we need to work with all the members."
Santorum was first elected to the House in 1990 and he won his Senate seat in 1994. He is pro-life and a staunch conservative who has earned consistently high ratings from the Christian Coalition and the American Conservative Union and consistently low ratings from consumer, environmental, and civil rights groups. Last year, he wrote a Washington Times op-ed last year boosting the teaching of creationism in schools.
After Santorum called the AP story "misleading," the news agency released a transcript of a portion of the interview. He blamed the pedophilia scandal in the Roman Catholic Church on homosexuality and liberalism. Government has the right to outlaw certain kinds of sexual behavior, he asserted.
"The idea is that the state doesn't have rights to limit individuals' wants and passions," Santorum told the AP. "I disagree with that. I think we absolutely have rights because there are consequences to letting people live out whatever wants or passions they desire. And we're seeing it in our society."
The transcript did not help Santorum.
Some Democrats piled on. The Democratic Senatorial Campaign Committee, chaired by Jon S. Corzine, a New Jersey Senator, called for Santorum's resignation. Tom Daschle, the Senate minority leader, issued a brief statement. Other Senators, including some moderate Republicans, and Representatives either issued press releases or they were quoted in press reports condemning Santorum.
At least some of the Democratic presidential hopefuls joined the chorus. Howard Dean, the former Vermont governor, sent out three press releases over two days, each more harsh than the last. John Kerry, a Massachusetts Senator, was also critical in a press release though he aimed most of his fire at the Bush administration.
Representative Richard Gephardt (D-MO) weighed in with a statement. John Edwards (D-NC) and Joseph Lieberman (D-CT) were both quoted in news stories calling on Santorum to resign his chairmanship. It is unclear if Representative Dennis Kucinich (D-OH), Senator Bob Graham (D-FL), Carol Moseley Braun, a former U.S. Senator from Illinois, and the Rev. Al Sharpton of New York had an opinion on Santorum.
The Bush administration refused to comment though the White House had quickly rejected Lott's praise of Thurmond last year.
Some Republicans and right wing groups backed Santorum. The Senate majority leader, Bill Frist of Tennessee, who won his position as a result of Lott's resignation, told the AP "Rick is a consistent voice for inclusion and compassion in the Republican Party and in the Senate, and to suggest otherwise is just politics."
Angering HRC, which has supported him, Republican Arlen Specter, the senior Senator from Pennsylvania, told The New York Times "I have known Rick Santorum for the better part of two decades and I can say with certainty he is not a bigot."
While the story started small, it was ultimately national news in both print and broadcast media.
"It has kind of surprised me how rapidly it has grown," said John Marble, spokesman for the National Stonewall Democrats. "Generally, in the past, the mainstream press hasn't focused too closely on issues of importance to the LGBT community."
Whether the blizzard of press releases and appearances will result in Santorum's resignation from his high-profile post remains to be seen, but it does seem that the landscape has changed since Lott's 1998 comments and certainly since Armey's 1995 slur about Barney Frank. That change may result from last year's Lott debacle, according to Larry Gross, a professor of communications at the University of Pennsylvania. The Lott story created a template that reporters could use.
"I'd say if it weren't for Trent Lott it would have been a lot harder to get this story moving," Gross said. "I think it is remarkable how much play this story has gotten."
The reaction suggests that, at least, among some Americans the standard for what public comments about homosexuality are appropriate has moved.
"He crossed a line, a public discourse line, and it is interesting to note how that line shifts," Gross said. "Overt homophobia in public is becoming less respectable and that's new."
But that line may not have shifted so far that any price Santorum might pay will include his position in the Republican conference. He is finding support among some of the Republicans who pilloried Lott for his praise of Strom Thurmond.
"The unfortunate reality is that it is still seen as acceptable to denigrate the LGBT community," Young said. "The fact that he has not even come close to an apology speaks to that."