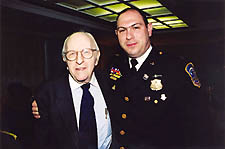 Past and Present:
GLAA's Frank Kameny, left, and
Sgt. Brett Parsons of the police
department's Gay and Lesbian
Liaison Unit.
(Photo by Michael Wichita)
It takes a diversity of individuals and groups to make a community, and over the past decade the Gay and Lesbian Activists Alliance (GLAA) has made a tradition of honoring those whose contributions shape that community.
This year's GLAA Distinguished Service Awards were presented last Tuesday, April 15, during GLAA's 32nd Anniversary Reception, to five honorees: D.C. Councilmember Kathy Patterson (D-Ward 3); the Gay and Lesbian Liaison Unit (GLLU) of the Metropolitan Police Department; activist Karen Armagost; the Gay Men's Chorus of Washington, D.C.; and former GLAA president Bob Summersgill.
GLAA selects honorees that have shown a commitment to protecting the civil rights of lesbians and gays in the Washington, D.C. area and who represent the diversity of the gay and lesbian community, said president Kevin Davis.
Patterson was cited for her work in establishing the Office of Human Rights as an independent government agency, helping to create an effective Office of Citizen Complaint Review, and drafting legislation to include domestic partners in the District's Health Care Decisions Act, among other achievements.
"Since her election in 1994, Councilmember Kathy Patterson has been a reliable ally of gay citizens," said GLAA Vice President for Political Affairs Richard J. Rosendall.
"I am utterly grateful, personally as well as professionally, for this award because it acknowledges things that all of us hold dear to our hearts — the individual value of every individual person," Patterson said.
Longtime activist and GLAA member Frank Kameny, who spoke of his often contentious relationship with the Metropolitan Police Department over the past fifty years, specifically asked to present the award to the MPD's Gay and Lesbian Liaison Unit.
"No longer are the police our enemy," Kameny said. "I find it comforting to have the GLLU there."
Sgt. Brett Parsons, who heads the three-year-old unit, accepted the award from Kameny, who he called his "friend and mentor."
"What we've done is simply what police officers and other law enforcement should have been doing all along, which is treat a community with respect and professionalism." — Sgt. Brett Parsons, Gay and Lesbian Liaison Unit
"Distinguished service makes it sound like we've gone above and beyond the call of duty. What's ironic here is that we really haven't," Parsons said. "What we've done is simply what police officers and other law enforcement should have been doing all along, which is treat a community with respect and professionalism."
Parsons hopes that one day the unit will not be needed.
"I can't wait to see the day that I'm introduced as the former head of the GLLU because we [no longer] need a unit like this," he said.
The awards also honored the role of the individual activist in the struggle for gay and lesbian rights.
"Karen Armagost is an activist, first and foremost, and that is why we honor her tonight," said GLAA vice president Christopher Neff. "She is the activist who volunteers when no one else will."
Armagost received the award for her work with the Human Rights Campaign Fund, the Gertrude Stein Democratic Club, and the GLAA speakers bureau. Her activism is now focused on the Servicemembers Legal Defense Network, where she is working to repeal the "Don't Ask, Don't Tell" policy.
Armagost said when she came to D.C. in 1984 she was ready to change the world.
"I thought that I'd be done by now," she said.
The Gay Men's Chorus of Washington (GMCW) was recognized for contributing another form of activism in the gay and lesbian movement.
"As we in GLAA have worked the halls of government for our community, the Gay Men's Chorus has worked music halls as cultural ambassadors," said GLAA secretary Barrett Brick.
David Streit, GMCW board chairman, accepted the award for the 22-year-old group. Streit said GMCW's role has evolved over time, from what was once a more political organization to one more geared towards community outreach. The chorus is looking forward to reaching out to area youth groups and forming a youth chorus this summer.
Davis, GLAA's current president, presented the final award of the evening to his immediate predecessor Bob Summersgill.
"Bob's tenure was a productive one," Davis said, pointing to many of GLAA's achievements during Summersgill's terms, including amending the city's Human Rights Amendment Act of 2002 to make harassment of gay and lesbian students a form of discrimination.
Though Summersgill resigned his post as president, he will remain active within the organization. He currently serves as treasurer and works on some of GLAA's long-term projects.
"Now that I am not president, I plan to continue to work with GLAA to comfort the afflicted and afflict the comfortable," Summersgill said.
See more Scene pictures of the GLAA 32nd Anniversary Reception and the Distinguished Service Awards.