At Signature, a ravishingly sad and dark world where past and present collide, and regret hangs thick in the air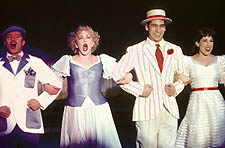 Time travelers: Gartshore,
Olivera, MacLaughlin and Brink
(Photo by Carol Pratt)
It's New York, 1971, backstage at the decrepit Weismann Theatre. Three decades have passed since the last of the gorgeous Weismann Follies girls graced the stage. Now, the night before the theatre faces the wrecking ball, a reunion beckons aging performers to bid their old haunt farewell and to confront ghosts of their youthful selves that haunt them still.
The premise of Stephen Sondheim and James Goldman's musical Follies is quite a potent one. Signature Theatre's new production, under the direction of Eric D. Schaeffer, embraces the work's full ethereal potential, creating a ravishingly sad and dark world where past and present collide, and regret hangs thick in the air.
As the reunion gets underway, we're introduced to a bevy of former showgirls who recount the paths they've taken since their days in the follies. Several of the women get plum spotlight numbers to show they can still strut their stuff, including "Broadway Baby," gleefully sung by Judy Simmons as Hattie; "I'm Still Here," a witty but powerful survival anthem well-handled by Donna Migliaccio as Carlotta; and "Who's That Woman," one of the girls' old production numbers led with great comic exuberance by Suzanne Briar as Stella.
But it's two couples who emerge as the story's central figures: Sally (Florence Lacey) and her husband Buddy (Harry A. Winter), and Phyllis (Judy McLane) and her husband Ben (Joseph Dellger), as well as their youthful counterparts Young Sally (Tracy Lynn Olivera), Young Buddy (Will Gartshore), Young Phyllis (A.K. Brink) and Young Ben (Sean MacLaughlin).
Follies
Signature Theatre
Through 6/1
703-218-6500
Both marriages have soured, and with the crumbling theatre as a powerful catalyst, memories surge forth in vibrant flashbacks to reveal that Sally has always harbored a passionate love for Ben, even though he was courting Phyllis at the same time Sally was fooling around with him. Even now, Sally is ready to walk out on Buddy on the spot if Ben will have her.
Lacey, Winter, McLane and Dellger do a fantastic job of building tension among their characters, and they shine in such numbers as "The Road You Didn't Take" (Dellger), "Too Many Mornings" (Dellger and Lacey), "The Right Girl" (Winter) and "Could I Leave You?" (McLane) that illustrate the varying degrees of remorse and bitterness that have engulfed these people.
But when the conflict comes to a head, reality splinters and both the young and old versions of Sally, Buddy, Phyllis and Ben come together to play out a fantastical follies that serves to exorcize their demons. Highlighting this sequence are Lacey's exquisite rendition of the showstopping "Losing My Mind" and Dellger's compelling take on Ben's climactic breakdown in "Live, Laugh, Love."
Director Schaeffer's vision for the troubled emotional territory of Follies extends to apparitions that represent the showgirls at the reunion in their prime. Decked out in Robert Perdziola's decaying period costumes and headdresses, and wandering around the rubble of Lou Stancari's fascinating set, young performers become ghosts of the living — of the youth and dreams left behind in this destruction-bound building. It all adds up to bold, stunning work in which Signature can take great pride, and in which audiences can take great pleasure.
---
Penetrator
Cherry Red Productions
Through 5/17
202-298-9077
Scotsman Anthony Neilson's graphic exploration of the male psyche, Penetrator, has received an interesting stateside treatment from Cherry Red Productions. Jonathon Church stands out in an engaging, disturbing performance as Stiffy, a whacked-out Marine who shows up at the home of his childhood pal Max (Richard Price) late at night seeking asylum from sexual abuse he claims to have suffered at the hands of a secret government group he calls "The Penetrators."
Director Kathleen Akerley keeps a firm grip on the action at its most tense, making sure you can't guess exactly how far Stiffy will go until the last nail-biting moment. And the surprising resolution gives you plenty to contemplate about what lies beneath a veneer of hyper-masculinity.
Sandra Tsing Loh's new solo performance piece I Worry has hit the Woolly Mammoth stage with one of the most resounding thuds in recent memory. From the moment Loh launches into a tirade about the ills of contemporary culture, you can smell trouble. She barrels along without a sense of rhythm, stopping where she thinks she deserves laughs and becoming increasingly panicked when audience response differs from her expectations.
---
I Worry
Woolly Mammoth Theatre Co.
Through 4/20
202-467-4600

Loh laments how little-known her previous solo performance efforts are and how often she's been faced with audience boredom — a self-fulfilling prophecy if ever there was one — before she goes into an overwrought bit on bohemian-types and a drawn-out piece on motherhood that veers between maudlin and sappy. Unsubtle, unfunny and unworthy of your time.