With the brilliant Bernie Mac as his secret weapon, Chris Rock takes satirical aim at American politics and wins big.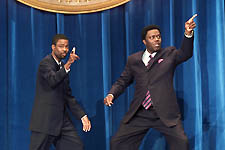 Running mates: Rock and Mac
I used to find Chris Rock tremendously annoying. Couldn't stand the guy. Reminded me of a hyperactive terrier, the kind that yips and yaps and rips ferociously at your pant leg.
After seeing Head of State, however, I can honestly report that I now find Chris Rock simply tremendous.
The comedy, which Rock both wrote and directed, sails through a wide sea of humor — everything from absurdist to satire to stand-up — but never capsizes. Throughout it all, Rock and co-author Ali LeRoi transmit a socially pertinent message that never undercuts the movie's humorous intent. Even the preachiest moments have a joyous, off-the-wall feel.
Rock stars as Mays Gilliam, a down-on-his-luck Washington, D.C. alderman tapped by the Democratic National Committee to run for president after their candidate is killed in a freak accident (his plane crashes into his running mate's plane). Mays is selected because the powers-that-be are smugly certain that America would never elect a black man as president. The reasoning is that it can't hurt to make history by being the first party to nominate an African-American candidate and tap into the minority vote for future presidential elections. Gilliam, privy to none of this, takes to the campaign trail with energy and enthusiasm, but it isn't until he stops reading the TelePrompTer and starts speaking from his heart — peppering his speeches with four letter words and the catchphrase "That ain't right " — that his campaign skyrockets. "I'll take care of everybody, " he says at a political rally. "Big business and small business, show business and 'ho business. " His opponent, meanwhile, a starched right winger currently holding the office of Vice President, is just this side of a Klansman, running on the slogan "God Bless America — and no place else. "
Head of State occasionally hits a bump — an obligatory romantic subplot gums up the works with a smothering of syrup — but this is due to Rock's first time up at director's bat. Influenced by sources as disparate as Mel Brooks to the catch-as-catch-can Wayans clan, Rock tries on every available swatch of comedy. Inserting an cartoon-inspired cutaway into a natural milieu can be a tricky slope, yet the fledgling director, operating on instinct rather than skill and experience, manages to make his way through without too many hard tumbles.
Head of State
Starring Chris Rock, Bernie Mac, Dylan Baker, and Tamala Jones
Directed by Chris Rock 95 Minutes Rated PG-13
Rock the performer restrains himself, allowing situational humor to build around the character. It's a captivating, charming performance, not exactly subtle, but not mindless and irritating, either. Rock's secret weapon is Bernie Mac as Mitch — brother and running mate to Mays. A bail bondsman with a very physical and not-so-vaguely threatening manner, Mitch goes on the talk show circuit with uproarious results. Bernie Mac doesn't need to prove his value to any comedy — but if more comedies deployed the hugely talented Mac they might stand a chance at salvation.
Make no mistake, Rock doesn't for a minute take seriously the state of politics in this country. And yet, through the laughs, he offers up his own supposition that we are indeed a nation primed and ready for an African-American to take a run at the office of President.