Photographs by Michael Wichita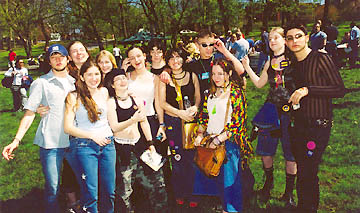 At one point during Youth Pride Day last Saturday, a sudden updraft caught the tent that was covering the YPD Command Center and sent it crashing into the booth of the Metro P.D. Gay and Lesbian Liaison Unit. Mayhem briefly ensued, the drag queen on stage at the time cracked a joke about houses and twisters, and the Youth Pride Day organizers spent the rest of the day under the sun like the rest of us.
The whole antic somehow felt very much in place at this event to recognize LGBT youth. Since 1997, when it was held in Dupont Circle, Youth Pride Day has been Capital Pride's goofball younger sibling — a little more freeform, wired on Kool-Aid, spiky hair every color of the rainbow. Youth Pride feels more like recess, and has a touch of ADD that makes grown up Pride feel almost moderate.
For one thing, the grassy P Street Beach milieu allows for cartwheels and barefoot dancing, and the performers are feisty, do-it-yourself outfits consisting mostly of non-celeb gay youth.
Above the crash of Zildjian cymbals and jagged, distortion-ridden guitar, young people spoke with representatives from different community organizations. Some of the booths weren't specifically youth-oriented. Some weren't even gay-oriented. Dave Varney of the National Youth Rights Association (NYRA) explained why he was there representing a non-gay organization.
"We believe that teens of all kinds are being oppressed, but gay and lesbian teens are among the most oppressed of all," he said, citing 14-year-old Thomas McLaughlin, the gay Arkansas teen who was forced to read Bible passages aloud by his high school principal.
NYRA advocates for lower age restrictions for a variety of things, as well as an end to city-imposed teen curfews and zero-tolerance policies in schools. Varney argued that these sorts of laws and regulations can be levied more severely on gay and lesbian teens if the authority figure enforcing them wants to "teach those kids a lesson."
"[Teens] are already a minority, they are already oppressed, and gay and lesbian teens are being singled out more than your average teen," he said.
Speaking with some of the attendees, this quickly became apparent. If there was any doubt that homophobia is alive and well in the public school system, one need go no farther than the District's own suburbs. That's where Lisa Saesee and Maria Slagle go to school. They attended Youth Pride with their friend Amy Grandt, whose own high school is just a couple of miles from theirs. Despite their close proximity, however, the two schools are galaxies apart in ideology, say the girls.
"We just formed a GSA [Gay-Straight Alliance] at our school last week," says Grandt, clearly proud. "Our school has been so supportive. I didn't go to the first meeting, but I heard they had great participation."
Just a stone's throw away, Saesee and Slagle face a much different environment at their high school.
"We have to be discreet," says Slagle of their own GSA. "We can only put up very small posters, and we can't say the word 'gay' anywhere on them. All we can write is 'GSA' and then a time and place to meet."
Grandt says their GSA posters are huge and covered with rainbows. Saesee and Slagle believe that their high school's policy regarding posters is wrong, because it only applies to the GSA.
"It's not fair. The Christian club gets to advertise all they want," says Saesee. "We can't even say 'Come to our group' or 'Please join us' because it's considered recruiting."
Both Mayor Anthony Williams and Delegate Eleanor Holmes Norton took to the stage to decry this sort of behavior by the schools — in their own unique styles of delivery. After Norton's fiery speech advocating for uplifting D.C.'s gay youth (and a plug for statehood — her calling card), Williams' own speech felt that much more calm and deliberate.
"I know how hard it can be for you, as youth, to express yourselves and your lifestyles, your orientations, your choices," empathized the Mayor, flubbing the current terminology just a bit.
Norton told Metro Weekly that she believes that "gay youth are probably one of the most marginalized and oppressed people in America."
"What happens to these kids is quite outrageous," she said, "but this annual gay pride day says to terribly victimized young gay people across the country that they are not alone.
"What's important to me," she continued, "particularly as a mother, is that many of these kids are driven to suicide. It's a whole lot more than pride. It's whether they decide to live or die."
There were more than a few mothers and fathers in attendance, many wearing large buttons that identified them as PFLAG parents. Steve Eckstrand, manning the PFLAG booth, said he'd even met one kid who'd come out to her father that morning.
"Her father was shocked by it, understandably," said Eckstrand. "I just hope we're able to do some good and give people some literature and get to the point where these parents at least accept it. And we're really hoping more parents will join."
Bringing levity to the serious business of activism were performers like Eric Hines, soon to be featured in the May issue of Instinct for his talent as a singer-songwriter. Hines looks up to his idols — Ani DiFranco, Melissa Ferrick — and wishes that there more of them.
"I hate how our role models are people who are straight playing gay," he says of the "gay market." "We need more people who are gay who we can look up to. I mean, look around. This is awesome. I try to play as many Prides as I can."
One of his songs, titled "Not the Man I Had in Mind," speaks to his family's disappointment about his sexuality.
"It's weird," he says. "When you're young, you want your family to accept you, but you realize how important it is to do your own thing."
Looking around, it's clear that this crowd has realized just that.