Robbie Williams and Jay-Jay Johanson are finding it a challenge to make it in America, but remain popular in the gay arena
Robbie Williams
Escapology
EMI/Virgin
Lookie here, ladies and lads, just in time for Pride we've got not one but two flamboyant non-homosexuals going out of their way to appeal to us. Williams offers his latest album, Escapology, and Jay-Jay Johanson offers his American debut, Antenna. And appeal, they do. Both create intensely melodic pop music that harkens back to their ambiguously sexual, musical forebears. Both tease us by hinting that they're not exactly straight (Williams, in one of The Advocate's gayest interviews ever) or by coping an androgynous attitude while donning gay underwear (Johanson, providing music for the 2(x)ist underwear line).
For Williams, at various points you can hear his fellow pioneering patriots Elton John, Queen, David Bowie, George Michael. Or his American contemporary John Cameron Mitchell, of Hedwig and the Angry Inch. On both Escapology and his 1999 American debut album, The Ego Has Landed, Williams virtually subs for Mitchell, singing in the same raspy voice and soaring style songs straight out of a twisted, glorious movie musical. Williams writes quirky lyrics to music that straddles rock, pop and cabaret categorizations. Take the album opener, "Feel, " for example. This is his most effective, and affecting, song to date. He's achingly searching for love, for meaning, for himself: "I sit and talk to God/And he just laughs at my plans/My head speaks a language/I don't understand. " The piano keys cry out his tears, the choir expresses his pain, as his voice drips with cynical ambition.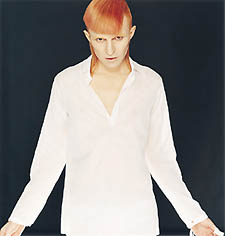 Eighties redux: Johanson
It's probably that cynical ambition keeping him from major success in America. Williams' new label has gone to great lengths to see to it that Escapology is the album to finally break him here, beyond the gays. But Williams, the sarcastic, self-deprecating lyricist, has never sounded more honestly unsure of himself, more acerbic and turned off by his own celebrity hype. He kicks off "Monsoon " with the great line, "I've sung some songs that were lame, " but by the time he ends this drowned-by-fame song, his tone goes from joking to dead serious: "But it's all been too much for me. " Fortunately, with a new multi-album, multi-million-dollar contract, you know he's not that serious.
Jay-Jay Johanson
Antenna
E-Magine
Of course, as a forlorn lyricist, Williams is no match for Jay-Jay Johanson. "And I just can't remember my last laugh in time, " Johanson sings in the weird and wonderful "I Want Some Fun. " On his best song, "Tomorrow, " he sprinkles in optimism to a musically simmering pot of depression: "And I just can't wait, for the turn of my fate. " Yet on reflection, you realize this is misplaced optimism of the self-deluded kind: "Tomorrow, you'll consider coming back to me, " he rather naively sings to his dearly departed. Sounds heavy, but Johanson's steady musicianship and mid-tempo rhythm keep the brew from boiling over. And his silky, faint voice and high-arched, tentative delivery keep us calm. The Swede styles himself like a modern-day David Bowie, seeming intent on updating the post-punk '80s sound with the sophisticated, multi-culti sensibilities of the present. He's poised at a very opportune moment, as electroclash emerges from the dance underground.
But will that help? Both Williams and Johanson can be oppressive songwriters, and occasionally offer cuts that seem unfinished, uninspired. Both are finding it a challenge to make it in America, land of straightforward pop music with generally simplistic sentiments, where American-born and -reared artists hold a lock on the Billboard charts — only four of this week's Top 40 Albums are from foreigners. That's okay, though: they can just be our little not-gay, gay secret.