From fine to casual, the dining scene at gay mecca Rehoboth Beach remains as delectable and dependable as ever
With the arrival of Memorial Day this weekend, high season on the sands of Delaware kicks in and many a Washingtonian's dinner reservations will shift decidedly eastward. True to custom, Rehoboth Beach's restaurants are rolling out an abundance of tempting menus for the summer season ahead. Earlier this month, I checked out new venues, revised menus, and some old favorites to provide a guide for your culinary pursuits.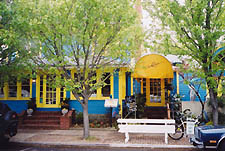 The Blue Moon
(Photo by David Garver)
Getting to Rehoboth Beach may not be any faster than in years past, but it is very likely to be less bumpy. With road resurfacing projects completed here on New York Avenue and on Route 1 north of Rehoboth, you'll glide smoothly along. But don't expect to get past the ever-burgeoning knot of outlets and other retail establishments increasingly choking traffic without feeling frustrated.
Once you've arrived you'll find the restaurant landscape largely unchanged from last year with only a few new attractions. One major transformation is that the statewide smoking ban in restaurants and bars that went into effect in December will have you breathing healthier. Gone are smoking sections in restaurants and nicotine-addicted diners punctuating their courses by having a smoke in the bar areas of Rehoboth's eateries.
Here's a quick summary of some changes that await you in the dining landscape. Yum Yum, at 37 Wilmington, has been replaced by Café Zeus, a Mediterranean restaurant rushing to open for the holiday weekend. Abstractions, a new sushi place with a restrained décor, has opened on Rehoboth Avenue next to Tijuana Taxi. Dish, at 26 Baltimore, replaces the late Dream Café. Dos Locos has given a facelift to the space formerly occupied by Confetti's and taken up residence there. Eden's owners have moved it to 23 Baltimore and opened Taste in its old space. What follows, however, are four that deserve more detailed examination.
Planet X
35 Wilmington Ave.
302-226-1928
Stoney Lonen
208 2nd St.
302-227-5767
Celsius
50 Wilmington Ave.
302-227-5767
Blue Moon
35 Baltimore
302-227-6515
With a lovely new menu for the season, Planet X still looks more like a haunted house than a restaurant from the outside. Once inside, it's a riot of kitsch and glamour. Hang out in its Buddha Bar while awaiting your table (reservations are not accepted). This season's menu begins with a soup of the day and three salads — one an entrée-sized offering of orange-glazed duck breast, toasted walnuts, organic greens and red grape vinaigrette. Small plate selections include a warm smoked salmon quesadilla with Neufchatel cheese; organic tofu saté; and crispy duck confit with champagne risotto and balsamic reduction. My favorite, though, is stacked organic eggplant with herbed boursin cheese, basil oil and putanesca sauce. The crunchy exterior of the sautéed eggplant owes its texture to Asian breadcrumbs and is a perfect contrast to the creamy boursin. This is a rich and generously portioned dish that could easily be split with a dining companion.
Entrée highlights at Planet X include crisp, cumin-crusted duck breast with an orange brandy reduction. Served medium rare and paired with truffled red garnet potatoes, the duck would be outstanding on any menu. Red Thai curry with lobster and shrimp is another star. Accompanied by jasmine rice, crispy vegetables and crunchy wonton sticks, this Asian dish is enormous in both flavor and portion. Raves, as well, for the panko-crusted sea bass filet served atop creamy risotto and glazed seasonal vegetables.
Soups, salads and small plates range from $6 to $19 and entrées from $21 to $31. Planet X also serves Sunday brunch.
---
If you're not already familiar with Stoney Lonen — the kind of relaxed place you expect to find in a beach community — consider giving it a try. Inspired by the Irish roots of one of the owners, this unpretentious, charming eatery devotes the majority of its menu to seafood — and you can't do better than its seafood stew as a starter. Crowded with an assortment of gems from the sea, it's a genuine bargain at $4.95.
Pan-blackened Alaskan halibut is superbly fresh, moist and delicious. I wish I could say the same about the crab cakes, which tasted more like fishcakes. With no discernible pieces of crabmeat and a rather unpleasant color, they should be avoided. Word from the kitchen is that a new crab cake will be introduced soon — not, however, soon enough.
Appetizers and salads range from $5.95 to $8.95 and entrées from $11.95 to $18.95.
---
Celsius keeps coming back with enough innovation each season to keep itself in the running. Seared foie gras served with a cabernet-sage madeleine and finished with shallot and red wine demi-glace is a silky and scrumptious beginning to the dining experience. Among pasta offerings, don't miss wild mushroom ravioli a la noce — the noce here being walnut, finely chopped in a sauce and finished with goat cheese. It's a skillfully crafted dish of great accomplishment.
Rack of lamb tagine, sauced with sun-dried plum and harissa demi-glace, is truly superb, but it isn't really a tagine — a Moroccan stew generally containing meat or poultry simmered with vegetables and spiced with cinnamon, cumin, ginger, and most traditionally, saffron and turmeric. But this isn't surprising coming from a menu that promises "pork osso bucco. " Don't let the wacky nomenclature scare you off, because the cuisine at Celsius is inspired by any name.
Appetizers and salads range from $8 to $16 and entrées and pastas from $19 to $28.
---
While Blue Moon has become the grand dame of Rehoboth's restaurants perhaps more by longevity than through innovation, it's still a fine place to dine. If only its host would give as prompt attention to patrons checking in for their reservations as he does to telephone calls requesting future bookings.
House-cured salmon is fresh, flavorful and nicely paired with a cucumber and daikon salad. The accompanying wasabi crème fraiche is delicately restrained. Smoked chicken and chevre quesadilla suffers from dried out chicken and is saved only by the tartness of goat cheese.
Two salads we tasted (mixed field greens and baby red bibb lettuce with Belgian endive) were both far underdressed. The mixed greens seemed especially devoid of its promised balsamic-walnut vinaigrette, as though the salad fairy flew right by the Moon without stopping.
Entrées fare better. Crispy roasted duck breast is outstanding; glazed with satsuma orange, its tender and moist flesh is incredibly flavorful. Partnered with sautéed pak choi and purple Thai sticky rice, this was my favorite entrée during my rapid sweep through Rehoboth's eateries. Less successful is pan roasted Chilean sea bass, its Thai curry coconut glaze decidedly bereft of both curry and coconut.
Appetizers and salads range from $11 to $14 and entrées from $24 to $32.
Enjoy the summer, and take some deep breaths while you're backed up miles from the Bay Bridge, remember to apply sunblock, and watch out for the jellyfish. And to help you keep that svelte figure — after all, you do have a new swimsuit to squeeze into, don't you? — keep in mind I didn't even mention dessert.
Email David Garver at dgarver@metroweekly.com.