WORK (IT) FROM HOME! Unique penthouse apartment at trendy 16th and U. Round living room w/ tons of windows, fireplace, telescope. Views of the monuments, other neighbors. Occupant is professional GM who's seen the scene and is ready to steady.
The Brittany was built in 1917 and renovated in 1981. Alex Robinson lives in one of its penthouse condos and owns another, which he rents. He's lived in D.C. for years and has been witness to its many changes, real estate and otherwise.
ALEX [in guestroom]: You can see right into The Roosevelt from this room. It used to be a nursing home, then a crack haven, then abandoned, then some company tried to turn it into Section 8 housing but the neighborhood rose up against that, now it's apartments and I suppose it'll eventually be condominiums. The people in there have never heard of blinds or curtains. You can see people going to the bathroom.
This room was hard for me. You're seeing its third incarnation. The first incarnation was a little sitting room, with the couch that's now in my bedroom and my computer. I never used it. The second incarnation, I put a big desk in here with my computer stuff and a little wingchair there, but when I'd have visitors they'd have to sleep on the couch. So finally it dawned on me — futon! And a computer armoire. So now it can be a sitting room, a guest bedroom, a den and an office. The futon came from that place on P Street. I like to try to shop local. The TV is obviously really old, it's like an old friend, I'll keep it till it dies. You just can't find appliances with fake wood paneling anymore. And this is a bust of Madonna, mother of Christ. I'm not really religious, but it was on sale.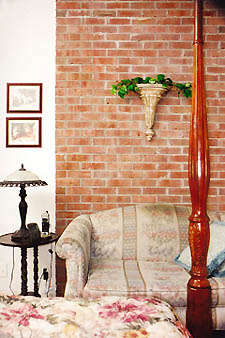 [In bedroom] These [little bears in blue Lufthansa sweaters] came from Berlin. I was on the plane to go home and I still had all these Euros left, so I was like, "Stewardess, whacha got?" The exposed brick in here is really just the other side of the fireplace. That's what I love about this apartment, I don't feel like I'm in a cage. When you come in, it sort of unfolds in front of you, you don't see the whole apartment at once, the rooms are all sort of jutted out at angles. So I don't have to go out if I get bored, I can just go to another room.
I'm 41 now, and I've become kind of a homebody. I've done my time on the streets and I've done it well. Rascals was the place in the eighties, and The Circle bar. We still grieve for the demise of that bar. Some of my best divorces came out of those bars. Sometimes I'll still go down to 17th Street or P Street. This community seems so split, though. As a black professional, I don't really fit too well on either street. 17th Street isn't very interracial, and P Street doesn't have quite as many professionals.
But the Internet! It's like a big cyber hook! You can go out on dates, meet the person at Annie's, bring a witness in case they're strange. I can meet people from my apartment! Two of my best friends, we met on Internet personals and dated for a while, and now we're good friends. One of them, we traveled to Europe together, we talk everyday, and I never would have met him because he lived in Baltimore.
I'm here a lot. I like to have people over for social gatherings. Ten years ago this building was mostly gay, but that's started to change. When real estate started to get hot and expensive, people didn't care if it was a gay building anymore. They were like, "Well, it's a nice apartment and a good price, so come on, Junior! Grab your big-wheel!" They tend to be friendly, the straight people. They know what they're getting into before they move in.
Does your house, condo or apartment have a story to tell? Let Environs know about it. E-mail environs@metroweekly.com.