Ernest Hopkins of the San Francisco AIDS Foundation and Laura Hanen of the National Alliance of State and Territorial AIDS Directors brief attendees at AIDS Watch 2003
Congress needs to get the message about the nation's HIV/AIDS programs, and more than 400 people came to the capital to deliver it.
That's the goal of AIDS Watch 2003, a three day meeting focusing on training and briefing HIV/AIDS professionals, as well as visiting and educating members of Congress and their staffs. The annual event is organized by the National Association of People with AIDS (NAPWA) and a coalition of other AIDS groups.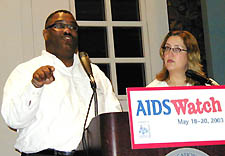 (Photo by Bob Roehr)
At Sunday's opening meeting, NAPWA executive director Terje Anderson told attendees that the federal government must understand that increased funding is crucial to keeping people alive.
"These are real people using real programs," Anderson said.
Anderson said their presence was "an incredibly powerful statement of your commitment to these issues" in light of the financial difficulties that many organizations are facing. Those financial difficulties could increase if Congress moves ahead with proposed tax cutting packages.
"Tax cuts have direct implications on how much money is going to be available for HIV/AIDS programs," said Laura Hanen, director of government relations for the National Alliance of State and Territorial AIDS Directors (NASTAD). She sees the smaller $350 billion tax cut package proposed by the Senate as preferable to the House version, which is more than twice as large.
Ernest Hopkins, a lobbyist for the San Francisco AIDS Foundation, was pleased with the recent "thoughtful dialog" in both chambers in passing an international AIDS bill. He encouraged the group to use that successful effort to help focus attention on issues back home.
"Your job is to bring it back to talking about what is happening in your local community," he said. "You need to focus on why these programs are important to you at home…don't focus on the large numbers" in the total appropriation.
One attendee noted that they "can't take the support of Democrats for granted," pointing out recent votes that supported abstinence-based prevention programs.
Hopkins said one of the greatest political accomplishments has been making AIDS a bipartisan issue. He urged that they continue to frame their efforts within that context.
"Don't let members of either party off the hook," Hopkins said. "None of them are doing enough on the domestic front. Make it a leadership issue."
Housing for people with AIDS remains a serious issue, according to Kathie Hiers, executive director of AIDS Alabama.
"Housing equals health," said Hiers in a briefing on HOPWA, the federal housing program for people with AIDS. A recent survey of homeless persons in Birmingham found that 15% knew they were infected with HIV.
"How can people adhere to a difficult medical therapy without a roof over their head?" she asked.
Hopkins reviewed the Ryan White programs, the primary conduits for federal money for HIV/AIDS treatment.
"We need significant increases for all of them," he said, with the largest increase needed for the AIDS Drug Assistance Programs (ADAP) where an additional $280 million is needed. Some 14 states already have imposed restrictions on access to ADAP and more are likely to follow.
"This is about people's access to life and death services," Hopkins said.
Service providers often take Medicaid for granted because it's an entitlement program and not AIDS-specific, said Robert Greenwald. "[But] it is an increasingly important part of the HIV health care delivery system." He criticized the Bush administration proposal to "reform" the program by capping expenditures, saying it would essentially gut the Medicaid program.
"The way to solve the budget crisis is not on the backs of poor people who need health care," said Greenwald.
Many participants found one piece of good news coming out of the briefing: the Bush administration's efforts to force the National Institute of Allergy and Infectious Diseases (NIAID) to purchase $233 million of anthrax vaccine appear to have been derailed. That money would have come out of current appropriations for research grants — NIAID funds the greatest portion of HIV research grants by the National Institutes of Health. Senators Arlen Specter (R-Pennsylvania) and Tom Harkin (D-Iowa) wrote a joint letter expressing their displeasure with the effort, and it appears to have worked.
Anderson urged the audience members to "stay on message and not get sucked into minutia" when visiting with members of Congress and their staffs. Often the time is very limited. It should be used to push for more money.
"We don't want Congress writing the rules; when they do, we get abstinence only [prevention programs]," he said. "We want them to write the check and then we will work with the experts to make sure the check gets spent well."