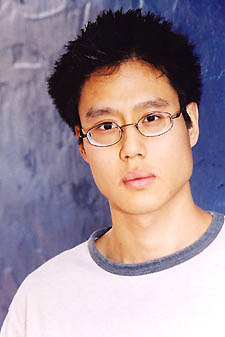 AQUA co-chair Joseph Truong
Some say that gay jokes are the last socially acceptable form of discrimination, but most people think nothing of laughing at 7-Eleven and "free egg roll with purchase" cracks. Asian Americans and Pacific Islanders have long been marginalized members of not only the gay community, but America in general. Simultaneously idealized and belittled, their plight as a minority is unique.
And the lack of attention and resources devoted to the queer A/PI community is both a reflection of, and a fuel for, their continued marginalization. It wasn't until three years ago that local organizers began to hold an annual event each May, which is Asian Pacific American Heritage Month, to recognize the A/PI LGBT communities, and even then, it was only a one-day affair.
This year, a series of events running from May 16 to 29 will make up Pride and Heritage: A Celebration of the A/PI LGBT Communities. The series is spearheaded by four local groups that specialize in LGBT Asian and Pacific Islanders: The Asian and Pacific Islander Partnership for Health (APIPH), A/PI Queer Sisters (APIQS), A/PI Queers United for Action (AQUA), and Asians and Friends Washington (AFW).
"In years past, we've always had at least one event," says Joseph Truong, co-chair of AQUA and a member of the Pride and Heritage planning committee. "This year, we wanted to tackle all of the issues that at once — health, immigration, arts and culture, social events — and we've done it all on relatively short notice."
One of the major components of the series will be a focus on visibility. While simply holding the events will contribute to the visibility of the community, some of them speak specifically to that issue. Happy Together, a gay-themed film starring Hong Kong actor Lesley Cheung, will be shown along with a discussion featuring film academic Dr. Gina Marchetti. Cheung, a popular actor in Asia who recently passed away, was one of the few willing to star in films with gay themes.
"There's a lack of role models for Asians even in the [mainstream] media, and this trickles down even further in the A/PI LGBT media," says Kevin Lee, co-chair of AQUA and Pride and Heritage planning committee member. "There's a lack of visibility compared to other ethnic groups."
The problem of invisibility is intertwined with the problem of resources, of which there is a dearth when it comes to what is available to the queer A/PI community, according to Truong.
"There are a number of organizations that continually struggle to find adequate resources for our needs," he says. "It goes back to organizational structure. We're involved in so many things — our day jobs, events like these — that we don't put one hundred percent of our effort behind one visible campaign."
That's what the Pride and Heritage series is hoping to change. Washington, D.C. has one of the largest Asian and Pacific Islander populations in the country. This fact, combined with the fact that many gays and lesbians lack a real awareness of an A/PI LGBT community, only underscores the need for such a series.
"There's a lack of role models for Asians even in the [mainstream] media, and this trickles down even further in the A/PI LGBT media. There's a lack of visibility compared to other ethnic groups." — AQUA co-chair Kevin Lee
"Despite that D.C. is one of the top five U.S. cities for Asian population, we're still always going to be struggling," admits Truong. "I can't imagine how they do it in other parts of the country."
Also of concern are healthcare issues, an area in which LGBT people are chronically underserved, but which, in some ways, affects queer Asians and Pacific Islanders uniquely.
"A lot of us are just trying to figure out exactly which health issues we're facing," says Richard Tagle, a founding member of the A/PI Partnership for Health, an organization founded in 1993 to address HIV/AIDS in the queer A/PI community. "My belief is that D.C. has a strong infrastructure for healthcare services. You don't need an A/PI-specific provider. Anyone — an Asian person, a black person, a Native American — should be able to walk through the doors and receive healthcare services."
The District government does not keep track of information about A/PI health specifically, according to Tagle. But Ann Surapruik, a former co-chair of APIQS, says there are some health issues that concern Asians and Pacific Islanders specifically. For instance, breast cancer is the leading cause of death in Asian women aged 45 to 54, and A/PI people are at higher risk for Hepatitis B and cervical cancer.
"Cervical cancer occurs at a rate five times higher in Vietnamese women than in white women," she says. "That puts Vietnamese lesbians at particularly high risk, since many doctors assume that lesbians are low risk for that disease."
"These were things that surprised even me," Truong says. "I called my mom on Mother's Day and told her she needs to get checked regularly."
In addition to these issues, the series will feature a special workshop on immigration rights, something particularly pressing for a community for which no home country makes concessions for gay and lesbian immigrants. There are currently fifteen countries that allow for immigration rights to be bestowed upon gay and lesbian foreign-born nationals with a partner overseas, and with the possible exception of Australia and New Zealand, none could be considered part of Asia or the Pacific Islands.
"People think, 'I'll just go to Vermont and sponsor my partner,' but that's not how it works," says Eric Nelson, DC Chapter Coordinator of the Lesbian and Gay Immigration Rights Task Force. "Immigration law is very complicated, and when you're gay and abroad, there's a lot to understand."
Nelson's own partner is from Russia. He's been living in the U.S. for ten years, changing visas frequently before finally finding an employer to sponsor him for a Green Card. Nelson says that for LGBT couples, this method is their best bet.
"And that's not easy, especially in the current economic environment," he says. "A few years ago, tech companies were searching desperately for people overseas. That's not the case anymore."
Pride and Heritage will seek to address dilemmas like these on an individual level, and to give tangible substance to a community often reduced to a cultural stereotype.
"Because of the culture we come from, a lack of support from the A/PI community can be an issue," says Truong. "With the Pride and Heritage series, we're taking things a step further."
Pride and Heritage runs from May 16 to 29. For information about events or sponsorship, call 202-986-2393, e-mail pride@apiph.org, or visit www.apiph.org/prideandheritage.