Although it only opened last October, Zaytinya is already one of the hottest restaurants in town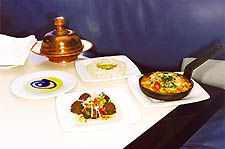 Zesty Zaytinya: a assortment of dishes.
(Photo by Michael Wichita)
It is not all that often a new restaurant in Washington has the luxury of occupying space that was designed specifically for it in a brand new building. The handsome new structure housing Zaytinya, across the street from the main library downtown, is perfectly suited to this lively eatery.
With floor to ceiling windows on two sides, white marble, and azure blue walls, this is a spectacular and inviting space. The main dining area, with its arched ceiling two stories above, could be described as a modern cathedral to Mediterranean cuisine. A fifty-seat bar, double-tiered mezzanine, and an outdoor dining area further add to allure of the instantly popular restaurant, headed by Jaleo and Café Atlantico mastermind Jose Andres, who was recently honored as Best Chef in the Mid-Atlantic at the 13th annual James Beard Foundation Awards.
Zaytinya (Say-tin-yah), the word for olive oil in Turkish, begins each diners' experience with a plate slathered with said oil swirled with balsamic vinegar and a basket of hot-from-the-oven pita bread for dipping purposes. The fresh air-puffed bread reminds one of small steaming oval pillows. It's impossible to imagine a more appropriate way to start the dining experience here.
It takes a bit of time to get through the menu, as there are over seventy seductive choices to consider. Like tapas, these eastern Mediterranean small dishes called mezzes are appetizer-sized temptations. While it may take several to satisfy your appetite, each in itself will satisfy your palate in a distinct way.
After having ordered multiple items, it's exciting to see what will arrive first — and whether you'll be able to recognize it from its description. Our first treat was golden fritters made with carrots, apricots and pinenuts served with a pistachio sauce. This lovely marriage of flavors is only slightly sweet but bursting with flavor. Spanakopita, a traditional mix of spinach and feta wrapped in phyllo pastry, is perfectly crisp on the outside. The slight bitterness of the spinach contrasts nicely with the tangy, creamy cheese. Cabbage dolmada — cabbage stuffed with rice and mushrooms — is disappointingly bland. Even the lemony avgolemono sauce couldn't kick-start it to life.
Zaytinya
701 9th St. NW
202-638-0800
www.zaytinya.com
Sun & Mon
11:30am-10pm
Tues-Thurs
11:30am-11:30pm
Fri & Sat
11:30am-Midnight Mezzes $3.50-$7.95
Entrées $14.95-$24.95
Desserts $5.95

Several seafood mezes more than make up for the dolmada. Shrimp with tomato, green onion, kefalograveira cheese and ouzo is spectacular, the anise-flavored liqueur giving just a whisper of its distinctive wallop. While a couple of the mezzes are offered in entrée-sized portions, this isn't one of them, although it has my nomination.
Seared salmon with pistachios and mint pearl couscous flavored with pomegranate oil is another accomplished plate. The sweet-tart quality of the pomegranate is just detectable and seems to temper the flavor of the salmon.
Scallops, seared to a golden hue, are nicely paired with yogurt and dill sauce to create a sublimely simple offering. Its clean flavors refresh one's palate after processing so many intense tastes.
No Mediterranean menu would be complete without lamb, and this one has some enticing preparations. Braised lamb served atop eggplant puree infused with cheese delights on several levels. The lamb is intensely flavorful while the puree is silky and mild. I can't let an opportunity pass to note that, botanically speaking, eggplant is not a vegetable but rather a fruit — more specifically, a berry.
A skewer of ground lamb grilled to crispiness on its exterior, yet juicy inside, is served with a simple toss of onion and parsley. Somewhat more unusual is ground lamb with crushed wheat in a tomato and pine nut sauce. The slightly crunchy grains of wheat are an able contrast to the tender lamb while the tomato sauce pulls all the ingredients together.
It's not often you find rabbit on Washington menus, but here it is, in petite portions, braised and accompanied by lentils. Dealing with the tiny bones is a bit of a challenge, but well worth the effort. The flavorful and tender meat works very nicely with the slightly sauced lentils.
From my travels in Turkey and Greece, it seems clear that these cultures take their sweets seriously. And although the sophistication of their desserts is certainly on a level below the French or even the English, they make up for it with simple ingredients and exotic spices.
Ravani, a dessert creation of semolina cake served warm with yogurt sorbet, is heavenly with its aromatic cardamom sauce and a dried fruit and orange flower water compote. Almonds, pistachios, apricots, fresh orange segments and other ingredients combine to create a flavor uniquely Turkish.
Medjool dates roasted in Greek vinsanto are served with orange shortbread, pistachios and olive oil ice cream. Yes, olive oil ice cream — which is far less peculiar than it first may sound. Ice cream has so much fat in it anyway that a little more in the form of olive oil is only enough to impart a mild hint of flavor. More traditional dessert flavors are offered for the less adventurous.
There's little to criticize about Zaytinya, especially since with small portions, even if you don't particularly enjoy a specific dish, it's not like being stuck with a single disappointing entrée. And with so much to choose from, including daily specials, you'll be hard pressed not to find several items that are just what you have a taste for.
With cuisine this accomplished, it's no wonder that having opened only last October Zaytinya is already one of the hottest restaurants in the area. Since it doesn't take reservations, you should expect some wait time, especially on weekends. Look for Zaytinya to continue to receive lots of kudos and, once you've tried it, your ardent admiration.