Well past its prime, teen soap opera Dawson's Creek calls it a day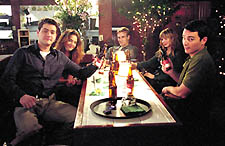 Last Call: Dawson's Creek
bids farewell.
As filming wrapped on the series finale of Dawson's Creek last month, the cast and crew were "teary and exhausted," reports the teen soap's publicist.
Maybe they were crying because the misery's finally over. Ratings for the show have plummeted over the last two seasons as the Capeside kids left high school for Boston colleges. In its heyday, Dawson's Creek could easily pull in 6 to 7 million viewers an episode and generated enough buzz to put the WB broadcast network on the map.
But today — even as the show celebrates its "Countdown to Goodbye" — Dawson's Creek barely nets half the viewers it used to reach. Perhaps the writers were a bit too self-referential when in a recent episode, a distraught Joey (Katie Holmes) tells Pacey (Joshua Jackson), it's "like we've become ghosts of our former selves."
As the show finishes its shame spiral into irrelevance with a two-hour finale May 14, few fans are left to actually tune in. "I liked it a lot better when the characters were in high school," says Jessica Morgan, who writes about Dawson's Creek for TelevisionWithoutPity.com, a website that recaps popular TV programs. "Now it's just fun to make fun of. I love to hate it. " That's a steep decline from January 1998, when the show debuted to a critical lovefest.
Filling the vacuum left by My So-Called Life, which ABC inexplicably canceled three years earlier, Dawson's Creek was the new it show and immediately joined the teen soap canon, led by the granddaddy of them all, Beverly Hills 90210. TV writers cheered the show for its frank sensibility and willingness to deal with the budding sexuality of 15-year-olds. The first season featured an affair between high school sophomore Pacey and his 36-year-old English teacher. And who could forget the entrance of Jen (Michelle Williams), billed as the teenaged slut who slept with half of Manhattan?
"I wish when I was a teenager I had a Dawson's Creek," says Robert Thompson, a professor of popular TV at Syracuse University. "We had to depend on the Brady Bunch and the Partridge Family." To be sure, Dawson's Creek was laughably unrealistic and self-conscious, Thompson adds. "If teens were really that articulate, they wouldn't need psychiatrists — they would be them."
But the program did connect with viewers in search of self-actualized beautiful people, who embodied teen torment. Take Jack McPhee, for example, the poster child for teen angst. Played by Kerr Smith, Jack came out of the closet in the show's early seasons and became one of television's first regularly recurring gay characters.
That was groundbreaking stuff for a teen drama, Thompson says, and it made WB corporate types nervous. But the gay theme was handled with "such a lack of condescension and very special episodeness" that it didn't raise much of a stink, he adds. "It was overwrought, but so was everything else on Dawson's Creek." The show went on to win a Gay and Lesbian Alliance Against Defamation Media Award in 2000.
Not everyone, however, applauds the show's plunge into homo territory. Morgan says the story is so whitewashed that Jack won't even kiss his boyfriend during scenes in which canoodling is expected.
"The writers started with good intentions, but didn't follow through," she adds. "In a way, that's more disappointing than if they had never brought it up at all."
Particularly disturbing was the episode where Jack and boyfriend David go for an AIDS test before they sleep together, Morgan says. Wouldn't it be more appropriate, she asks, for other more sexually active characters to get tested? Obviously not, she says, as the writers went for the predictable ploy of making HIV part of the gay plot.
Dawson's Creek Series Finale
Written by Kevin Williamson
Starring James Van Der Beek, Joshua Jackson, and Katie Holmes
Wednesday, May 14, 8 p.m.
WB 50
However cliché and trite Dawson's Creek managed to be, no one denies it changed the TV landscape. Before its arrival, the WB struggled for survival as an upstart broadcast network that dared to compete with the Big Three.
But the show quickly built a loyal following among the 18 to 34 set, the holy grail for advertisers, thanks in part to creator Kevin Williamson, mastermind behind teen horror franchises Scream and I Know What You Did Last Summer.
Dawson's became the anchor show for the WB. But support for the show waned as viewers tuned out. Some blame Williamson, who bailed from the show halfway through the series to work on other projects. Openly-gay executive producer Greg Berlanti also left the Creek to make Everwood for the WB's Monday nights.
In a move that's likely to boost ratings, Williamson returned to the Dawson's North Carolina set to write and produce the series finale. The two-hour send-off has the kids returning to Capeside in 2008 to attend a wedding. The happy reunion is cut short after the group learns someone holds a "heartbreaking secret," the WB promises. Of course it's impossible to predict which Dawson's alumni will actually sustain their Hollywood careers now that the show's over. All the leading cast members have scored film roles before. But so did Luke Perry and Jason Priestly.
It's also unclear which show will replace Dawson's as the dean of TV's teen soaps. "People will always want to watch a serialized story about crazy romantics and horrible family relationships," Morgan says. But the time for Dawson's Creek is definitely over, she concludes. "People grew to love it, then love to hate it," she says. "Now we're tired. It's time to go."