The comic book is officially called The Incredible Hulk.
The movie is called, simply, Hulk.
A wise decision. Because to include the word incredible in the movie's title would have been redundant.
Directed by Ang Lee with a blazing, lyric beauty rarely experienced in a summer blockbuster, Hulk transcends the incredible and enters the realm of awe-inspiring. It elevates the notion of what is possible when transporting a comic book legend to the screen. Lee takes what he learned from creating his last masterpiece, Crouching Tiger, Hidden Dragon, and applies it here, resulting in an absorbing moviegoing experience that, for nearly two and a half hours, rivets you to the screen. Hulk, opening tomorrow at area theatres, has everything you could ever long for: heart-thumping action, a profound sense of pathos, a compelling story with a healthy dramatic pulse, an intelligent screenplay, and a striking visual acuity, all anchored by an unjolly green giant who is the very embodiment of repressed rage unleashed.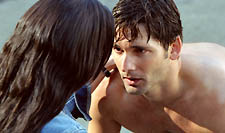 Connelly & Bana
From the opening credits, which incorporate themselves into the environment, to the final shot of a recurring pattern that, quite frankly, had me befuddled throughout the film (Is it meant to imply destiny? Genetic alteration? What? Guess I'll be nosing around on the online message boards, where teens offer answers to old farts like me), Hulk casts a mesmerizing spell. Working with editor Tim Squyers, Lee builds the movie on a foundation of artful transitions — most of which utilize a multiple split-screen approach that conveys a sense of comic book panels. It's a sensational feat of cinema, as original and groundbreaking as anything in the first Matrix.
The effect imparts a powerful momentum on a relatively straightforward storyline: Bruce Banner, overcome by Gamma rays in a lab mishap, transforms into a 15-foot, virtually indestructible creature whenever he gets a tad mad. He's pursued by a trio of enemies with varying agendas. The military's stony General Ross (Sam Elliott) considers the Hulk to be a threat to national security as well as his daughter, Betty (Jennifer Connelly), Bruce's one true love. Talbot (Josh Lucas), a vicious big business tycoon with a vengeful nature, senses a fortune in military contracts and would love nothing more than to carve up the big green machine for experimentation. But it's Bruce's borderline crazy father, David (Nick Nolte), who unintentionally helped create the Hulk, who harbors a truly nefarious reason for a father-son reunion.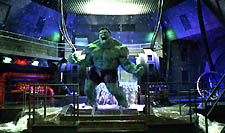 Lee lays his narrative groundwork carefully — it's almost fifty minutes before our first glimpse of the Hulk. The wait, however, proves worthwhile, as the creature is among the most convincing CGI characters to hit the screen. He may not be as realistic as LOTR's Gollum, seeming more like an homage to the work of the great Ray Harryhausen, but face it, it's hard to make anything that big and that green look completely comfortable in any earthbound enviornment. And yet there are moments, especially when the Hulk is viewed in closeup in quiet, almost sorrowful repose, in which you swear you are watching a living being. It's just another step in the march forward to eradicating movie stars and their ridiculously exorbitant salaries. Studio execs must be ecstatic.
Hulk
Directed by Ang Lee Starring Eric Bana, Jennifer Connelly, and Nick Nolte
140 minutes
Rated PG-13

Area Showtimes
The movie serves up several action set pieces, including a thrilling fight with "Hulked-up " dogs (including, amusingly enough, a white standard poodle) that evokes memories of Crouching Tiger. The action frequently incorporates both wit and a sense of awe, with a "now we're gonna top ourselves " mentality. For instance, after a dazzling battle between Hulk and several tanks, the poor guy is confronted by a squadron of choppers. Of course, the Hulk could always hop away (and this guy hops hundreds of miles at a time), but, lucky for us adrenaline addicts, he sticks around and fights. Only the climactic battle, in which Hulk confronts a powerful and fearful adversary, fails to pay off. It's a murky battle, shot in near dark, and it simply doesn't offer the kind of full throttle excitement experienced in the previous, desert-set sequences.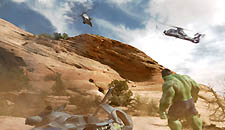 The cast is splendid, especially handsome newcomer Eric Bana as the slightly shy, moderately nerdy scientist Bruce. Nolte, looking like an alcohol-drenched rag doll (was this guy ever really a hunk?), has a few rich over-the-top moments, and Connelly remains one of the most naturally glamorous women working in film today. Elliott brings unexpected complexity to the Ross, a rigid, by-the-book career General torn by his need for reconnecting with his estranged daughter and protecting her from what he perceives as a grave danger.
With Hulk, Ang Lee has raised the bar for all who now follow. He has, in effect, proved to the world that a summer blockbuster can also be a profound, elegant, exhilarating work of art.