It is a normal human tendency to rewrite our own personal histories as we would like to remember them. Moreover, it is not unusual for us to want to stick by our own truths, whether or not that deep down we know them to be lies.
Whatever truths Arnold Friedman was concealing, whatever lies he might have been telling will never be known. A beloved award-winning high school science teacher, Friedman's serene world crashed in 1987 after the discovery by federal agents of child pornography in his Great Neck, Long Island home. The case ballooned into something more awful and insidious, however, as Friedman and his 19-year-old son Jesse were accused of brutally molesting young boys enrolled in a computer class taught out of the Friedman family basement.
Friedman plead guilty, as ultimately did Jesse, in return for reduced sentences. But in Andrew Jarecki's haunting and heartbreaking documentary Capturing the Friedmans, the degree of guilt is called into question. If anything other than computer classes actually occurred in the Friedman basement, it remains to this day a large, looming unknown.
The film, which won the Grand Jury Prize at this year's Cannes Film Festival, is an unsettling, essential work. Jarecki doesn't take a single-minded point of view, instead presenting as many sides to the story as possible — from the arresting detectives on the sex-crimes unit who appear staunchly convinced of the 250 counts of sexual abuse and molestation leveled against Arnold and Jesse to the conflicting and contradictory memories of some of the alleged victims; from Jesse's lawyer, whose own point of view conflicts directly with Jesse's to the expert analysis of a investigative journalist  who calls into question the validity of the charges. In the end, as certain facts are revealed, there appears to be little doubt that the tight-lipped Arnold may have engaged in some kind of sexually criminal activity. But it seems just as unlikely that Jesse was the predatory monster he was alleged to be.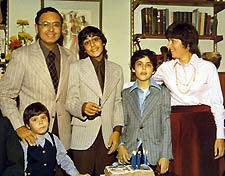 Happier times:
The Friedmans at play.
Among the most heinous of crime, child molestation is a crime that must be uncovered gently and with care by detectives. "Just charging someone with this type of crime is enough to ruin their lives, " says Frances Galesso, the now-retired director of Nassau County's sex crimes unit. "You want to make sure you have a good charge. " Jarecki's film brings into doubt the charges against the Friedmans. Even by the admission of the police, there was never any hard evidence. Was it a witchhunt? Quite possibly, considering that mass hysteria in a tight-knit community environment tends to take on a life of its own. The charges may have been trumped up, we learn, and there is a significant implication that detectives handling the case coerced and pressured the alleged victims into their testimony.
Capturing the Friedmans goes beyond a mere recitation of the facts. It delves deeply into the psyche of the family, thanks to home videotape shot by the eldest Friedman son, David, during his family's ordeal. Without the tape, Jarecki's movie wouldn't be half as powerful as it is. We watch in breathless horror as the family sinks into a morass of angst and anguish from which there is no apparent escape. Elaine Friedman, the mother, is cast as the enemy as the three brothers and father band together in defense. The resulting emotional shockwave elevates Capturing the Friedmans above and beyond the call of a normal documentary. It's tantamount to a real-life Greek tragedy.
By the movie's end there is still no resolution, though some very interesting (and critical) dots are connected when a personal detail is suddenly revealed about Arnold's younger brother Howard. What lengths will we go to repress potentially traumatic memories? More urgently, what lengths will we go to delude ourselves, to deny ourselves the nuggets of truth sitting right before us.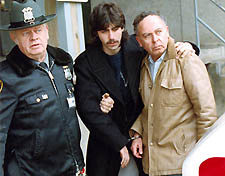 Sins of the father: Jesse and Arnold Friedman are led away by authorities.
Jarecki questions several former computer students — one in particular keeps changing his story regarding the nature of the molestation, while another avows that nothing other than "boring " computer lessons ever transpired. But Jarecki isn't interested in assigning full guilt or absolving his subjects. He's more intrigued by the idea by the noxious atmosphere overtaking the Friedman family. "All family conflict is typically submerged in most cases like these, " observes Debbie Nathan, the aforementioned expert journalist. "But not in this case. "
Capturing the Friedmans
Directed by Andrew Jarecki
No rating
107 Minutes
At the Loews Dupont 5

Indeed, the Friedmans, at times, lunge for each other's throats. The boys — David, Seth (who did not participate in the film, but is seen in the family tapes), and the accused Jesse — lay a wagonload of blame on their shrill, nagging mother, without bothering to see it from her point of view: what if your marriage of 30 years was suddenly toppled by the discovery that your meek, quiet husband had an interest in boys aged 8 to 11.
Elaine Friedman doesn't come off as a particularly sympathetic, but Jesse, interestingly enough, does. "I don't think it's appropriate for me to answer for the sins of my father, " he says.
In the end, Capturing the Friedmans succeeds so magnificently because it remains so elusive and inconclusive. There is no black and white on hand here. Only grey — a murky, muddy grey.