Photography by Michael Wichita
In the back of Sparky's coffee shop members of Boys and Books sit on folding chairs, bar stools, or crowded on the ends of old couches. The coffee table is littered with an odd mix of tea, coffee and white wine.
Longtime gay activist Frank Kameny is the night's guest speaker. He sits back in a well-worn love seat discussing his daring 1962 letter to members of Congress demanding equal treatment for gays serving in the government. The letter was featured in a book by another former Boys and Books guest speaker, Chris Bull's Come Out Fighting: A Century of Essential Writing on Gay and Lesbian Liberation.
Greg Faber, the group's facilitator, begins the discussion by asking Kameny about his brazen declaration to Congress — "What were you thinking?" — opening up a tide of conversation between the author and reader. To help the group better understand his writing, Kameny transports them back 40 some years, into world of different circumstances and ideas.
After the meeting, Farber sits back and reminisces about his days working as a biochemistry professor at Penn State. "Penn State was a life of ideas," Faber says. In 1999 Farber resigned from his position and moved to D.C. to work for the National Institutes for Health. After moving, Farber longed to find a place where the discussion of ideas was as rewarding as his days at the university.
"I really get that from this group," he says.
Boys and Books began meeting a little over four years ago, when three men from Whitman-Walker Clinic founded the group. Although only one of that first group returned for the second meeting, from that small beginning the group has grown to encompass a loose knit gang of 75. With a membership open to all, Boys and Books doesn't require participants to show up for every meeting. Farber says some people come for every meeting, others come every now and then, and others may just show up once in a blue moon.
The group reads and discusses a broad selection of books ranging from Pulitzer-winning novelist Michael Cunningham's 20th century family saga Flesh and Blood, to sex columnist Dan Savage's real-life account of adopting a child, The Kid.
Farber says it's hard finding books everyone likes. "It's pretty rare when we all agree — it's almost unheard of." But, he says, the disagreements are a plus for a book group.
"It's interesting to hear someone defend a work I didn't necessarily like," Faber says, adding, "You're guaranteed to get an interesting point of view. Something you haven't thought of before."
"The style of gay and lesbian writing is definitely expanding," says Jane Troxel, who manages Lambda Rising, Washington's landmark gay bookstore. "The definition of gay and lesbian is expanding."
Today's gay and lesbian literature features themes and explores territory unheard of in the not-so-distant past. Lesbians who sleep with men, gay men and their straight girlfriends — no topic is off-limits these days.
"The literature is reflecting our real lives," Troxel says.
The granddaughter of a librarian who grew up in the home of an English teacher mother and newspaperman father, Troxel seemed destined to a life surrounded by books. After twenty years in the industry, her main regret is only having enough time to read two books a week.
The initial wave of the gay literature boom began in the late 1980s, Troxel says, as the number of titles mushroomed from hundreds to thousands. In the years since, publishing and sales have hit a plateau — although that hasn't stopped the diversification of the genre. Older sections of bookstores have been consolidated to make way for new sections such as gay parenting books, which Troxel says are racing off the shelves. Transgender literature has also blossomed, moving from its non-fiction only roots into a complete section replete with new themes and stories.
On the other hand, some things stay the same.
"Erotica is staying steady," she says. "That always sells."
Like the other aspects of the genre, lesbian literature is in the midst of a state of change. The old romance novels aren't as popular as they used to be, Troxel says, but science fiction and fantasy are gaining many new readers.
"I don't know if Xena had anything to do with it," jokes Troxel, "but she sure is cute."
As gay and lesbian literature broadens, so have the number of gay and lesbian book groups. While Stefanie Alfonso-Frank was browsing through the multitude of sections and subcategories, she knew exactly what she needed to find.
"I really wanted to be in a lesbian book club," she says.
Alfonso-Frank had a passion for books that she wanted to share, as well as meet new lesbian friends to gain their particular insights on books. But she faced a challenge as she found that much of the lesbian community actually lives in the suburbs and surrounding areas, not in Alfonso-Frank's downtown D.C. neighborhood.
As she looked for a reading group to join, Alfonso-Frank found only mixed gay and lesbian book groups that were most often male dominated. Not able to find any other alternative existing book club in their area, Alfonso-Frank and her partner started their own.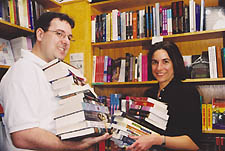 Book club devotees Rob Gates and Stefanie Alfonso-Frank
"We really don't have a name," she says, "we just call ourselves the lesbian book club."
Apparently, they were not alone in their thinking. After hanging up signs around Dupont Circle, Alfonso-Frank says, "We had a great response."
About twenty-five women expressed interest in the group, but after doing some research the couple decided the group would work best and encourage the most discussion if the size was kept to twelve members.
"If it gets to big I think that there could be some people who would dominate the conversation," Alfonso-Frank says.
The group began meeting last December in a library. After a few meetings, the group has grown closer and members take turns hosting the meetings in their homes. The facilitator position rotates among the women, but the objective is always the same: make the discussion open and comfortable for everyone in the group.
The initial question is usually "What was your experience reading the book and what do you want to talk about?" Alfonso-Frank says that once the meeting starts, the facilitator is not really needed — everyone just jumps in to talk about and discuss different topics.
"I thought it was great to get beyond, 'Do I like a book or not,'" she says. "I wanted to discuss more of the things underlying that book and think about it a little more than [either] good or bad."
While the lesbian book club has focused so far on lesbian fiction and non-fiction, they have hopes of expanding to all types of literature that reflect the interests of the members.
"I've always read just for personal pleasure, but I'm very social," says Jeff White, of the Crystal Bay Literary Guild (CBLG). For him, book groups are the perfect way to combine the two worlds of reading, the deeply personal reflection and the give-and-take of sharing perspectives with others.
"Everybody can read the same paragraph and interpret it differently," White says.
He vividly remembers a particular scene from a novel his reading group was discussing: As a grieving daughter stands alone in a room, a black crow suddenly flies in through a window. White took the avian appearance quite literally.
"I was like, 'There's a black crow in the house,'" says White, who frankly describes himself as a literal reader. The scene of the crow flying in the window was just that, until another more interpretive member of the reading group said, "It's an allegory, a symbol of death."
"Basically, they nailed it," White says. The group had been discussing many different interpretations of the scene, but it took one person to make the group say, "That's it."
"I wish my mind worked like that," White says, "but I can appreciate the fact they can help me."
Differing points of view were exactly what the Crystal Bay Literary Guild — a group of fourteen self-described literary fanatics named for the drag persona of one of its founders — was striving for when they began meeting. The group's discussions are fueled by the diverse backgrounds and opinions of the members.
"It's not an all gay book group," White says. "It's gay men, lesbians, straight men, straight women. Everyone sees the benefit of having different perspectives."
While ensuring diversity is an ongoing effort and new members are evaluated on their ability to add a different perspective, White says that when looking for a new member the group doesn't say, "Scrounge through your rolodex and try to find a straight woman."
The group reads a wide collection of books, randomly chosen from member suggestions by drawing the titles out of a hat, leaving them with an eclectic mix of literature ranging from biographies to fiction. Not all fiction stirs everyone's emotions, though, and genre fiction might have a harder time finding its way into the hat. Asked about science fiction, White jokingly blurts out, "Hate it. Don't even want to talk about it.
"I appreciate the creativity," he adds. "But it just doesn't engage me in any way. In my mindset I have a finite number of books I am going to read in my life. If I am going to read something I am going to learn from it."
Rob Gates, member of the Lambda Sci-Fi book discussion group, would of course disagree, pointing not only to the creativity of science fiction and fantasy writing, but the ways in which that creativity explores issues both human and political.
As example, Gates mentions Melissa Scott's Shadow Man, the story of a hero who is neither male nor female, who is forced to fight for equality in a world where five distinct genders exist but all are forced to present themselves as either male or female.
Back on Earth, Gates sits in a coffee shop window staring outside at the men and women passing by.
"[Science Fiction] doesn't have to play by the rules," he says. "You can look at a social idea in a vacuum." From the vacuum, an author can construct elaborate worlds and situations in which to present the idea. For instance, a world devoid of sound would allow an author to explore aspects of communication.
"You can set up a fantastical culture and parameters," he says.
Gates has been part of Lambda Sci-Fi's book discussion group since they started meeting in January of 1999.
Science fiction has long been associated with movies such as Star Wars and Star Trek. While those films have cruised along on warp speed and hyper drive, reveling in the wonders of interplanetary travel, they rarely delve into topics of sexuality, let alone homosexuality.
But the literature of science fictions has long had a much broader scope, incorporating many explorations of multiple sexualities.
"The literature has explored sexuality for 20 to 30 years," Gates says. In some ways, he says, the reason for this more daring genre attitude is economic. Books are less expensive to print than movies are to film, and are therefore less of a financial risk for publishers. Novelists and short story writers gain the creative freedom to explore ideas that may be too controversial or cutting edge for more mainstream entertainment.
Lambda Sci-Fi holds book discussions on the fourth Thursday of every month, and picks a new book list every three months. The books don't always focus on gay and lesbian issues; sometimes they traverse racial and political issues as well. The group maintains an on-line archive of past discussion topics and questions, available for anyone's reference. "There are a number [of people] who don't go to the discussion but still use the questions posted online," Gates says.
For Lambda Sci-Fi, the regular discussions focus more on a book's social commentary and literary merit. "We're not scientists and we don't delve into the techno babble," he says, noting that the group likes to concentrate more on a book's parallels with our own society.
Even within such a specific genre as gay and lesbian science fiction, there are numerous ways to appreciate what is being read. Reading, by nature a personal and private endeavor, can be enjoyed on multiple levels. One person's personal insight can be another person's illumination.
"Haven't you ever gone to a movie and someone said, 'I love that part were she ran through the fountain, it was so symbolic of her desire to be somebody else,'" Troxel says. "That's what book clubs do. They fill in the picture."
For more information about Boys and Books, visit http://members.aol.com/boysnbooksdc/myhomepage or e-mail to Greg at boysnbooksdc@aol.com. For more information about Lambda Sci-Fi, visits www.lambdasf.org or e-mail info@lambdasf.org.