Some utilitarian pieces from Target, an oddball grouping from that garage sale down the block, a plethora of items handed down to you from your mother — most everyone's kitchen is a mish-mash of stuff gathered in ways we often can't even remember. The aftermath of an antique store explosion has more continuity than the cookware sets filling some of the kitchens out there.
And that's only looking at your silverware drawer.
But when it comes time to whip your stray ingredients into a sumptuous feast that would make Julia Child drool with anticipation, do you find yourself equipped with nothing more than a scratched Teflon skillet sporting a wiggly plastic handle, circa 1983?
Not that a kitchen should be free of budget pots and hand-me-down pans — new and expensive doesn't always equal best and brightest. But at the center of all those culinary curiosities you call a kitchen, you want to have that one high-quality piece of equipment that will never let you down.
While this caliber of cookware may put the pro in professional, it also puts the lot in a whole lotta money. It's time to splurge. Think of it as an investment.
Even so, with high-end cookware sets costing upwards of $700, a single versatile pot or pan may be a more sensible approach. What should that pan be?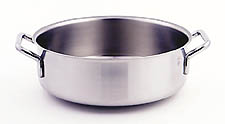 Rondeau Casserole
Chef Tom Power of Corduroy restaurant recommends the 11.4 qt. Rondeau Casserole from Sitram Catering ($260) for its versatile performance in cooking everything from soups and stews to vegetables. Made in France, Sitram cookware features a heavy gauge 18/10 stainless steel exterior. The base is a sandwich of stainless steel with a copper core.
Power says that the best pots feature a stainless steel body with copper accents. Steel is easier to maintain than an all-copper pot, while the copper core base provides the cooking advantages of copper. The Rondeau Casserole can be used with any heat source, is dishwasher safe and comes with a lifetime guarantee.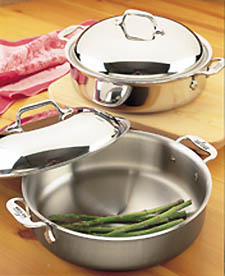 All-Clad sauteuse
Mike Hutchinson, area manager of cookware retailer Sur La Table, recommends an All-Clad 4-Quart copper core sauteuse ($195) for quality and versatility. The sauteuse is the Swiss Army knife of cookware, easily being pressed into service on the stovetop for sautéing your delicate organic vegetables or placed in the oven for braising a delicious pork shoulder.
The pot is constructed from three bonded metals, with the exterior coming in three choices: copper, aluminum, or anodized aluminum. The interior cooking surface is stick- and corrosion-resistant stainless steel. Most All-Clad pots are available with either a pure aluminum or copper core. Hutchinson recommends the copper core sauteuse for superior heating.
"All-Clad is like the Cadillac of cookware," Hutchinson says. "It heats much faster and cools much better," providing even heat distribution and helping to eliminate hot spots.
The sauteuse is dishwasher safe and carries the All-Clad cookware lifetime guarantee.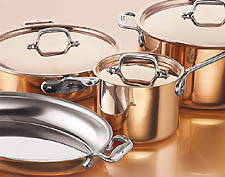 Cop-R-Chef
Professional pastry chef and Williams-Sonoma sales associate Starr Murphy also recommends an All-Clad product: the Cop-R-Chef 6-Quart Sauté Pan with Lid ($385; stainless steel exterior available for $230).
"You can cook everything from pancakes to rice to meats and even pasta sauce in it," she says.
As with the sauteuse, All-Clad's Cop-R-Chef line consists of three layers of metal bonded together to generate even heat distribution, in this case an extra-thick copper exterior over a pure aluminum middle. The interior cooking surface is stainless steel.
Although copper is a better conductor of heat, the exterior is also available in a magnetic stainless steel. Don't put this one in the dishwasher — All-Clad recommends the sauté pan be hand-washed.
As Martha Stewart once said, "Every good cook deserves a copper pan." The fact that she later hurled it at a co-worker is beside the point. What matters is that as you explore the worlds of fine ingredients and home cooking, you need a few items that will make your efforts shine. Whether you're just starting your kitchen ensemble or you're looking to replace an old kitchen stand-by, one of these pots will have you ready to cook.
Where to Buy
11.4-Quart Rondeau Casserole from Sitram Catering
Price: $260.00, lid not included
Available: By phone from Previn Inc.
215-985-1996
4-Quart All-Clad Sauteuse with copper core
Price: $195.00
6-Quart All-Clad Cop-R-Chef Sauté Pan with Lid
Price: $385.00 (Copper Exterior); $230.00 (Stainless Steel Exterior)
Available: Sur La Table (www.surlatable.com) or Williams-Sonoma (williamssanoma.com)