It's been eight years since Pixar unleashed Toy Story, the first full-length computer animated feature film, on the world, and what a wild, whimsical ride it was. Working in tandem with Disney (an association perilously close to ending), Pixar has provided several equally wondrous rides — Toy Story 2, A Bug's Life, Monsters Inc., all of which contained themes and characters perfectly suited to the hyper-realistic computer-generated style of animation. Pixar's films feature carefully crafted narratives, simple but not simplistic, offering an ebb and flow of action-stoked set pieces that, at best, stoke our adrenaline while keeping our funny bones on vibrating overdrive.
For its latest — and perhaps greatest — achievement, Pixar looks into the majestic depths of the ocean. The result — Finding Nemo — is a movie of extraordinary visual spectacle and astonishing emotional depth. It's every bit as inventive as Toy Story, every bit as charming as Bug's Life, every bit as colorful and vibrant as Monsters. But it's even more compelling, more emotionally driven than these precursors. Everything, in a sense, has led up to Nemo, the best of all possible computer animated worlds.
Albert Brooks voices Marlin, a clownfish who resides in Australia's Great Barrier Reef and who, at the onset of the film, undergoes a tragedy of startling proportions that leaves him traumatized and neurotically fearful of life undersea. Marlin is forced to face his fears when his lone offspring, Nemo, is captured by a diver and plopped, thousands of miles away, into a tropical aquarium housed in a dentist's office.
With the help of a blue fish named Dory (Ellen DeGeneres), Marlin goes in search of his son, facing such oceanic terrors as anglers, sharks and jellyfish, and encountering such mesmerizing wonders as a school of sea turtles who surf the undersea current. It's an extreme adventure for a timid fish.
Meanwhile, the resourceful Nemo learns how to fend for himself and, with the help of a few newfound tropical fish pals, executes an improbable and ultimately daring escape from the aquarium.
Finding Nemo contains a message slightly more complex than usually associated with family films, but as written and co-directed by Andrew Stanton, it's eloquently presented in a context that carries it through with potency. Stanton doesn't shy away from trauma — the film contains its share, including an opening tragedy that rivals the shooting of Bambi's mother, but also pays respect to the precarious and predatory nature of undersea life. Everything is part of the food chain in the nautical world. It's the best circle of life message since Disney's The Lion King.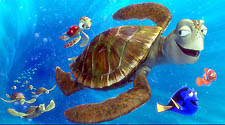 The film is awash in humor — the sharks, for instance, are fearsome in their toothy glory. But these guys are also going through a 12-Step program — "Fish are friends, not food " — adding a wacky hilarity (when one of them goes for Marlin, the other two rush to block, crying out "Intervention! "). One of the movie's funniest bits is also one of its most dazzling, as Marlin and Dory encounter a school of fish who, as a collective, are adept at impersonations. Finding Nemo keeps the excitement quotient on high — sometimes a little too high, as the action gets to be dizzying in spots. And the narrative transitions between the ocean and the dentist's office are structurally awkward.
The film possesses a luster and beauty never before seen in an animated film, computer or otherwise. The refraction of light, the gentle, cresting wave of sea anemones, the constant flutter of fish, sets up a background environment that is constantly in motion. The computing power alone needed to render this kind of realism is staggering. Finding Nemo lures you into its world, to the point where you feel almost as though you are floating under the sea. It's a remarkable achievement, a perfect pairing of genuine artistry with technology.
Finding Nemo
Starring Albert Brooks, Ellen DeGeneres, Willem DaFoe, and Barry Humphries
Rated G
101 minutes
Stanton and co-director Lee Unkrich coax stunning vocal performances out of an A-List cast. Albert Brooks, one of my own personal favorites, gives an anything-but-floundering performance as Marlin, the consummate neurotic-yet-loving parent. But it's DeGeneres who steals every frame of film as Dory, who, in an inspired touch, has no short-term memory. And you will not soon forget the brilliantly funny sequence in which Dory attempts to communicate with a whale. DeGeneres transcends the character's surface humor and winds up providing the film's most poignant, heartfelt performance. If there were an Oscar for best portrayal of a tropical fish, our Ellen would win by more than a fin.
---
"I don't want you to be with me because of some drunken encounter, " says the liberal and loose Tommy (Steve Braun) to uptight conservative Alan (Larry Sullivan) as the sexual tension between the pair rises at the start of The Trip, writer-director Miles Swain's romantic dramedy that won last fall's Audience Favorite award at Reel Affirmations.
"I'm not a fag like you! " responds Alan.
But Alan is a fag like Tommy, and lucky for him, he realizes it in the nick of time. So begins the story of a relationship between two young men that kicks off in the '70s, and covers a decade of bliss, hurt and abandonment before checking out in the '80s, as one of the characters succumbs to a then-new malady called AIDS.
The Trip, at Visions Cinema this Sunday and Monday, June 8 and 9, makes for agreeable entertainment until midway through when it stumbles into soap-operatic brambles, as a lonely, bitter old queen's romantic manipulations tear the two lovers apart. Fortunately, it winds up in a world where it finally achieves a surprising, well-earned poignancy.
The movie's success rests on the shoulders of Braun and Sullivan, both of whom play valiantly against the badly designed period wigs they're forced to wear. These two light up the screen with their interplay, bickering, and ultimately tender adoration for one another. The chemistry they share is reason enough for taking this Trip.