Much is made of the explosion of gay and lesbian characters on TV these days: the semi-charming Will & Grace, the potent Six Feet Under, the ubiquitous Queer as Folk. But none of these embody the gay sensibility more than HBO's delicious Sex and the City, undoubtedly the gayest show on TV. The irony, of course, is that none of the headline characters is gay.
Sex and the City speaks to me. I see more of myself and my life in Carrie Bradshaw than I do in Brian Kinney or Will Truman. So do a lot of gay men I know. Tuning in gives us a glimpse of ourselves — our more glamorous, better-dressed New-York-City-selves.
Outwardly, the show seems to have mined the great Hall of TV Cliches: love in the Big City, single gals just trying to get by, and, of course, New York, New York. The networks have churned out thousands of forgettable sitcoms with these programmatic staples, and who can remember their predictable plots and throwaway characters?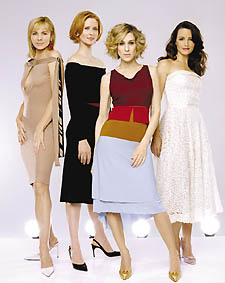 Catrall, Nixon, Parker & Davis
But Sex and the City is different. It resonates with its hugely loyal fans because, like a good Cosmopolitan, the show is mixed beautifully. It revolves around four single ladies: cutesy sex columnist Carrie (Sarah Jessica Parker), prissy, pedigreed Charlotte York (Kristin Davis), jaded lawyer Miranda Hobbes (Cynthia Nixon), and sex-obsessed PR exec Samantha Jones (Kim Cattrall).
The fab four lead glamorous lives — good jobs, great apartments, even better looks. But love eludes them. Carrie wanders in and out of relationships with semi-serious boyfriends. Charlotte marries the perfect blueblood only to discover he's not so perfect after all. Miranda gets knocked up by her bartender boyfriend. And Samantha uses sex as a weapon to keep her distance from men. Repeated attempts at romance end badly, but the ladies hang on.
How many people do you know like this? How many millions of American gays and lesbians have made finding a mate the organizing principle of their lives? Monday through Friday is spent going to the gym and eating low-carb foods so that Saturday's night entrance to the bar or party is flawless.
Just last week, over takeout Chinese, a friend told me Washington has the most single people of any city in the country. Didn't Carrie Bradshaw say the same thing about New York? Don't all single people — wherever they are — tell themselves that?
Sex and the City
Starring Sarah Jessica Parker, Kim Cattrall, Kristin Davis, and Cynthia Nixon
Season Premiere
Sunday, June 22
9 p.m.
HBO
Like life, Sex and the City isn't always about fulfillment or a cute and sappy resolution to all of love's problems in 22 minutes. It's about the chase, the eternal longing, the "What's wrong with me? Am I fat?" tirades. It's about New York, and searching for love in all the wrong places. And just when the girls think they've found it, life throws up on them, and they begin again.
That's the genius of the show, really. On the surface, it's all wit and style: botox, blow jobs and Manolo Blahniks. But underneath there's also heartache, loneliness, and a profound sadness like quiet weeping in the locked bathroom of a crowded party.
It's rumored that over the course of the final season, dreams finally come true. Each of the leading ladies is supposed to land her man, the one true guy. If that's true, I must admit, I'd feel a bit cheated, like somehow it was all too easy, too neatly wrapped. But years of searching have to yield something, don't they?
Every successful TV show has a secret, the one thing that just makes everything click. Sometimes it's a character (Bea Arthur's genius on the Golden Girls), and sometimes it's the mood (the sheer soulfulness of thirtysomething). And sometimes it's a paradox — the perfect mix of happy/sad and comic/tragic that gives a show its richness. On this point, Sex and the City has never let us down.