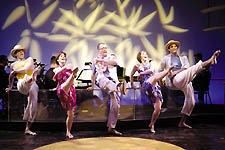 Tunesmith: Smith as Kleban
Chances are you've never heard of Ed Kleban. But after seeing A Class Act, chances are extraordinarily good that you'll never forget his name.
Or his songs.
Best known (actually, make that only known) for his lyrics for A Chorus Line, Kleban lived the life of a frustrated composer of standards and showtunes, a talented guy with an irascible, know-it-all nature, and a seemingly bottomless well of neuroses and phobias into which he dipped daily. When he died at the age of 48 of cancer, a few of his friends got together and, working with a trunk full of material left behind, fashioned a witty, poignant and insightful tribute to this Broadway almost. The resulting evening is by turns conventional and mold-breaking, an intimate look inside a beautiful creative mind that produced an abundance of fruit but never saw much in the way of a harvest.
Those hoping to hear a barrage of Chorus Line hits will be sorely disappointed. The landmark musical, which Kleban co-wrote with composer Marvin Hamlisch, is dealt with in an almost cast-off manner. What's more important here are not "What I Did for Love " and "One, " but the songs you've never heard. Numbers like "One More Beautiful Song, " as pretty a melody as ever there was, the lively (and in the Studio's production, show-stopping) "Gaugin's Shoes, " and the truly gorgeous "The Next Best Thing to Love. "
What's unique about A Class Act is that it explores, in no uncertain terms, the not-so-alarming notion that even an incredibly talented person can spend a lifetime trying to get a break in show business. The theatre world is filled with Ed Klebans, and few ever get even as lucky to have a groundbreaking hit like Chorus Line. But Kleban was his own worst enemy — a bitter, caustic, abrasive man, he would shut people out of his life with a snap, and, worse, found himself on the outs with those, like Sir John Gielgud, who could have helped him most.
How to make such a character loveable? The answer's name is Bobby Smith, who plays Kleban in Studio's whollop of a production. Smith isn't a one-man tour de force, he's a talent unto himself who acts with potency and effortless charm, dances with fluidity and natural grace, and sings with a voice that's been touched by a showtune angel. Fortunately for his cast mates — some of whom, like Leo Erickson, Tony Capone, and Roseanne Medina, are quite superb, others, like Mia Whang, Eric Sutton, and Lauri Kraft, could use a little loosening up — Smith knows that the spotlight is not his to hog. Can we talk giving?
A Class Act
Directed by Serge Seiden
Starring Bobby Smith, Tony Capone, and Roseanne Medina
Through June 22
Studio Theatre
1333 P Street NW
Tickets: $25 to $44.25
202-332-3300
www.studiotheatre.org
With last year's terrific A New Brain and now this, Serge Seiden continues to give Washington's resident musical maven Eric D. Schaeffer a run for his money. Seiden has a gift for taking challenging, potentially unwieldy scenarios and turning them into a smooth-as-silk musical theatre experience. Russell Metheny has thoughtfully provided an open set (complete with a elegantly gliding bandstand) that allows the elaborate and impressive choreography of Michael J. Bobbitt to diamond shine.
A Class Act is ultimately a tender and affecting evening. Rarely has there ever been a more deserving showcase to honor the juice, the impact, the very nature of creativity.