UPCOMING CDS TO BENEFIT GAY, AIDS CAUSESÂ… Two pop music compilations are set for release to benefit AIDS and gay causes. Capitol Records is unveiling an eclectic compilation to benefit the Royal Initiative to Combat AIDS, a U.S. nonprofit working to fight the disease in Southern Africa. The 18-track Songs for Life compilation features both African and American artists, offering old and new hits from the likes of Destiny's Child, Paul Simon, Patti LaBelle and Joan Osborne, as well as remixes of Britney Spears' "Stronger" and Mary J. Blige's "Keep Your Head." An even more promising compilation will be released by Off Records in mid-October, set to benefit New York's Hetrick-Martin Institute, home of the Harvey Milk School for gay youth. The theme: a tribute to John Cameron Mitchell and Stephen Trask's blazing 2001 movie musical Hedwig and the Angry Inch. All profits from this compilation, Wig in a Box, will go to the school, but best yet is the indie-rock lineup of artists invited to cover Hedwig tunes, including Rufus Wainwright, Cyndi Lauper, the B-52s' Fred Schneider, Bob Mould, Yoko Ono, The Breeders and They Might Be Giants. Mitchell and Trask have also composed a new track, "The Water Song," for the album. For more information visit www.hedwiginabox.com.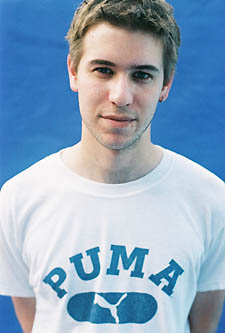 Fair
BOUTIQUE DANCE, DEEP DISH-STYLEÂ… Ali Shirazinia of DJ duo Deep Dish is singing the praises of DJs Luke Fair and Desyn Masiello, calling them "two of the most talented and fast-rising stars in dance music today." Shirazinia and Sharam Tayebi of Deep Dish know from dance music stars, since the two Washington, D.C. Grammy-winning remixers are just about the biggest stars themselves, as one unit, and highly regarded promoters of others, through their locally-based boutique record label, Yoshitoshi. Deep Dish liked the sounds of Fair and Masiello so much the two were signed to the Yoshitoshi label and each offered the plum spot of mixing a disc in the third volume of the two-disc collection In House We Trust. Fair, of Toronto, and Masiello, of London, are competent, intelligent DJs who have clearly put significant thought into their respective contributions to In House We Trust 3. And while they are notable compilations, the most they do is prove that the two new-to-record DJs show real promise. Eventually — not now — they may storm dance floors in their own right, without a push from Deep Dish.
Masiello has been first out of the worldwide-touring gate, and his CD proves he's the more experienced of the two. Fair, however, gives us the better thrill over time and repeated listens, since he mostly avoids featuring bad tracks, which plagues Masiello's outing. Fair produces a remarkably even-keeled CD, filled with trippy, slow-moving grooves and twisted house that is apparently his signature sound. The only problem is he spends a little too much time in the abstract creating minimal tracks. Both Fair and Masiello will appear at Nation's still-new weekly event, Code, this Friday after midnight.
Code, which has rapidly become a pedestal-style showcase for DJs, hosted Deep Dish's sort-of homecoming a few weeks back, in advance of the duo's latest two-disc remixed album, Global Underground 025: Toronto (Global Underground). As with its previous albums, Deep Dish's latest may not feature any productions with multiplatninum pop artists the duo is best known for, but what it lacks in mainstream glamour it more than makes up for in dancefloor glitz. These are moody, lush, deep house tracks you'll dance to for a long time to come, and still remain ahead of the curve. That goes for the dramatic Checky & Spider's "In Love" as much as it does for Electric Mood featuring Melanie's "Sacred Dance" or the spangling Junkie XL & Sasha's "Breezer." Or Sultan's "Night Visions," also featured in Luke Fair's mix.
DANCING TO GAY PORNÂ… A DJ called Soft Pink Truth (Drew Daniel) performed electro-influenced tracks at a dance music festival in Barcelona two weeks ago. And, according to the New York Times, he found "a great visual accompaniment: clips of gay pornography, minus the pornography. What was left? An amusing cavalcade of strapping gardeners, joggers in the woods and masked intruders." Here's to the dancing porn idea, er, spreading.
HATCH RACHETS UP THE SNATCH ATTACKÂ… And here's to an idea — and a man — to be stopped. "I'm all for destroying their machines," Sen. Orrin Hatch (R-Utah) said at a Senate hearing on musical copyright abuse. Hatch was referring to the music industry's latent suggestion of using technology to damage the computers of frequent downloaders of free music. Hatch, a musical composer himself (but not of music regularly, if ever, illegally downloaded) approves of a three-strikes-you're-out-of-a-computer approach to combating online copyright violators, according to Billboard magazine. When one industry executive at the hearing said "no one is interested in destroying anyone's computer," Billboard reports Hatch interrupted to say, "I'm interested." That's our Congress at work for us.