Pity Rowan Atkinson. As gloriously funny as he is — and he ranks up there with Sellers, Tati, Chaplin, and all the Pythons — he may never attain the star status he so rightly deserves.
With his swarthy, rubbery features, gift for broad physical shtick, and talent for silly vocalizations, Atkinson has kept us fitfully amused since the '80s, first with his hilariously acidic Black Adder series and later with the walking disaster known as Mr. Bean. Now Atkinson adds Johnny English to his roster — and while this direct spoof of James Bond is enjoyable, it's not enjoyable enough to make a lasting impression on anyone other than the most extreme Atkinson devotees. (And you can count me among those devotees, by the way.)
Based on a character Atkinson created for a series of British credit card television commercials, Johnny English is an amusingly daft, inept, bumbling agent in the service of Her Majesty. When Britain's other secret agents are assassinated en masse, only English is left to foil an absurd plan by a foppish Frenchman named Pascal Sauvage (a wigged-out John Malkovich) to ascend Britain's throne. Whatever happened to world domination?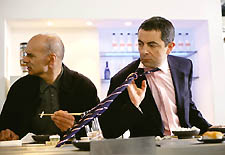 Johnny English star Atkinson (left)
Aided by trusty sidekick Bough (Ben Miller) and voluptuous French agent Lorna Campbell (Natalie Imbruglia), English works overtime to stop this villain who would be king. And I will admit that the final solution conjured up by writers Neal Purvis, Robert Wade and William Davies is an unexpected hoot. For all of English's shortcomings — including a know-it-all arrogance that backfires into one public humiliation after another — the spy miraculously gets the job done, and, even more miraculously, considering his looks, gets the girl as well.
The idea of a bumbling spy is hardly a new concept in the movies — and in fact a recent encounter on American Movie Classics with Peter Sellers' Inspector Clouseau in Return of the Pink Panther reminded me of how uproarious the genre can be in the right hands. Atkinson is a comic master with a particular specialty in understatement (he can cultivate a enormous laugh out of a simple blank stare), but his character of English lacks ingenuity. English is a standard issue grade buffoon — unlike, say, Bean, whose half hour buffooneries are beyond inspired and remain among the funniest minutes of raw slapstick ever committed to celluloid.
Johnny English
Starring Rowan Atkinson, John Malkovich, and Natalie Imbruglia
Directed by Peter Howitt
Rated PG
88 minutes

Still, there are several extremely funny set-ups in Johnny English: it's impossible not to laugh as he intrudes, with appalling results, on a funeral, mistakes a hospital for Sauvage's secret lair and rounds up the doctors and patients, or de-pants the Archbishop of Canterbury before all England. This being British-influenced comedy, there is the requisite toilet humor, carried in this case well beyond the measure of scatological tolerance. After an encounter with an ancient sewage system, an excrement-covered English, nonplussed, sniffs "It's only a bit of poo. "
Johnny English feels undernourished, a shell of a truly funny film waiting to happen. And Atkinson, for all his brilliance, simply can't make the material more than it is. Its laughs come at a price: anywhere from $6 to $9.50, depending on whether one attends a matinee or an evening showing. Choose the former. Or wait for the DVD.